By the 1930 Census, Leonard and Ruth had rented a house in Durham and niece Sadie was living with them. Leonard was an electrician working for a construction company. Leonard also had a 20-year-old boarder, Rosa Lee Barnes, who worked packing cigarette in a factory.
Leonard and Ruth separated and Ruth returned home to Georgia.
Second marriage
Leonard met Maycell S. Wimer in Franklin, West Virginia. She was very attractive with jet-black hair and brown eyes. Maycell's grandparents lived close by, in Harrisburg. Leonard married Maycell.
Over the years Wimer was sometimes spelled Wymer.
Maycell was the daughter of Albert and Radie M. Wimer. Albert and Radie married in 1902.
Maycell was born in West Virginia. Over the years, Albert farmed in two Virginia counties, Pendleton and Rockingham. Maycell's Uncle Edgar J. Wimer lived with them throughout her childhood. Isaac C. and Mary Wimer were Maycell's grandparents. They married in 1865.
In the 1900 Census Isaac was a farmer, Albert, born in July 1878, was the youngest and only child at home.
He was a teacher in Circleville, Pendleton County, W. Va. Another teacher was living with them, Arthur Calhoun. He was the same age as Albert.
Mary was born in July of 1843. Isaac and Mary married in 1865. They lived some in both Virginia and West Virginia.
Maycell's great grandparents were George of Jac Wimer, born in 1820 and Martha, born in 1823. Martha could not read or write. They were both born in Virginia. Isaac C. was their oldest child, born between 1843 and 1845.
His siblings were: Sarah C. born in 1847, Henry H. born in 1848, Josiah J. born in 1850, Mary S. born in 1855, Sylvester born in 1856, Martha E. born in 1860, Effie born in 1869, Floyd born in 1972, Almeda born in 1874, Albert born in 1878. Three of children: Isaac, Sara and Henry were in school during 1860. They lived in Mt. Freedom, Virginia.
Great-great grandparents of Maycell were Jacob, born in Pennsylvania in 1785, and Sarah, born in Maryland in 1783.
In the 1850 Census, Jacob's owned real estate was valued at $1,800.
Maycell came from a long line of farmers. She and Leonard had much in common. Soon after Maycell and Leonard married, they moved to Washington, D.C.
Leonard worked as a barber in an exclusive Barber Shop that catered to congressmen. Maycell worked in The Shoreham Hotel. The Shoreham was a luxurious hotel built in 1930. It was close to Rock Creek Park and the National Zoo. Later Maycell worked at the Mayflower Hotel.
Tommy, Walter Greene Stancil's son, spent the summer with Leonard and Maycell. Tommy was impressed with the shiny convertible he drove.
Later, Leonard and Maycell ran a boarding house in Alexandria, Va. They mostly rented to teachers. Maycell cooked two meals a day for the boarders.
Children
Freddie Allen Stancil was born in Washington, D.C. on March 19, 1940. Freddie had a heating and air conditioner business. During the war, there was a sugar shortage. Leonard made sure his sister Agnes had sugar for her preserves.
He visited his siblings as often as he could.
Daughter Treva was born on July 18, 1948, in Alexandria, Va. She was named Treva after her mother's sister. She had blond hair and blue eyes.
Leonard and Maycell moved to Woodbridge, Va., close to Belmont Bay and Washington, DC. They opened a restaurant, "The Bleu and White Inn" in 1949, when Treva Marie was just a year old. The complex also had a gas station.
Maycell's mother, Rachel, did the cooking, Maycell waited on tables and Leonard ran the bar. The hours and work were grueling; Maycell often rose at 5 a.m. to mop the floors. The Bleu and White Inn opened at 6 a.m. Fred set up a table and sold fireworks out front for the 4th of July.
Treva had a hard time saying her own name. She decided on a nickname, telling customers her name was T-Ree. She called her Aunt Treva, Aunt T.
"The Bleu and White Inn" was close to a Virginia State Weigh Station. One day State Trooper brought an abandon black Lab down to the restaurant. This dog was named Blackie and became Treva's companion. Treva was heart broken when it was later killed by a car.
During this time Leonard and Maycell purchased a summer cottage on Colonial Beach. Finding time to enjoy it was difficult. Running the restaurant was demanding. It was opened seven days a week. Maycell and Leonard had no time for church. Treva began attending a Methodist Church with a girlfriend and her mother. This became her church home.
Grandma Rachel took Treva back to West Virginia for family visits. It was 160 miles away. Occasionally Leonard and Freddie drove down to Johnston County. This trip was almost 250 miles.
Separation
Leonard and Maycell separated and divorced in 1955. Treva was only 7. She lived with her Mother, but saw her Dad often. Maycell got the restaurant and Leonard got the beach house on Colonial Beach.
Leonard worked as a corrections officer in Loudon County, Va. Later, Leonard sold cars and helped his siblings get good deals on them. At one time he refurbished cars to like new condition.
Leonard took Fred back to Johnston County when he had a chance.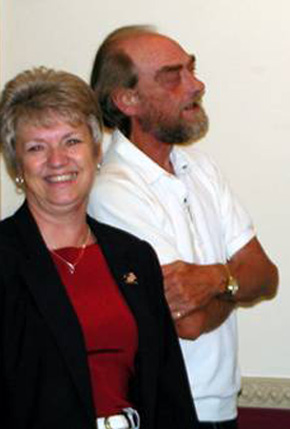 Leonard's children, Treva and Fred.
Family photo
Leonard enjoyed squirrel and rabbit hunting with Agnes' boys.
Maycell developed yellow jaundice. Doctors discovered she had liver cancer. She died on Feb. 9, 1961, when Freddie was 21 and Treva was only 12. Maycell was buried in Front Royal, Va., about 60 miles west of Woodbridge, Va. This was where her sister lived. Treva moved in with her brother Fred and his wife, Dottie for a while.
Next Treva lived with her grandmother Rachel Wimer and Aunt T, for a time and then finally she moved in with her Dad. She grew up in Colonial Beach where everyone knew everyone. When Leonard's sister Lillian died on Dec. 13, 1965, he and Treva attended the funeral. They stayed with his sister Elizabeth.
Leonard developed lung cancer and emphysema. He stayed with Treva most of the time but did spend two months in a nursing home in Falls Church, Va. His former daughter-in-law, Dottie, who lived near Falls Church, visited him often as did Treva and Freddie. Leonard died on Nov. 30, 1980, in Falls Church, Va. He had eight siblings. Now the only one left now was Ila.
There was a service in a Falls Church then the casket was flown to Kenly for a funeral and burial. Ila, Ralph and Tommy Stancil, Walter's son, sat together at the service. Tommy came from Michigan. Treva came down with flu a few days before Leonard's death. She was still ill, but made the difficult trip to North Carolina. She stayed with her Aunt Ila and Ralph Creech until she recovered enough to return home.
Leonard was close to his brothers and sisters. Leonard was the last Stancil buried in the Family Cemetery.