Three generations attend reunion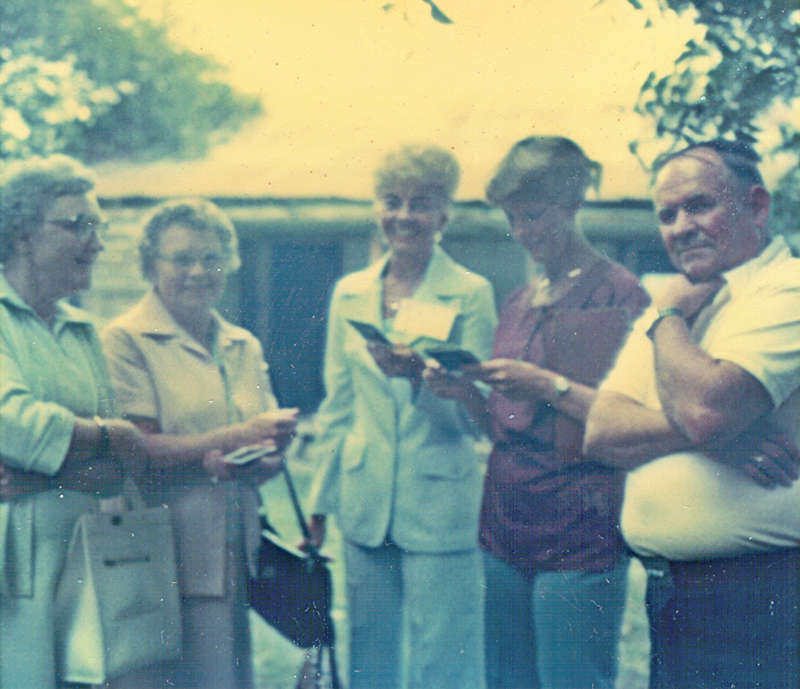 Myrtle Eason; Rachel Renfrow; Bev Stancil; Gay Stancil Leonardt and Bill Edwards. Contributed photo
The John Thomas and Delaney Sasser Stancil family reunion was held at the Glendale Community Building on Sept. 28, 1980.
More than 150 third, fourth, fifth and sixth generation members and several guests attended.
The oldest member of the third generation present was Miss Alice Stancil of Wilson, descendent of second generation son John Archie. She holds a 100 percent attendance record since the reunion started in 1902.
The family tree showing four generations and containing between 400 and 500 names of the family was on display. The blessing was given by T. Emmette Stancil, third generation son of George and Eva Stancil.
Those attending from out of state were Mr. and Mrs. Harry Lester Stancil of Belmont, Calif., and daughter Gay Stancil Leonhardt of Orangevale, Calif.; James H. Stancil of Chattanooga, Tenn.; Mr. and Mrs. Ralph Stancil of Ocala, Fla.; Mr. and Mrs. Charles Blair of Ocala, Fla.; Mr. and Mrs. George Dettenmayer of Spotsylvania, Va.; Mrs. Gertie Pittman Buchanan and sisters, Ruth and Irene, and brother, H.A. Pittman, and Mrs. Pittman, all of Portsmouth, Va. Other members attending came from Raleigh, Greensboro, Durham, Warsaw, Middlesex, Wilson and the local area.
Visitors attending were Mrs. Mamie Stancil Wallace, Wilson; Ron Stancil, Washington; Red Smalley, Chattanooga, Tenn.; Mrs. Margaret Six, Kenly, and Mrs. Minnie Stancil, Kenly. Special guests were three grand daughters of the Rev. John Sasser, brother of first generation, Delaney, a Free Will Baptist minister who pastored Holly Springs Free Will Baptist Church early in this century. They were Sadie Sasser Brown, Spencer; Betty Sasser Overman, Valentines, Va., and Heddy Sasser, Route 1, Kenly.
---