George Branch members at reunion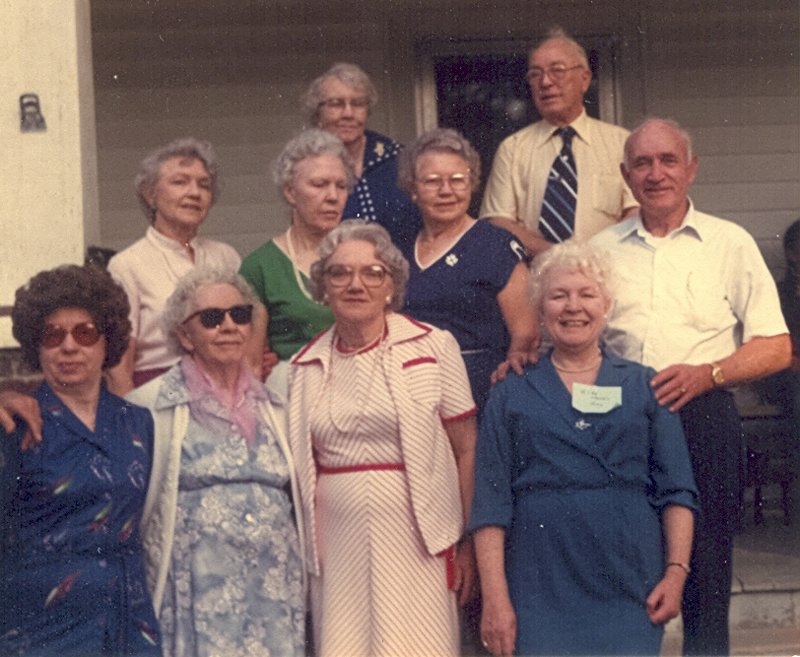 Norma Stancil Moore, Delanie, Myrtle and Hilda. Middle: Vazelle (George); Mamie (George); Rachel and G.I. Back: Effie and Emmette. Contributed photo
175 Attend Reunion of Stancil Family
Descendants of John Thomas Stancil (1841-1922) and Delaney Catherine Sasser Stancil (1842-1915) gathered Sunday, Sept. 26, 1981, in the Glendale Community Building for the annual Stancil Reunion.
The direct descendants are Henry, Samuel, Tempy Ann, Josiah, John, Alvin, Arnettie, Harvey, George, Catherine and Tommy.
Mrs. Alvin (Esther Peedin) Stancil, Rt. 2, Kenly, was recognized as the oldest and only surviving member of the second generation of the Stancil family. Recognition was given Miss Alice Stancil, Wilson, daughter of John and Pinetti Stancil, as the oldest member of the third generation present and for having never missed a reunion.
Representatives from each descendant, numbering around 175, converged from all over the state from Wilmington to Mount Gilead, and from Spotsylvania, Va., to Ocala, Fla.
Clyde Stancil, third generation and son of Harvey from Raleigh, gave a prayer and blessing prior to the picnic dinner.
Ralph Stancil, Ocala, third generation and son of George, was in charge of registration.
Visitors attending the event were Mr. and Mrs. Haywood Sasser of Virginia; Mr. and Mrs. Tom Wilson and daughter of Ocala; Mrs. Jennie A. Shoemaker of Raleigh; Mrs. Margaret Six of Kenly and Mr. James Viverette and Ed Herman of Wilson.
A highlight of the event was the display of a family portrait of the first, second and a portion of the third generation members, taken in 1902. Another highlight was the exhibition of the completed and framed family tree. The family tree measures about 4 by 5 feet, showing four generations of the Stancil family, originating with the parentage of John Thomas and Delaney Stancil in 1860. The tree features the names of approximately 400 persons. The work was executed by a fourth generation member, Mrs. Walter E. (Gilda Renfrow) Six, and assister by her mother, Mrs. J. Graydon (Rachel Stancil) Renfrow, daughter of George and Eva Stancil. Various members throughout the family assisted in assembling the material needed for the tree.
Gratitude was extended to the following third generation members of the Glendale community for their generosity and willingness to make annual preparations for the event: Garland, G.I., Glenn and Donell Stancil.
---