130 attend Stancil Reunion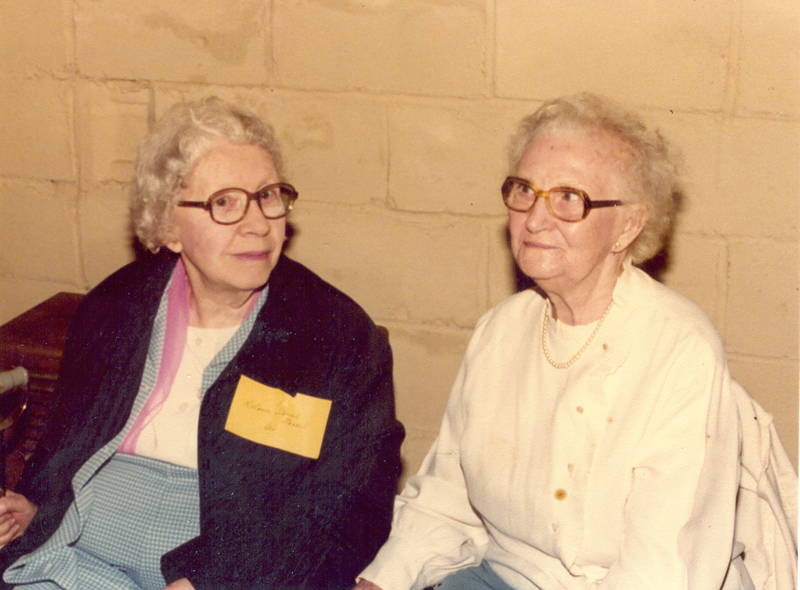 Delanie Stancil (George) and Alice Stancil (John Archer). Contributed photo
The annual Stancil family reunion, originating with John Thomas and Delaney Sasser Stancil in 1903, was held in the Glendale Community Building, Route 2, Kenly, on Sunday, Sept. 26, 1982.
In attendance were 130 members, representing all of the nine direct descendants except one, and six guests. They came from various parts of the state including Greensboro, Raleigh, Durham, Wilson, and local towns and communities. There were some from out of state, including Colonial Beach and Spotsylvania, Va.; Burlington, Ky.; Chattanooga, Tenn.; Washington, D,C.; and Ocala, Fla.
One of the oldest members present was Alice Stancil of Wilson. She is the daughter of second generation son, John Archie and Nettie Stancil, and has never missed the event since it began.
Orders for pictures of the first reunion were taken. The photographic work is being done by Harry Lester Stancil of Belmont, Calif., son of second generation, Joe and Minnie Stancil. He is donating the funds for the maintenance of the family cemetery which is located on the farm of G.I. Stancil Jr.
On display was the clock which was given by John Thomas to his wife, Delaney, upon his departure to fight in the Civil War. The clock was handed down to son, Joe; to his son Loomis, and is now owned by his son, Jimmy, of Chattanooga, Tenn. Also on display was the family tree containing nearly 500 names, representing four generations. It has now been permanently framed by James Viverette, husband of fourth generation, Ann Pittman Viverette of Wilson. This closes all entries to the tree; however, additions will be registered ·in the family history records.
The blessing was presented by Glenn Stancil, third generation son of Alvin and Esther Peedin Stancil. Registration and name tags were distributed by Mr. and Mrs. Ralph Stancil, Ocala, Fla.
---