Stancil family holds reunion Sept. 30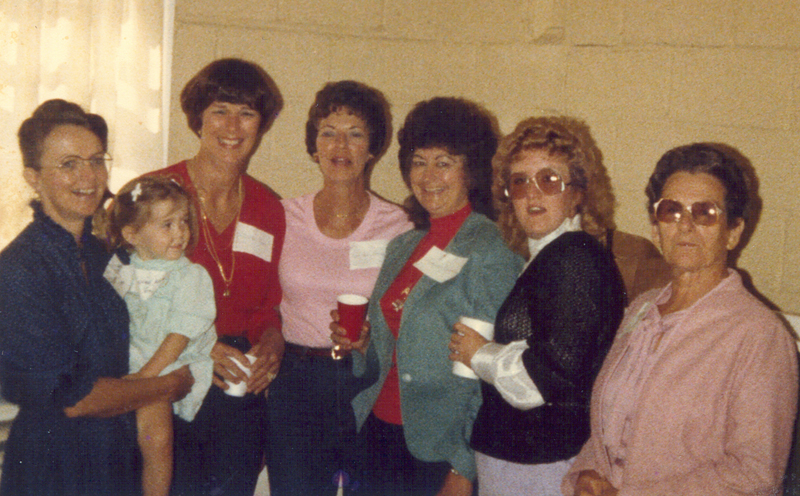 Renn Stancil Hinton and Coree of the George Branch; Phyllis Campbell Noland (Josiah Branch); JoAnn Campbell Brinson (Josiah Branch); Laura Edwards (Josiah Branch); Billie Jean Edwards (Josiah Branch); and Eliza Wells Odom. Contributed photo
The fourth Sunday in September is gathering time for the descendants of John Thomas Stancil (1841-1922) and Delaney Catherine Sasser Stancil (1842-1915). The reunions began in 1902 when the family was made up of farmers. This was a slack time of year because the cultivation of crops was finished and corn was not ready to gather. Cotton had just begun to open. Tobacco gathering was finished.
John Thomas and Delaney raised three girls Tempy Ann, Arnettie and Catherine, and eight boys Henry, Samuel, Josiah, John, Alvin, Harvey, George and Thomas R. Catherine and Thomas left no children.
About 150 attended the reunion this year at the North Johnston Middle School.
Records of Stancil history, beginning when John Stancil arrived from England, were displayed. Also a picture made at the first reunion in 1902, as well as the family tree showing four generations was shown.
Henry, Josiah, John, Alvin, Harvey and George Stancil, sons of John Thomas and Delaney were represented at the celebration.
The day prior to the reunion is also one of fellowship for many of those attending the reunion.
Relatives and friends of Josiah Stancil gathered at the Bill Edwards home for a picnic and musical fest.
Also at Saturday noon, Ralph and Ethel Stancil entertained the family of George Stancil with a luncheon in Wilson. Forty-three persons were present this year.
---