Alvin Branch at reunion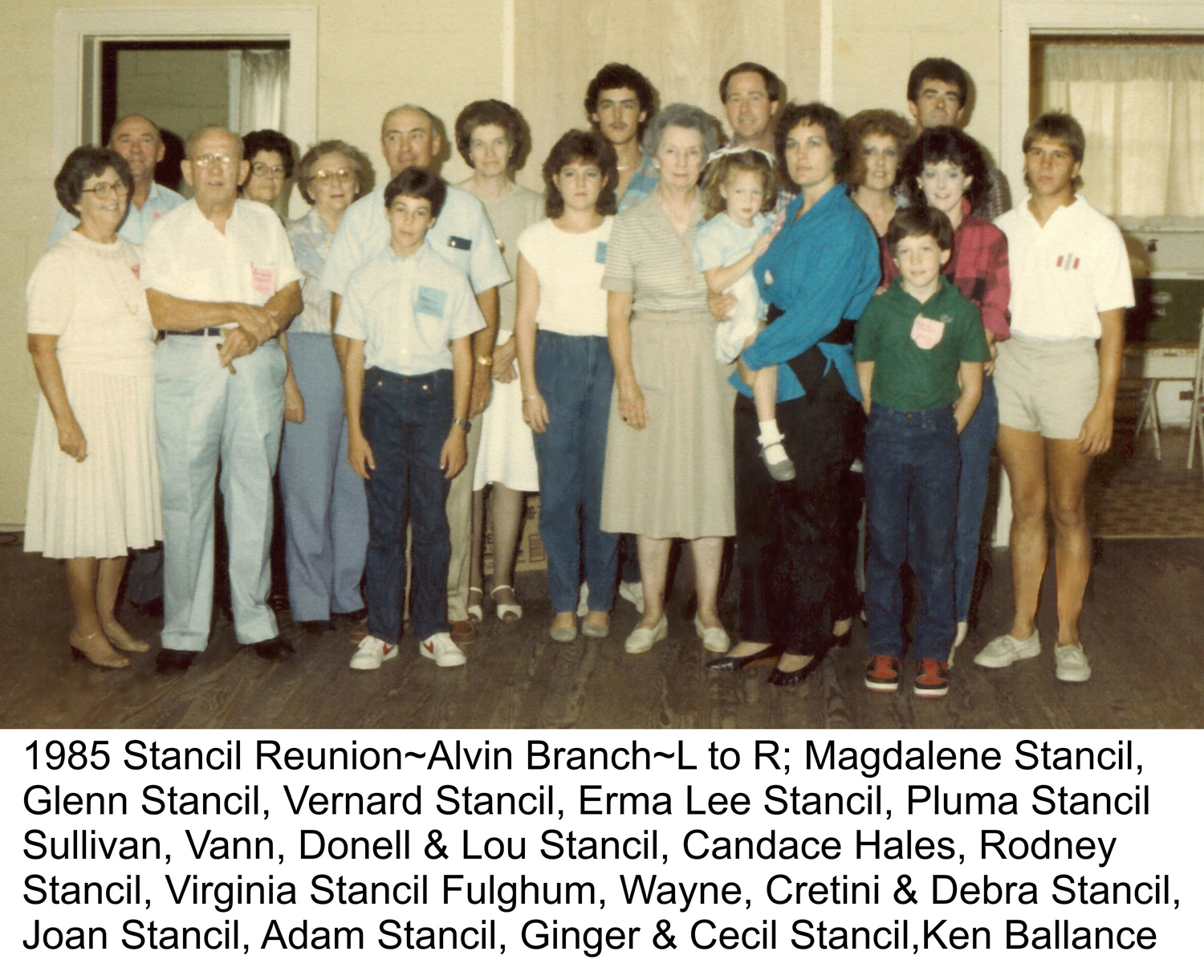 Contributed photo
The descendants of John Thomas Stancil (1841-1922) and Delaney Catherine Sasser Stancil (1842-1915) enjoyed their annual family reunion at Glendale Community Building, Route 2, in Kenly, N.C., on the fourth Sunday in September, Sept. 26, 1985. More than 150 were present.
The original children of this couple were: Henry, Samuel, Tempy Ann, Josiah, John Archer, Arnettie, Alvin, Harvey, George, Catherine and Thomas Ruffin. Catherine and Thomas Ruffin had no descendants. Seven of the nine were represented.
John Archer and Arnettie were not.
Delaney Sasser's brother, Thomas, had descendants present. Haywood Sasser, from Norfolk, Va., was the oldest, 84 years.
Others from out of state were Jimmy Stancil from Chattanooga, Tenn.; Renn Stancil Hinton and family: Bobby with give children from Burlington, Ky.; Hale Stancil and family: Becky and five children from Ocala, Fla.; Ralph and Ethel Stancil from Ocala, Fla.; Harold and Linda Stancil from Birmingham, Ala.; and Paul Douglas from Norfolk, Va.
Lemonade was made for refreshment and food was spread at 1 p.m.
Thanks was returned by William Bill Whitfield, a descendant of Samuel. A picture was displayed that was made at the first reunion in 1902. At that time, George and Harvey lived in Duplin County and Catherine lived in Atkinson, Ga. Those three came home for the occasion.
Looking back in history, Delaney Sasser's mother was Martha Patsy Bagley, who married Henry Sasser. John Thomas Stancil's mother, Martha Patsy Renfrow married Samuel Stancil. Ten years later, after Samuel's death, she married Gillis Hales or Hayles. John Thomas had three brothers and four half-brothers and three half-sisters.
---