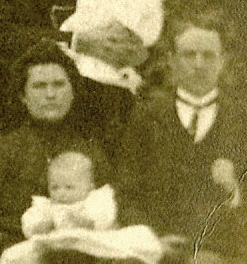 Alonzo Stancil
Born Unknown
Died Unknown
Married Unknown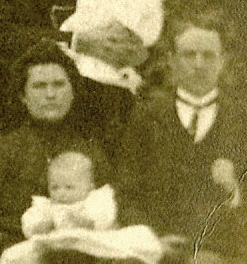 Alonzo Stancil with wife Ada Raines Stancil and daughter Lena Maie in 1902
Alonzo Stancil
Alonzo Christopher Stancil was a second cousin of John Thomas.
He taught Tommy in school.
Alonza Stancil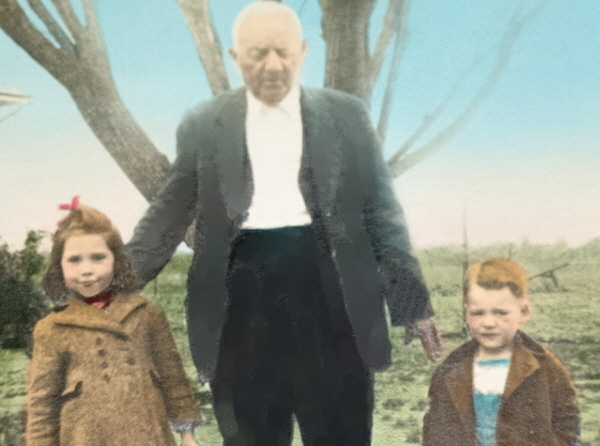 Alonzo Stancil with Linda Kay Creech and Rex Stancil


Family photo
Note: To print photo, click on link and then print.
Alonzo was the son of Reddick Stancil and the grandson of John Stancil. He was the great-grandson of John Stancil Jr.
Reddick's pa John, was an older brother of Tom's pa Samuel.
John Stancil Jr. was the father of Patsy, Jonathan, John, William, Winchester and Samuel.
Alonzo was a teacher at Woodard School House and taught children of John Thomas Stancil. While teaching he stayed some with John Thomas Stancil.
Reddick was twice married, the first time to Polly Creech (sister of Eliza Ann Creech) on Jan. 31, 1867.

They had Alonzo Christopher, Sarah Katherine, Annie L., and Lafayette F.

Polly died around 1877.

Reddick's second marriage was to Eliza Ann Creech (sister of Polly). They had Mary, Florence, Amma, John Harvey, and Hubert D.

Eliza Ann's first marriage was to John C. Stancill (brother of Reddick Stancill) on Sept. 29, 1866. They had Charley L. and George Walter Stancill.

John died around 1877.

Barney and Sarah Creech were Polly and Eliza Ann's father and mother.


Reddick Stancil
Raines Family
Reddick Stancil was a first cousin of John Thomas Stancill.

Family photo

Back row: Twin sisters Ida and Ada Raines
Front row: Edna Sasser Raines and Stephen Raines Ada Raines was married to Alonzo Christopher Stancil.
Family photo

Note: To print photo, click on link and then print.
---
---