Reunions

---
2012 Reunion
Information on 2012 Reunion in Wilson, N.C.

2011 Reunion
Information on 2011 Reunion in Kenly, N.C.

2010 Reunion
Information on 2010 Reuion in Kenly, N.C.
2009 Reunion
Information on 2009 Reunion in Kenly, N.C.
2008 Reunion
Information on 2008 Reunion in Kenly, N.C.
2007 Reunion
Information on 2007 Reunion in Kenly, N.C.
1985 Reunion
Information on 1985 Reunion in Kenly, N.C.
1984 Reunion
Information on 1984 Reunion in Kenly, N.C.
1983 Reunion
Information on 1983 Reunion in Kenly, N.C.
1982 Reunion
Information on 1982 Reunion in Kenly, N.C.
1981 Reunion
Information on 1981 Reunion in Kenly, N.C.
The 115th Stancil Family Reunion will be Sunday, Sept. 25, 2016 -- always the fourth Sunday of September -- in Wilson, North Carolina. The event is at the Moose Club at 2705 Forest Hills Road in Wilson, where it moved in 2013.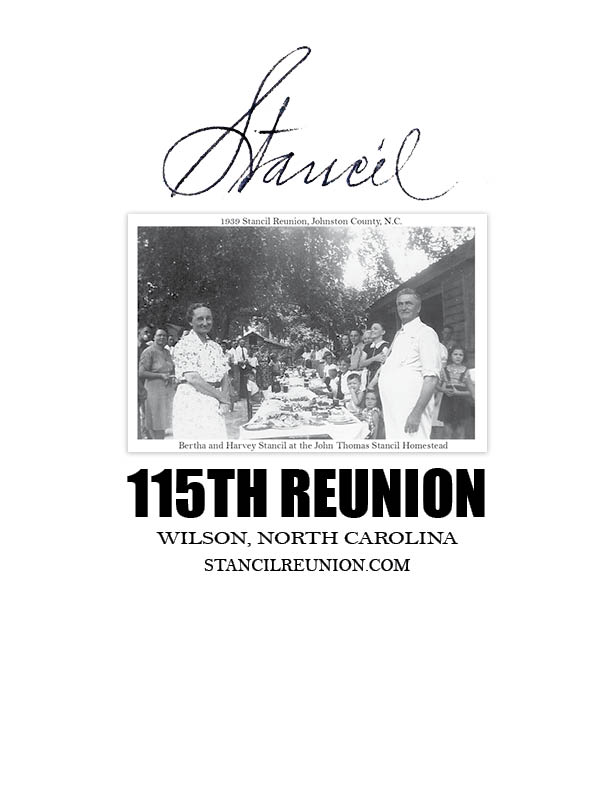 The 114th Stancil Family Reunion was Sunday, Sept. 27, 2015 -- always the fourth Sunday of September -- in Wilson, N.C. Thanks to the 209 family members and guests who attended. The event was at the Moose Club at 2705 Forest Hills Road in Wilson, N.C., where it moved in 2013.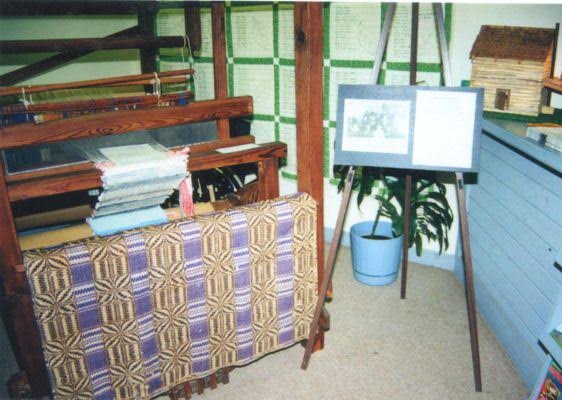 Heading to the reunion next year?
Check out the Tobacco Farm Life Museum. The museum, on U.S. 301 in Kenly, N.C, is open from 9:30 a.m. to 5 p.m. Tuesday through Saturday.The Stancil Tapestry, woven by Delaney Catherine Sasser in 1858, is now on exhibit. Delaney married John Thomas Stancil on July 15, 1860. The tapestry can be seen in the 1902 First Reunion Photo. It was bought by son, Josiah, at the John Thomas Stancil Sale in 1922. Members of the Josiah Branch kept it safe until it was given to the museum in 1998, according to Bill Edwards' wishes, by his widow, Laura Woodard Edwards. Bill, the son of Leafy Stancil Edwards, grandson of Josiah, was the last caretaker of the tapestry.
---
Some items for sale
(Prices subject to change; products may not be available immediately)

Stancil Cookbook Vol II $16

Stancil Cookbook (1982) $5

Both cookbooks: $20

Books of Reunion Collages from 1993-2015: approximately $46 (limited quantity, please pre-order)

First Reunion Photo: $5

First Family Photo: $5

Reunion Pens: $2

Reunion low-profile Caps: $12 (limited quantity, please pre-order)

"Not A Leg To Stand On" by Ethel Stancil $10

"Love for Keeps" by Ethel Stancil $10
---
Stancil Family Tree
The family tree was drawn by Gilda Renfrow Six, a descendant of George, in the early 1970s, and first displayed in 1971. The drawing includes four generations from the John Thomas Stancil family.
In 1982, James Viverette, the late husband of Anne Pittman Viverette, made the custom three-part wooden frame for the four-generation family tree.
It has been on display at every reunion since then, and is taken care of by James and Anne Viverette.

---
Stancil Family Reunion History
The First Stancil Reunion was held in late 1902


Delaney and Tom hosted the First Stancil Reunion. Children living away from Johnston County were Samuel in Wilson County, N.C., Harvey and George in Duplin County and Catherine in Atkinson, Ga. Letters were written and they all attended the First Reunion.


Guests that attended included Marceline Edwards, a close family friend. Marceline was aunt of Allie Edwards, who married Oscar Stancil, son of Henry Stancil, in 1908.


Alonza and his wife, Ada and daughter Lena Maie Stancil. Alonza was the son of Reddick and Eliza Stancil. Reddick was the son of John and Polly Stancil. John and Samuel, Tom's pa, were brothers. Reddick and Tom were first cousins. Alonza was about the age of Arnettie. Alonza taught school. He taught Tommy (Thomas Ruffin Stancil) and told Tom he was the smartest student he had ever had. Members of the Alonza family have started attending the reunions, and we hope they will continue coming.


Jim Batey was picked up by Alvin in Wilson. He lived with Tom and Delaney and worked on the farm. Jim was also known as Albert in the 1900 Census. He was born in 1886.


The photo of the First Reunion shows tapestries hung on the walls of the cabin to dress it up. Delaney wove the tapestry on the far right in 1858. Josiah purchased it at the John Thomas sale in 1922.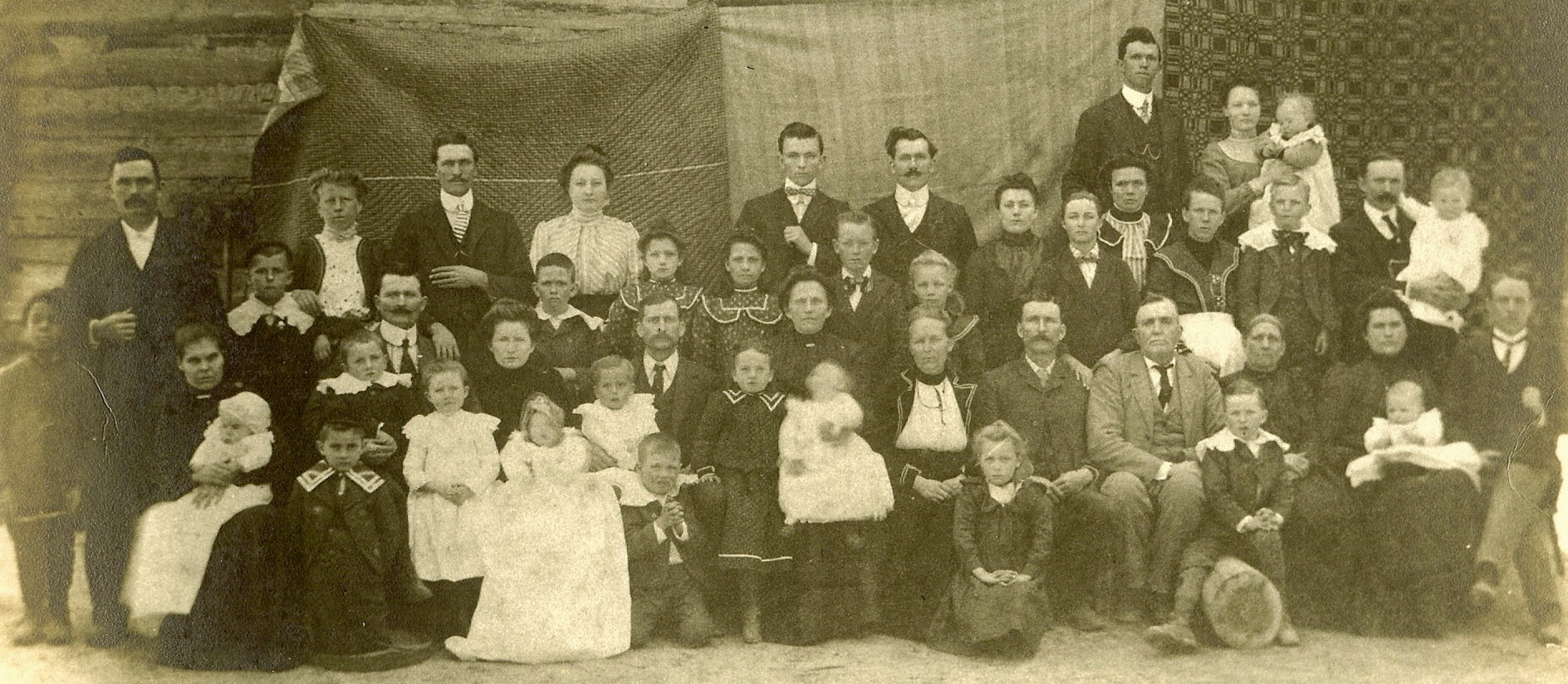 First Reunion photo
Homemade lemonade is a Reunion tradition. Dozens of hand rolled lemons are used. Originally it was made in wooden tubs using water from Tom and Delaney's well.
Over the years men have been in charge of the lemonade. For years Alvin and Harvey, with help from George, made the lemonade. Their sons Vernard, Carl, Garland, Clyde Emmette and Ralph helped. Later Grover Eason (George Branch) who married Myrtle Stancil, Graydon Renfrow (George Branch) who married Rachel and his son Jimmy were in charge.
This well water was used until the early 1960s when the Reunion was moved to the Club House across from Glendale School.
The reunion had been at the John Thomas Stancil homeplace since 1902. In 1915 he traded houses with son Geo Ira Stancil and the reunion continued at the same location. Geo Ira's widow, Eva died in 1962.
Donell secured the Glendale Community Building for the 1963 reunion.
By 1984, the reunion had outgrown this location. Donell arranged for the reunion to move to the North Johnston Middle School.
Changes were happening in Johnston County and in 2006, Donell once again was instrumental in the move to Glendale-Kenly Elementary School. This was home until new county changes required the reunion to move again. In 2012, it was decided it would be moved to the Moose Club in Wilson County.
---
---