Sarah Alice Stancil
Born Feb. 26, 1899
Died April 23, 1988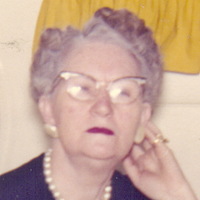 Alice Stancil was born Feb. 26, 1899, and died April 23, 1988
Sarah Alice Stancil was the third child born to John Archer and Pinetta Stancil.
Alice was slender, about 5 feet tall with blue eyes and brown hair. She resembled many of her Stancil cousins. It was said that "she ate like a bird."
Alice joined the Holly Springs Free Will Baptist Church. Alice had her appendix removed at home by Dr. Carnegie for $100.
Alice met Robert Renfrow through her cousin Elbert Stancil. She was taken with Robert and many folks thought they were very much in love and would be marrying soon. Then Robert met Effie Stancil, dropped Alice and eventually married Effie.
Alice had another love after Robert, Millard Holland who lived near granny Perneicy Downing. And also Rozell Bizzet, he was a farmer and gave her a ruby ring,
Alice was very talented. Her first job was as a seamstress for the Free Will Baptist Church Orphanage in Middlesex, NC. She worked here for several years in the mid 1930s. Niece Margaret Stancil visited her there in 1937.
By 1941, Alice had moved to Wilson, NC. She worked for the Singer Sewing Machine Company demonstrating them on her own. She received a commission when sales were made.
Alice also taught sewing. She worked first for Efrid's Department store for many years and then as a seamstress for Lucille's Dress Shop and for Art's Clothing Store, hemming pants and doing alterations.
Alice was an expert seamstress and an accomplished milliner (a person who makes, creates, trims and designs women's hats). Alice fashioned beautiful one of a kind hats. She expertly made coats, dresses, hats, handbags, and quilts and even crocheted.

Sarah Alice Stancil in 1902
Alice had a large home on Daniel Street in Wilson. She rented out rooms to college students during the 1960's. She loved animals, especially her small inside dog, "Blackie." Alice's remedy for keeping ticks away from people and dogs was simple B soak a string in kerosene, tie it around your pants legs or around your dog's neck.
Alice loved her extended family. She enjoyed the Reunions. Alice was often the first one to sign in, under John Archer's name. The last Reunion she attended was in 1982.
Alice was assaulted by her nephew J.D. when Millard and Lillian dropped him off at her home.
Eventually Alice entered a nursing home. Alice gave Millard power of attorney. She told several nephews and nieces the contents of her Will. After she died, her Will was as expected.
Alice died April 23, 1988. Her funeral was held at Shingleton Funeral Home in Wilson. Among those attending were Cousins Margaret Stancil S ellers, 'Bill' William Arthur Stancil Jr., Millard, Martha and Carletta. She was buried in Maplewood Cemetery in Wilson. Millard looked quite ill at the time. He was her executor. He died in September of 1988.
---