Johnston County burials
Stancil Cemetery, at 2160 Glendale Road
This cemetery is located on the original John Thomas Stancil homeplace that was inherited by his wife Delaney Catherine Sasser from her father Henry Sasser. It is currently within property owned by the heirs of Alvin Rosco Stancil.
Daughter of Henry and Frances Stancil
b: April 30, 1887
d: May 9, 1887
Thomas Ruffin Stancil
Son of Tom and Delaney Stancil
b: May 29, 1884
d. May 14, 1907
Sarah Beatrice Stancil
Daughter of J.S. & Minnie Stancil
b: June 19, 1907
d: Sept. 18, 1909
Fannie Stancil
Daughter of Henry & Frances Stancil
b: Jan. 2, 1893
d: Jan. 16, 1909
Gladis Stancil
Daughter of Oscar and Cellie Stancil
b: Sep 13, 1908
d: Sept. 3, 1914
Fannie Columbia Pittman Stancil
Wife of A. R. Stancil
b: Jun 26, 1876
d: Jan. 26, 1915
Delaney Catherine Sasser Stancil
Wife of John Thomas Stancil
b: April 5, 1842
d: Jan. 11, 1915
Arnettie Stancil Hill
Wife of Fred Hill, daughter of Tom and Delaney
b: April 1, 1874
d: June 3, 1916
Allie Edwards Stancil
Wife of Oscar Stancil
b: April 1891
d: Feb. 8, 1920
John Thomas Stancil
Son of Samuel and Martha, Husband of Delaney
b: Jan. 23, 1841
d: Jan. 27, 1922
Henry Stancil
Husband of Frances, Son of Tom and Delaney
b: Oct. 18, 1861
d: March 25, 1933
In Memory of Harry Lester Stancil
Son of Josiah & Minnie Sasser Stancil
b: Oct. 5, 1900
d: Nov. 11, 1935
Alvin Rosco Stancil
Husband of Fannie, Son of Tom and Delaney
b: May 14, 1876
d: April 1, 1935
Josiah Stancil
Husband of Minnie, Son of Tom and Delaney
b: Feb. 23, 1866
d: July 5, 1939
Infant son of Glenn and Erma Lee Stancil
b: May 1941
d: May 1941
Minnie F. Sasser Stancil
Wife of Josiah
b: June 8, 1870
d: Dec. 15, 1943
Frances Barnes Stancil
Wife of Henry
b: Feb. 16, 1865
d: May 29, 1946
William Leonard Stancil
Son of Henry and Frances
b: Aug. 6, 1900
d: Nov. 30, 1980

10 Unmarked Graves
A marker was added in December 2017 for the previously unmarked graves in the Stancil Cemetery. Money was donated for this at the 2017 Stancil Reunion, but additional money needed was taken out of Reunion Funds. Donations are still accepted for the cemetery.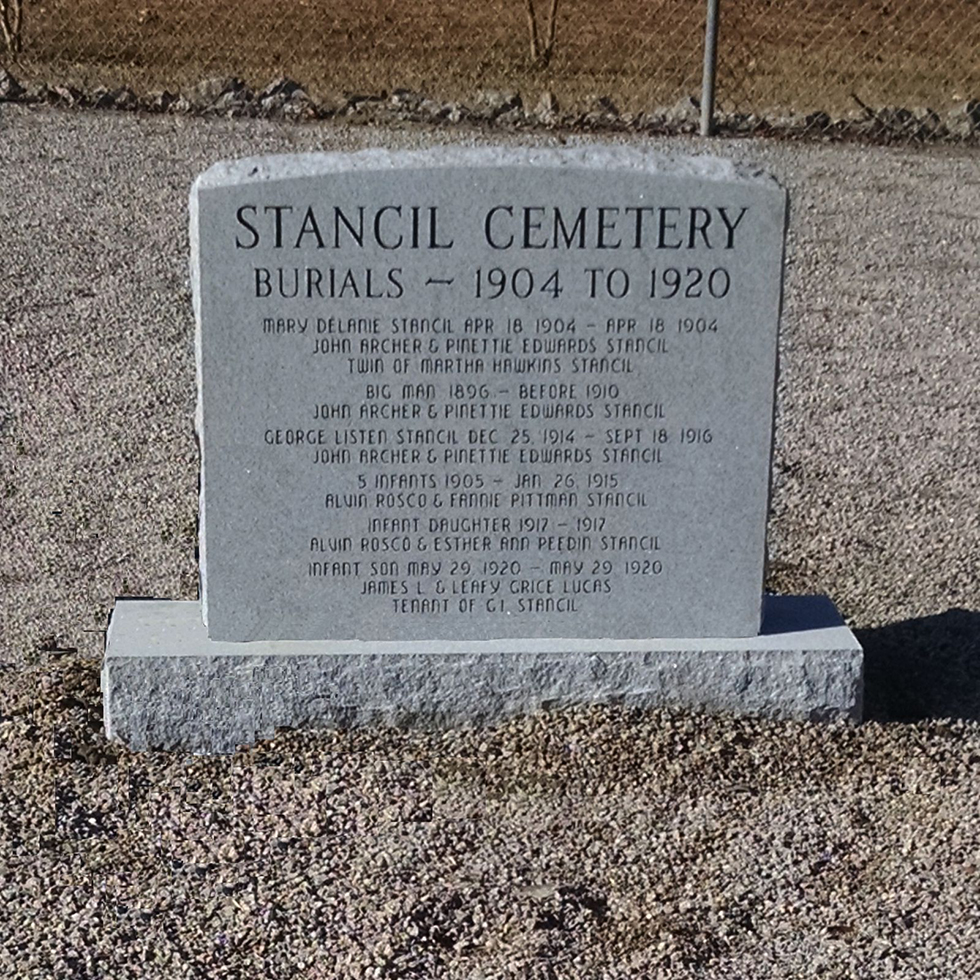 Mary Delanie
Daughter of John Archer & Pinettie Edwards Stancil, twin of Martha Hawkins
b: April 18, 1904
d: April 18, 1904
"Big Man"
Son of John Archer and Pinettie Edwards Stancil
b: 1896
d: before 1910
Five infants of Alvin & Fannie Pittman Stancil
Notes: According to the 1910 Census, Fannie had given birth to 5 children, 2 of them lived, later they apparently died as no children are listed in the 1910 Census, last infant died on Jan 26, 1915
b: between 1905 & Jan. 26, 1915
George Liston
Son of John Archer & Pinettie Edwards Stancil
b: 1915
d: 1916
Infant daughter of Alvin & Esther Peedin Stancil
b: 1917
d: 1917
Infant son of James L. & Lindy Grice Lucas
b: Mar. 29, 1920
d: Mar. 29, 1920

Casket moved to Maplewood Cemetery in Wilson, NC
John Archer Stancil
Husband of Pinettie, Son of Tom and Delaney
b: Aug. 6, 1871
d: May 27, 1934