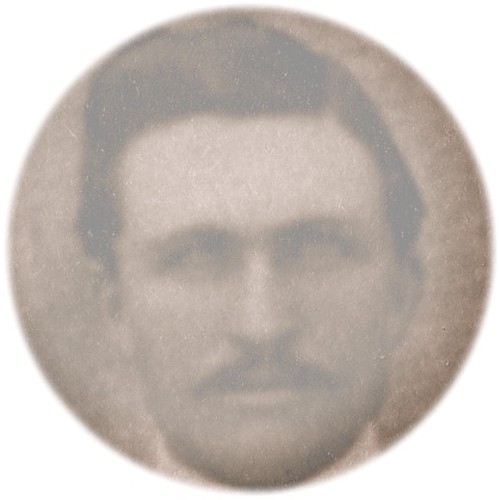 George Garland Stancil
Born June 6, 1918 Johnston County, NC
Died Oct. 24, 2010 Johnston County, NC
Married Doris Narron May 16, 1943 in Oregon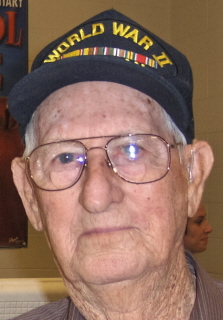 Garland Stancil was born June 6, 1918, and died on Oct. 24, 2010.
Garland's children
With Doris Narron

Katie Yvonne Stancil Dale
June 3, 1949-
George Wallace Stancil
May 16, 1953-
2009 Stancil Family Reunion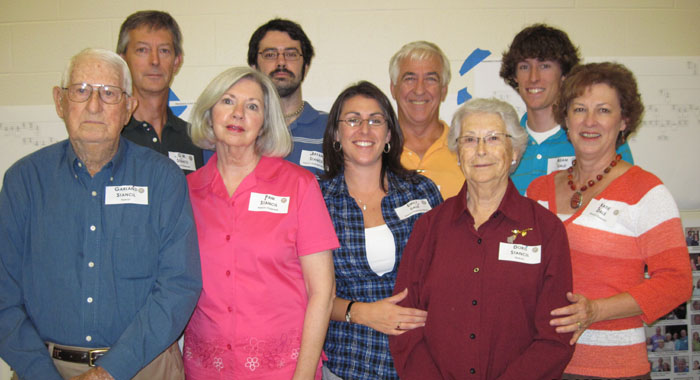 Garland Stancil stands with family at the 2009 family reunion: G.W., Pam, Bryan, Emily Dale, Don Dale, Doris Stancil, Adam Dale and Katie Dale.


George Garland was born June 6, 1918. He and Carl were very close. They grew up working on the family farm. Garland attended Glendale schools. When he was in the sixth grade, he was part of the school program and sang a love song to Robiner Cockrell.

About 1927 the County encouraged area farmers to take orphan boys. The boys would live with them, go to school and work on the farm. Harvey took in Lawrence Smith. Lawrence abused Garland and Carl. He was very mean and cruel. One day Garland and Carl decided to put an end to his meanness. They caught him down at the barn and tied him down. They had their knives out and were ready to castrate him when their Pa came around the corner and put a stop to this scene.

When Garland was 8 or 9 Harvey bought him a white goat. He named him "Bill." Harvey made Garland a little cart. "Bill" grew until he was more than 100 pounds and had long horns. Harvey made a bridle with a bit for "Bill." Garland taught Bill to pull the cart.

Garland had a natural affinity for horses and animals. Harvey taught him to drive the mules at a very early age. A favorite mule was "Daisy." When Garland was very young he plowed with her. Carl plowed with "Kate," a headstrong mule who was liable to take off across the field pulling the plow behind. Because of this experience and others Carl never liked farm animals.

Harvey gave Garland a Holstein steer raised on the farm from a milk cow. Garland named him "Boss." He was trained using one line. Garland planted corn with him. He also hauled wood that Harvey and Carl cut. Garland was 12 or 13, he rode him down to Mr. James Woodard's store, tied him out front and bought penny candy.

Harvey sold Boss for $50 to a farmer who needed an animal to farm with.

Garland liked to plant corn with Alvin's red pony named Diamond. Diamond was a cross between a horse and a pony. Alvin trained Diamond. One day Garland was carrying the borrowed corn hopper while riding Diamond back home. Diamond was startled and jumped. Garland and hopper fell off. Garland then had to carry the hopper and lead Diamond. The trip to return the hopper went much better with Garland riding all the way.

Garland enjoyed riding "Trixie," Uncle George's horse.

Harvey enjoyed hunting with Garland and Clyde. Sometimes Benny Jones accompanied them bringing along his Walker Hound dogs. Harvey had specialized dogs. He used some for rabbits, others for squirrels, possums, coons and some just for tracking.

One very dark night Garland took Virginia, Alvin's daughter and his sister Patsy possum hunting. Garland had two excellent black and tan dogs. They treed two possums but then behaved very strange. The dogs ran to the tree, barked twice and returned to Garland scared. They would bark from the path but wouldn't return to the tree. Garland had a lantern but could see nothing. He could hear a scary voice in the woods but saw no one.

Garland talked to his Pa as soon as they returned home. Harvey told Garland that someone had messed up his dogs. Garland replayed details of everything that had happened in the last few days. He had spent the night before with Grover Eason, over at the Nevel Stancil Place. They had gone hunting. When they returned Garland recalled that Grover had cut a chip from a tree and then left to check on Garland's dogs. The dogs were staying in the pack house. The next night is when the dogs quit hunting. Garland sought a solution.

Harvey had a plan. He told Garland that he must boil water with two dimes in it. He must them split each dog's head, put the dime in, with the face, facing out, then sew up the heads and let them heal. It took about five days for the dogs to heal. Garland took his dogs out hunting and they treed a possum. The cure worked.

Garland and Bill Edwards enjoyed fox hunting together. There were some good places near Raines Cross Roads. Bill was the grandson of Garland's Uncle Josiah.

One season Garland farmed some for Kermit (John Archer's son). He use Kermit's small mule and plowed all the cotton. He recalled an old rail car left on the railroad tracks that ran by John Archer's farm. It was on the edge of the yard.

Garland was dating Doris Narron before he enlisted in the Army on 12 Oct 1942 at Fort Bragg, NC. Garland had completed one year of high school. His civil occupation was listed as automobile service man. His height was listed as 5 foot, 8 inches and weight was 126 pounds.

Garland sent for Doris. She rode the train to Oregon. They were married on May 16, 1943, in Oregon. When Garland was sent overseas Doris returned home. She left to work in the shipyards as an electrician's helper. A skill she still uses today.

Garland was assigned to the infantry. Garland spent 14 months in Italy and marched from Naples to the Switzerland border.

While overseas Harvey had written Garland a letter promising him the farm after the war. After the war Garland and Doris came back to Johnston County. The visit was short. Harvey had put Ollie in charge and gave Ollie the farm.

Garland was discharged from the Army in 1945. Times were tough for them. Garland and Doris move onto Ermit Stancil's farm and farmed on shares for one year.

Garland and Doris moved to Fayetteville. Garland worked for the VA Hospital as a surgical attendant for four years. While there they built a house.

Garland and Doris had two children Katie Yvonne born June 3, 1949, and George Wallace born May 16, 1953.

In 1952, Garland and Doris moved back to Johnston County and Highway 42. Garland farmed on halves for Dr. Earp for about 20 years. Garland looked after 1,000 hogs and 100 cows. The days were long and he did not get Sundays off.

Garland had a pony for Katie and G.W. He built a pony cart and enjoyed taking them for rides along the road. One day a car of thoughtless teenagers lit firecrackers and threw them at the pony and cart. The pony remained calm but this was the last time Garland took them for a ride on the rode.

Harvey died in 1956. Garland visited his home after his Pa died. He found his Mother sobbing, "I don't have a home anymore, it's Ollie's."

In his Will, Harvey left the farm to his grandson, Ollie. Bertha did not even have a life time right to stay there. Ollie wanted to sell the farm, but he also needed operating capital. Garland loaned Ollie money and told Ollie that if he couldn't pay the note when due, then Garland would buy the farm. Ollie paid the interest on the note one-year, but no principal. Garland got the farm.

In October of 1965 Garland and Doris started building a house themselves on the farm. Vernon Stancil, Mavis' husband did the exterior work on the house. His brother Kuther did the inside work.

Garland kept eight goats for a while to weed his pasture. One goat got his head hung in the fence trying to eat tastier weeds and a dog almost killed him before Garland rescued him.

Garland bought a pony "Black Jack." He was larger than a regular pony. Garland kept him for 38 years. Garland's Border Collie, "Tipper" would go drive the pony up on command. Garland said that "Tipper" was the smartest dog he ever had. "Tipper" died at 12 years old. He was buried in a place of honor.

Garland trained a number of horses over the years. G.W. and Katie shared his love for horses. Garland rode until he was about 75. He had some heart problems and the doctor advised against it. Garland regrets listening to his doctors.

Garland kept some of G.W.'s horses until he sold his cattle.

A famous Garland quote, "Their elevator doesn't go all the way to the top."

Garland's interest in horses, ponies, mules and donkeys continues. He enjoyed keeping G.W. miniature donkeys.
---
Based on public information, oral history, memories of Garland Stancil. — Renn Stancil Hinton
---