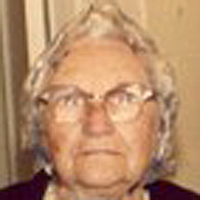 Ila Stancil Creech
Born July 6, 1908
Died March 28, 1994
Married Needon Ralph Creech on Dec. 1, 1955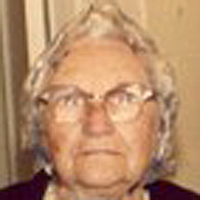 Ila Stancil Creech in 1982
Ila as born July 6, 1908, and died on March 28, 1994. She was married to Needon Ralph Creech on Dec. 1, 1955.
Ila Stancil, the baby of the family lived with her mother.
One day Frank sent Ila to the store. When Ila returned, Frank asked her what the neighbors were doing. Ila said, "Bertha and Esther are sitting on the porch and Eva is chopping in the garden."
In 1923, Dillie, Essie, Sadie and Tommy were at Henry's house. Tommy, Sadie and Ila were outside playing while Dillie, Essie and Frances were in the living room visiting. Suddenly, it started raining and storming. The rain was heavy and stinging and the thunder deafening. The wet children rushed inside. They picked up apples in the kitchen and laid down on the rug in front of the second fireplace to eat.
Frances, Dillie and Sadie saw a bright lightning bolt come out of one fireplace and race across the room towards the other fireplace. They jumped up to see about the children. Tommy had been knocked out.
They drug him to the kitchen, poured water over his face in an attempt to arouse him. Finally he woke up, opened his eyes. It was hard for him to move and his entire body was sore.
Later when they removed his damp shirt they saw the scar across his chest. An eerie reminder of the lightning bolt. Sadie and Ila were momentary knocked out, but not cold like Tommy. They could not move for awhile and when they got up they were also very sore. They were thankful no one was seriously injuried.
Ila joined Center Ridge Presbyterian Church, 2712 Glendale Road, Kenly, N.C., with other family members. When Henry and Frances moved to Durham, she remained in Johnston County. Ila worked in Leslie and Margaret Barnes grocery store, the Buckhorn Grocery, for several years.
Later, Ila supported herself by staying with people who needed nursing care and companionship.
Ila married Needon Ralph Creech on Dec. 1, 1955. This was the first marriage for both of them, Ila was 47 and Ralph was 37. Ralph was born on Oct. 1, 1918. He was the son of Howard and Mattie Creech of Micro.
He grew up on a farm with older sister Lois, born in 1916. Howard was born in May of 1890. Mattie was born in 1900. They were both born in North Carolina.
Ralph's grandparents were Alexander and Amanda or Mandy Creech, who farmed in West Beulah Township, Johnston County, North Carolina.
Alex and Mandy were both born in December of 1850. They married in 1875. Alex and Mary had 10 children, 8 were living in 1910. Know children were: James H. born in 1876, Loid born in 1877, William Edward was born in August of 1878, Mary was born January 1881, George was born April 1882, Thomas also called Tabe was born September 1883, Florence was born in 1886, Okley Carole was born April 1887, Howard was born in May of 1890. Alex was the son of Larkin and Laney Creech.
The marriage bond for Larkin Creech to marry Delaney Gearald was issued on April 30, 1849. The bondman was Alvin Creech. Larkin farmed in the Boon Hill Community, near Selma of Johnston County, North Carolina. His personal estate was worth over $1860 in 1860.
Larkin died before the 1870 Census. His children were: Alexander born in 1850, Madison born in 1852, Loueazer born in 1853, Lizzie born 1854, Keziah Haist born in 1857, Willie Clark born in 1860.
Ila and Ralph farmed. Tobacco was the main cash crop. Family and neighbors helped them, often trading labor. They planted a large garden. Ila canned vegetables. Fresh eggs were always available. A yearly hog killing in the fall kept meat on the table.
Ila enjoyed quilting. A small Chihuahua type dog was Ila's companion. Ila's health began to fail. She died in Johnston Memorial Hospital and was buried in Selma Memorial Gardens. At the time of her death she had the Henry Family Bible.

---