George's children
Georgia Sandra Hill Boyd
Oct. 2, 1948 Va.-
Vickie Sue Hill Joyner
Feb. 10, 1951 Va.-
Joseph Preston Hill
Nov. 27, 1959 Va.-
Skipper George P. Hill (on bridge) supervises as crew docks LT-172 at Fort Eustis
Family photo
George Preston Hill served in the Army for 28 years.
George Preston Hill was in the Coast Guard before he married Margaret Lucille Pope. He was in the Coast Guard for four years, from 1942 to 1946.
His rank in the Coast Guard is unknown. He joined the Army in 1947 and retired with 28 years in the Service. He retired June 1972.
He took part in the Korean War and two tours of Vietnam. He also participated in the testing of the "H" bomb.

His rank was CW2 and was a tug boat pilot and also was licensed harbor pilot. His favorite duty station was in Panama. Dad, Mom and Joe was stationed in Okinawa for 15 months when George had his heart attack and was sent home to the States for open heart surgery.

George Preston Hill received several medals while in the service. Some include the Army Commendation Medal with "V" device and the Bronze Star with "V."
— Source: Joseph Preston Hill, son, July 11, 2008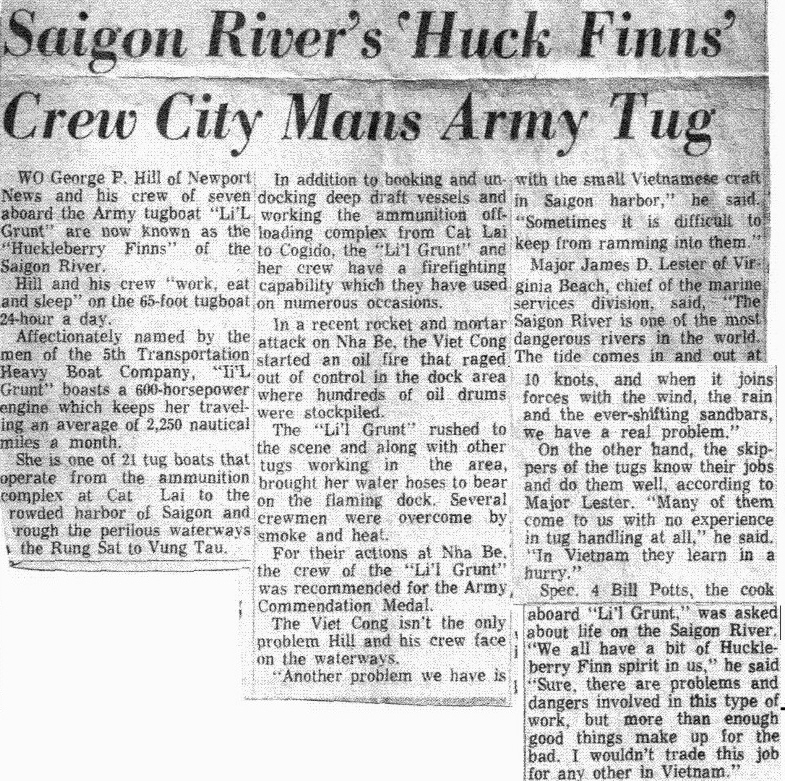 ---