Her grandpa taught her to fish and her grandmother taught her housework as well as how to work tobacco. Gertrude was not quite 10 years old when her Grandma died. The stroke left her unable to speak. Gertrude was ignored as her children hovered around her bed.
Her world was rapidly changing. She had spent very little time with her Pa, Bertha and their children. Gertrude hardly knew her brother Clyde. Adults decided she could not stay with her grandpa, whom she loved dearly. Gertrude's belongings were quickly packed up after the burial. Harvey took her hand and led her away from the only home she had ever known. Gertrude moved in with her Pa, stepmother Bertha, brother Clyde and half siblings Mavis, Vessie, and Patsy. This was so new and Gertrude missed her grandma and grandpa. It was as if all the people, who loved her, were gone and she stood alone in a strange New World. Clyde was already 12, Mavis was 8, Vessie 4 and Patsy was 2. It would take time to adjust to living in house with so many people. Gertrude was used to quiet. This house was noisy. She now shared a bed with Mavis and Vessie.
It took awhile for Gertrude to adjust. Bertha understood Gertrude's feelings, knew the right words to say, and the hugs that were needed to heal this little girl's broken life. Bertha heart was big enough for all the children. She treated Gertrude like her own child. Gertrude grew to loved her dearly and all her siblings. Gertrude soon felt like she was part of this big loving family.
Warming up to her Pa was difficult. He loved her and teased her, like all of his children. Harvey affectionately called her 'Sis.
Gertrude accompanied her Aunt Arnettie, 36 years old and unmarried, when she courted Gertrude's Uncle Fred Hill. Aunt Tempy Ann Stancil Hill died on August 16, 1909. This left Uncle Fred alone with 11 children. Fred married Arnettie on April 23, 1911. 6 year old Gertrude saw her Aunt Arnettie marry and leave. She missed her. Gertrude's grandparents were now 69 and 70 years old. She was an only and lonely child.
Gertrude attended the Woodard School from 1911 until 1918. She worshiped at both Holly Springs Freewill Baptist Church and Center Ridge Presbyterian Church.
On a bright sunny day, Gertrude was walking along the dirt road, with her best school friend, Thanie Cuddington. They saw an open well in the nearby field and decided to take a closer look. Gertrude looked down into the open well. The water was as smooth as glass. In the water she saw a reflection of a man, wearing a blue and white strip suit. He was a handsome man. She recalled the old saying believed by many, that if a single girl saw a man in the water, which was the man she would marry. Gertrude wished with all her heart that this would be true.
Days passed and Gertrude had almost forgotten her vision. She was introduced to Fletcher Pittman. He was wearing a blue and white striped suit. Gertrude could hardly believe her eyes. This was the handsome man she saw in the well. Falling love was quick and easy for both of them. .
Fletcher parents were William Gray and Ella Starling Pittman His Pa was a respected farmer in the neighborhood. Fletcher's grandparents were James and Rhoda Pittman. In the 1850 Census, James name was listed as Jonas and his wife was Rhoda, born in 1832. In the 1880 Census, the names were recorded as James and Faney, and they were born in 1839. In the 1900 Census, William G. mother's name was Juda and she was born in 1836. It's quite possible that Jonas or James was married three times. Fletcher's great Grandparents were Garry and Martha Pittman. They married Aug. 12, 1816. The bondsman was Elisha Pittman. Garry could not write but made his mark.
Fletcher's Pa married twice. His first wife, Pinettie Hales, died in 1896. Pinettia was the half sister of John Thomas Stancil, Harvey's Pa. Fletcher was from his second marriage and he had many brothers and sisters. Full siblings were: Flora born in 1904, Ora born in 1905, Ila born in 1906, Tilma born in 1907, Lina born in1908, Melissa born in 1911, Sanford born in 1913, Rena born in 1915, Josh F. born in 1918, Lena born in 1920. Half siblings were: Alice born in 1882, Robert L. born in 1884, Lafayette born in 1888, Lula M. born in 1890, William Millard born in 1893, Willimer Herbert born in 1896.
Harvey had known W. Gray Pittman for years. He knew Fletcher was from a good family. He was pleased with this marriage. Gertrude was sixteen when she married nineteen year old Fletcher Pittman on October 23, 1921. They were married by a Kenly Justice of the Peace, Paul A. Boyette. Paul was the Uncle of Esther Peedin, wife of Alvin Stancil. Witnesses were George Ira Stancil, her uncle and Joe Godwin.
W. Gray built a house for Fletcher and Gertrude. After a time Gertrude and Fletcher decided to move to Duplin County and farm on Gertrude's land. Land inherited from her deceased mother. There was already a house on the farm. Gertrude and Fletcher stayed one year.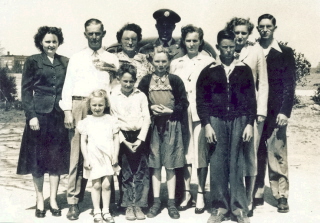 Fletcher and Gertrude Pittman family in 1948
Back row, Mable Irene Pittman Wallace, Fletcher Pittman
(deceased), Gertrude Stancil Pittman (deceased), Billy Royce Pittman, Gertie Mae Pittman Buchanan (deceased), Ruth Elder Pittman Langston (deceased) and Thomas Rex Pittman (deceased), Front row, Jennifer Kay Pittman (deceased), George MacArthur Pittman, Charlotte Anne Pittman Viverette and Harvey Alton Pittman (deceased).
When they returned their house was occupied. Gertrude and Fletcher moved into Uncle Sam's Old Place and eventually bought it. Times were tough and they had to give up the farm. Gertrude and Fletcher became tenant farmers for James Woodard. They lived in one single story tenant house about 1937. This was close to Emmette Stancil's house. They moved to James Woodard's two-story tenant house about 1938. This was located closer to Glendale School.
Gertrude learned how to work at a young age and how to adapt to her situation. She not only worked hard creating a home for her family, but also worked in the fields. Irene remembers her mama taking pride in keeping her house clean, straight, and the floors scrubbed. Her yard was swept clean, as was the custom. Gertrude loved flowers and always had a yard full. Her yard won the Kenly Garden Club monthly award in 1980.
Gertrude loved meat, greens and sweet potatoes. She grew and canned a variety of vegetables for her family. Gertrude canned jars in the tobacco barn. She never lost a jar using this method. Gertrude did not like most vegetables and never ate any according to her daughter, Irene.
Gertrude planted, using the phases of the moon. She canned meats: sausage, lean pork, spare ribs. Hog killings were set by phases of the moon. Gertrude had lots of chickens. Fried chicken was loved by all and chicken pastry was served when hens quit laying. Gertrude even developed her own recipe for pastry, using ham hocks.
The children frequently had friends visiting at mealtime. According to daughter Anne, Gertrude often said, "If the table can hold them, I can feed them." Her table was made out of a Holly tree by Fletcher. Gertrude kept oilcloth covering it.
Gertrude made sure a dessert was served each night. Her children looked forward to one of her specialties: jelly cakes, molasses cakes, biscuit pudding, rice pudding, pies or applejacks. Each child had its favorite.
Anne recalled Gertrude using tobacco twine for crocheting. She crocheted around good parts of worn towels. This not only made them pretty, but extended their life.
Gertrude and Fletcher had 10 children. Gertie Mae was born on July 7, 1922. Mabel Irene was born on Nov. 29, 1923. Arnold Webster was born on Aug. 12, 1925. Ruth Elder was born on June 10, 1928. Billy Royce was born May 10, 1930. Thomas Rex was born on July 21, 1932. Harvey Alton was born April 19, 1937. Charlotte Ann was born Aug. 30, 1938. George MacArthur was born Aug. 12, 1942. Jennifer was born Dec. 25, 1944.
Gertrude and Fletcher were members of Holly Springs Free Will Baptist Church. This was the church Gertrude attended as a child.
Fletcher farmed tobacco, cotton and corn. He raised hogs, chickens. In 1949 Fletcher was able to buy a new red Farmall Tractor. This was a tremendous help and time saver. Fletcher suffered a stroke just a year later. He now depended on Gertrude and the children to farm and support the family.
Fletcher suffered a cerebral hemorrhage on June 28, 1952. He made a partial recovery and Gertrude was optimistic he would continue to improve. Then on July 29 Fletcher had a second cerebral hemorrhage. He died on Aug. 19, 1952. Grizzard Funeral Home, Kenly, NC, was in charge. Fletcher was buried on Aug. 22 in Holly Springs Cemetery, Johnston County, NC.
Gertrude became a widow at just forty-seven years old. She still had four children in school Harvey Alton. Anne, Mac and Jennifer. Gertrude's children learned early, that education was very important. They made their mama proud, by each one graduating from High School.
Gertrude was entitled to part of her Ma's estate in Duplin County as was her brother Clyde. She was not informed about the settlement until long after the fact. Harvey and Clyde settled the estate. The most Gertrude received, as her share of the farm was $600. A seemingly tiny amount considering it's value. Gertrude considered this water under the bridge and never spoke of it.
WWhen Gertrude was 74 years old when she attended the Grand Ole Opry in Nashville, Tenn. Among the stars she enjoyed were: Loretta Lynn, Porter Wagner, Ernest Tubb, Roy Acuff and Bill Anderson. This was only one highlight of many over her 82 years.
Gertrude died on March 23, 1987, in Johnston County.


---