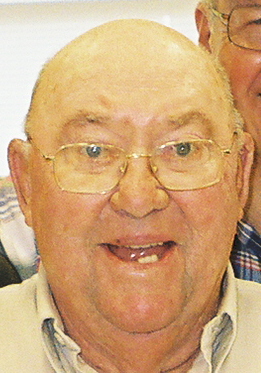 Glenn Warren Stancil
Glenn was born Nov. 30, 1924, and died Oct. 27, 2008.
Glenn's children
Cecil Warren Stancil
June 4, 1943-Dec. 11, 2007
Wayne Alphus Stancil
Aug. 6, 1948-
Aunt Cynthia Cockrell delivered Glenn on Nov. 30, 1924. He was named Glenn by Esther. He was the son of Alvin Roscoe and Esther Ann Peedin. Esther was reading a book and the hero was named Glynn.
Originally his name was spelled Glynn. When he started to school, the spelling was changed to Glenn. It is thought that he was named Warren because grandpa Peedin was a supporter of Republican Warren Harding, the 29th President, elected in 1920, however, grandpa Peedin was a longtime democrat so there remains some doubt.
Upon hearing that another Stancil baby had been born, Mrs. Strickland, a gossipy, opinionated neighbor remarked, "Those Stancil men, they keep all their women pregnant!"
Glenn Stancil and his first cousin Harold Lloyd were playmates. The day the wooden custom made turntable with three tiers was moved into the dining room of Uncle George's new house was memorable. It fascinated Harold and Glenn. When the adult were not around, they took turns riding on the table. Uncle George suddenly appeared with his walking cane. He took the cane and reached it around Harold's neck and pulled him off the table.
Glenn ran home and left Harold to take his wrath.
Glenn Stancil recalls when neighbor Thomas Cockrell died. Thomas was living with his daughter. His son-in-laws built his coffin beside the barn using lumber on hand. The coffin was lined inside and out with a black fabric. A black covered pillow was also made. The coffin was set out in the yard on sawhorses. Thomas' son-in-laws, prepared the body for burial. He was washed, shaved, dressed and placed in the coffin. Most people did not believe in being embalmed. Family and neighbors walked past the open coffin, paying their final respects. The funeral was preached at home. The burial was in the family cemetery behind the house. Thomas Cockrell was a member of the Junior Order and was one of the founders of the Center Ridge Sunday School. A small American Flag was placed beside his grave, honoring his membership.
When Glenn and Harold were 14 year olds, they saw a movie in Wilson titled, "Wings of the Navy," Harold fell in love with the Navy. Harold and Glenn lived for the weekends, when they'd go to Wilson and see two western movies for 15 cents. Glenn and Harold paid for gas and a movie, if someone with a car would drive them.
Tarzan movies were popular too. Glenn and Harold climbed on grapevines and swung in the woods playing Tarzan. G.I. taught Harold to swim in the old spring swimming hole. Glenn went with G.I., and Garland to the swimming hole and listened to them as they told him how to swim. Visits to the swimming hole were a daily event. The spring banks were cleaned and sacks were put on the bank edges. They also dammed up the stream to increase the size of the swimming hole.
One day after a heavy rain, rapids developed and moved swiftly down and through the swimming hole. G.I. was an excellent swimmer and enjoyed going high above the swimming hole, where the rapids were just starting and riding them down. Their speed increased as the boys riding down, raced towards the swimming hole. It was a wild and fun ride. The other boys, Garland, Ollie and Junior taunted and goated Glenn, who now was a pretty good swimmer, to take the wild ride down the rapids with G.I. Glenn was scared but took the challenge and wanted the thrill. Glenn was tossed about, began going under, bobbing up only to be pulled under again. He was using all his strength to try to push himself back up out of the water. His strength was gone and he was about to drown, when he saw G.I. who was getting out of the water. He grabbed G.I.'s bathing trunks for dear life. This maneuver saved his life. Glenn credits G.I. with saving his life that day.
Glenn and Harold had several girl friends. They started double dating at 14 years old. Glenn thought Erma Lee Stancil was the prettiest girl in School. At one time, when Glenn dated Erma Lee, Harold dated Marie, her sister. Glenn wanted to married Erma Lee. He was only 16 but thought he was old enough. Glenn and Erma Lee planned to be married in Dillon, South Carolina. They needed someone to take them. Glenn's uncle, one of his mother's brothers, volunteered. He drove his Chevy and older brother Vernard rode with them to Dillon, SC.
Erma Lee was the daughter of Wiley Alphus Stancil and Lola Woodard. Children included Joseph Thurman Stancil who married Cleo Boykin. Lola Woodard grew up in Glendale. Lola was a distant kin of Dr. Woodard. Her brother was Elijah Woodard. Wiley Alphus Stancil (28 Apr 1894-9 Aug 1961) was the son of Joseph Stancil and Nancy Creech. Alphus was kin to William and Godfrey Stancil, distant cousins of Glenn's great grandpa.
Glenn and Erma Lee lived in the Manley House after they married and before Glenn was drafted during WWII. Alvin had built this house for niece Lillian Stancil and her husband Manley Creech. Lillian was Uncle Henry's girl.
On June 10, 1943, Mamie Stancil Carraway, Uncle George's daughter, wrote to her brother Harold who was in the Navy, that "Glynn and Urma Lee had a boy on June 4."
Glenn enlisted in the Army on Nov. 25, 1945, at Fort Bragg, North Carolina. He listed his occupation as a farmer and enlisted for one year. When Glenn left for the service, Erma Lee moved into the Alvin Stancil Home Place with Esther.
Harold had a very responsible job on the USS Franklin; it was a modern war ship. It was being painted at Norfolk, Va. Harold was selected to be trained to operate the hand the lever that caught the planes as they landed. Harold was a quick learner and very intelligent. He studied hard. Training was demanding as lives were at stake in this task.
Harold had a Nash auto and one Sunday while home Harold went to Center Ridge Sunday School. He stopped to see Glenn who was farming. Harold talked about the Navy and his job in a mature and businesslike way.
Glenn recalled that Harold dated a girl named Helen who lived in Wilson. He never knew Harold to have a steady girlfriend, or bring any home to meet the family.
Glenn and Erma were active members of the Center Ridge Presbyterian Church. Glenn taught Sunday School for about 50 years. He was very knowledgeable and a favorite teacher. He also served as an Elder.
Glenn and Erma Lee's first son died at birth in May of 1941. Dr. Woodard delivered Cecil Warren Stancil at a Clinic in Kenly, assisted by three nurses on June 4, 1943. Dr. Woodard delivered Wayne Alphus at Woodard Herrin Hospital, on Aug. 6, 1948.
Glenn began farming. He was active the community. He served on the ASCS township committee. He also served on the Glendale-Chapel and North Johnston High School advisory boards and on the board of directors for the Johnston County Farm Bureau.
He worked for the USDA, in tobacco inspection beginning in 1961, retiring in 1996. Sometimes he traveled to Florida as an inspector and enjoyed the opportunity to visit Uncle George's son Ralph, a fellow tobacco grower in Ocala, Fla. At the end of his career, Glenn was the area director in charge of the Eastern Tobacco Belt. Glenn also trained the first female tobacco inspectors, who worked for the USDA.
Glenn and his brother Donell purchased the Boyette Farm in the late 1970s, thus preserving the one room Boyette Slave House. Their grandmother, Penny Boyette Peedin, was part of this neighborhood family. The slave house was used as a school for 20 years.
Erma Lee developed cancer and died in a Raleigh Hospital on Sept. 22, 1992. She was just 68. Her funeral was at Center Ridge Presbyterian Church. Reverend Bill Jarrett preached her funeral. One of the pall bearers was her nephew Dan Lewis. Erma Lee was buried above the ground in a mausoleum in Center Ridge Cemetery.
Glenn continued farming with Donell. They raised tobacco, corn, soybeans and wheat. Glenn along with Donell also continued to look after the Stancil Cemetery. He and Donell with the assistance of Lou and Virginia continued to make the Reunion Lemonade.
Glenn bought the G.I. Stancil Jr. farm when it went up for sale a few years ago. This had been part of the original John Thomas Stancil farm and included the Stancil Cemetery.
A baseball field at Glendale-Chapel Recreational Park was named Stancil Field in honor of Glenn, Donell and Cecil on Nov. 4, 2007, for their service to Glendale-Chapel Recreational Park.
Son Cecil died of Lung Cancer on Dec. 11, 2007.
Glenn died unexpectedly on Oct. 27, 2008, after recovering from a single truck accident near Center Ridge Presbyterian Church in August. He was buried at Center Ridge Cemetery with his beloved Erma Lee. Glenn's attendance streak for Stancil Reunions ended with 62. Certainly one of the best!
---
---