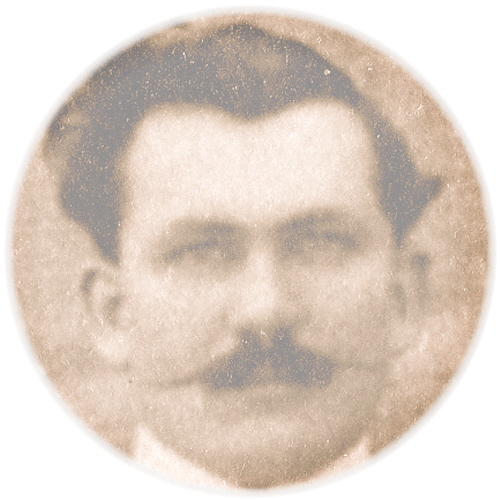 Alvin Rosco Stancil
Born May 11, 1876
Died April 1, 1935
Married Fannie Columbia Pittman on Dec. 25, 1904
Married Esther Ann Peedin on March 29, 1916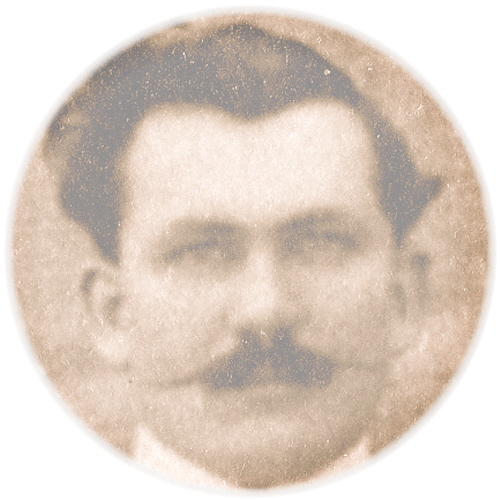 Alvin Rosco was born May 11, 1876, and died April 1, 1935.
Alvin's children
With Fannie Columbia Pittman

Beulah Lindolph Stancil
July 5, 1910 Johnston County, NC
-Aug. 21, 1985
Vernard Alvin Stancil
June 9, 1913 Johnston County, NC
-Dec. 6, 1991 Clinton, NC
Five Unnamed babies
died at birth
With Esther Ann Peedin

Unnamed Daughter
died at birth 1917
Pluma Esther Stancil Sullivan
Oct. 10, 1918-
Oct. 18, 2008
Virginia Penny Stancil Fulghum
Nov. 4, 1921-
Dec. 16, 2008
Glenn Warren Stancil
Nov. 30, 1924-
Oct. 27, 2008
Donell Franklin Stancil
July 3, 1932-
Alvin Rosco Stancil was born May 11, 1876.
Alvin was the seventh child and fifth son of Tom and Delaney.
Alvin was named Roscoe for a politician and Alvin for his mother's half brother, Alvin Raines.
Alvin was a man of many talents. He had jet-black hair, blue eyes, a quick wit and a quick temper. He exhibited a special interest and ability in mechanical things from an early age.
Alvin attended Woodard School November, December, January and February.
With this schedule, children could help with the fall harvest, spring planting and attend school.
Alvin joined Holly Springs Free Will Baptist Church. Probably when his Ma's brother, Elder John Henry Sasser served from 1895 to 1898.

Alvin was a fine looking fella, many of the local girls wanted to go with him.

In spring of 1899, Alvin went to the Cabin Community, in Duplin County and supervised the growing of tobacco. He traveled by horse and buggy.

The Cabin Community looked forward to Alvin's arrival. A group of farmers met with him. Alvin said, "I will tell you about tobacco, starting at the beginning." And he did.

"Tobacco is a very good money crop. Enough money can be made to live comfortable the rest of the year. I'm here to help you succeed."

When the nearby Smith Community needed help, he contacted his younger brother Harvey. Alvin and Harvey participated in community and church activities. Their musical ability was welcomed. Alvin played the violin and Harvey played the banjo. They were popular and warmly received by the communities.
Harvey met his future wife, Gertrude Williams, at the Smith Chapel Church. The season lasted seven weeks. After the season was over, Alvin stayed and worked in a general store owned by William James Kennedy. Alvin courted Myrtle "Mertis" Smith and Della Mercer. Della was the daughter of Celia Jane Mercer Kennedy and step-daughter of William James Kennedy.

Alvin met Eva Ann Mercer, another step-daughter. Alvin thought she'd be perfect for his younger brother George. Alvin wanted to arrange a meeting.

Alvin and Harvey were invited back over Christmas. They took George along.
The three of them traveled all the way by bicycles to Warsaw, N.C. This was about 50 miles. They were met by Will Mercer, Mr. Kennedy's step-son and driven the rest of the way in his buggy.

After a courtship, George married Eva. They lived in Johnston County for a year, then moved to Duplin County and finally back to Johnston County. They brought a 12-year-old Negro boy back with them, Ashley Johnson. George needed a farm hand. George and Alvin bought a farm, the Haywood Hales' Place together. Alvin, George, Eva, Effie, Emmette and Ashley moved in about 1904. This farm was large enough for Alvin and George and one tenant.
Years earlier, Alvin had taken an orphan Negro boy, Jim Batey, to his parents' home. Now that Alvin was living with George and Eva, he brought Jim over to help work. The two extra hands were important in a day when so much manual labor was necessary.

Before the farm could be divided, George and Eva moved to Duplin County. George sold his interest in the farm to Alvin. Ashley stayed in Johnston County.

Alvin opened a watch repair shop in Kenly. His life long mechanical gifts were a great asset. Alvin was a self-taught watch repairman and jeweler. He used a large magnifying glass and a set of fine jeweler's tools.

Alvin went with many girls, but true love eluded him until he met Fannie Columbia Pittman at one of the community vocal reunions held at her church, Branch Chapel Free Will Baptist Church. Fannie, who grew up in Selma, was the daughter of William Monroe Pittman and Mary E. 'Molly' Avera Pittman. Fannie was born June 26, 1876.

Alvin and Fannie were married on Dec. 25, 1904, according to The Johnston County, North Carolina Marriage Registry. A.R. Stancill was 27 and Fannie Pittman was 28. Justice of the Peace J. H. Parker of Selma, N.C., married them. Witnesses included John Archer Stancil and U.N. Eason.

John Thomas gave Alvin some of the original Henry Sasser Homestead. This land was inherited through Delaney. Alvin built a house, barn and purchased a large farm bell used to call him to dinner and to sound a fire alert.

In July of 1906, Alvin's youngest brother Tommy and Fannie's sister Mamie, married.

Alvin and wife Fannie attended Holly Springs Free Will Baptist Church and joined in community activities. Alvin and Fannie looked forward to becoming parents. Through the years sadness was mixed with happiness. Five of their seven children died at birth. Burials were in the Stancil Graveyard. They rejoiced in the safe arrival of Beulah Lindoph on July 5, 1910. Grandma Delaney delivered her. Beulah had brown eyes and jet black curly hair, a real beauty.

Alvin and Fannie were among the first in the neighborhood to have a telephone, rented by the month. The Phone Company ran the original line, then it was up to the subscribers to keep the line in good repair. Brothers Harvey and John Archer also had phones.

During this time washing clothes was done in the back yard over a hot fire. A large iron pot was placed on a fire and filled with water. Clothes were boiled and stirred with paddles to clean them. They were rinsed in another pot of clean water and wrung out by hand. Clothes were hung on lines or fences.

In 1912, Fannie was washing clothes while 2-year-old Beulah played in the yard. Fannie's skirt caught fire. She panicked, raced inside the house. Fortunately, Alvin's tenant farmer, Frank Reeves was plowing nearby. He saw it all. Frank rushed to the house, smothering out the fire. He saved her life. Fannie was burned severely, especially on her back. She had terrible scars that caused her difficulties the rest of her life.

Frank was an accomplished carpenter. Alvin hired him to build a house on the 70-acre farm inherited from his pa. Frank was also a blacksmith, maintaining a blacksmith shop on Alvin's farm.

Alvin hired Frank Reeves to build a rental house for Manley Creech, son-in-law of his brother Henry. It was named The Manley House because it was built for Manley and his wife Lillian.

Alvin and Fannie welcomed a new family member. Vernard Alvin arrived on June 9, 1913. He was delivered by grandmother Delaney. There was joy once again after a difficult year. Beulah was excited to have a brother.

Fannie grew a vegetable garden. She worked hard to make sure there were vegetables over the winter months. She raised chickens for eggs and meat. Some of Fannie's chickens had six toes, a real oddity.

Alvin had two stores during his lifetime. His first one was about 1914. He sold popcorn, peanuts, candy in addition to the usual items found in a country store. Alvin's tenant farmers made credit purchases. They settled up when crops were sold. One day Emmette got Ralph to taste a brass button. Ralph swallowed it. Emmette was spanked. Ralph was given a dose of castor oil and taken to Alvin's Store, where George bought him popcorn. This took care of the problem and Ralph passed the button.

Fannie became pregnant again in 1914 and the family was happy. They were ready to welcome another child. A black cloud of grief hung over the family. Fannie died during childbirth on Jan. 26, 1915. She hemorrhaged, the child died, too. Delaney had died only 14 days earlier. Not only was Delaney her mother-in-law, but the best midwife in those parts. Many felt that if she had been there, the outcome would have been different.

Fannie was buried in the Stancil Graveyard. These words were chosen for her marker,


A tender mother and a faithful friend

After Fannie died, her ma, Molly Pittman, took Beulah, 5 years old, and Vernard, 2 1/2 years old, to live with her. Her home was near Branch Chapel Church. Alvin not only had to cope with losing his wife and child, but with not seeing his children. Alvin continued to farm and make a living for his family, but he longed for his children, and they wanted to come home.

Alvin arrange for Beulah and Vernard to live with one of his trusted tenants, Roscoe Pope. He lived in the Manley House with his wife Kersey and three children: Nathaniel, 7, Luby, 6, and Mamie, 3. Alvin began looking beyond sorrow toward a future with Beulah and Vernard.

Alvin closed his store after Fannie died. He sold out the remaining merchandise. After a time, Roscoe Pope rented the store and it reopened. Business wasn't good and it closed again.

Alvin no longer wanted a telephone after Fannie died. He gave it to George who installed it beside his front door.

An insurance agent sold George and Alvin disability insurance policies. The premium was paid annually. Alvin let his lapse.

Alvin met Esther Ann Peedin, when he was invited to play the violin at Abedenago B. Atkinson's home in Beulah Township, during a neighborhood gathering. Abendago married Sarah Jane Hales, half-sister of Alvin's Pa.

Esther was petite with light brown hair and blue eyes. Alvin found Esther fascinating and wanted to court her.

Alvin began courting Esther. His majestic French Coach Stud pulled the buggy. Esther was the daughter of Penny Boyette and Sanders Peedin. Sanders' full name was Sanders Amos Jackson Joshua Newit Peedin.

Esther was one of 14 children born to Penny and Sanders. Penny and Sanders married in 1874. Sanders owned his own farm and employed farm laborers. They attended the Primitive Baptist Church.

Esther's ma Penny, grew up in the O'Neal Township area of Johnston County. She was the eldest child of Larkin G. and Chloe A. Boyette. Larkin was a well to do farmer who had owned a number of slaves. He built the Boyette Slave House that later became a school. Chloe was Delaney's aunt.


Musical gathering were often held in the Peedins' Pine Level home. Alvin met her brothers, Millard, who played the violin and James who played the mandolin. Alvin, Harvey, Leumos Stancil and Fletcher Hill were invited, along with many others. Leumos was Josiah Stancil's son and Fletcher was Tempy Ann's son.

Alvin was ready for marriage and so was Esther. On their wedding day, Wednesday March 29, 1916, they traveled by buggy to Smithfield for their marriage license. Then they drove by Preacher J. Hardy Whitley's home. He was the pastor at Holly Springs Free Will Baptist Church. Alvin and Esther sat in their buggy, while he performed the ceremony.


George and son Ralph, 8, at the time, were by the woodpile when Alvin and Esther drove by. George greeted them and they stopped to visit. Ralph said that he thought Esther was the "least person" (smallest, most petite) to ever get married. According to the Johnston County Marriage Registry: A. R. Stancil of Beulah, 38 and Esther Peedin of Pine Level, 27, were married by Minister J. H. Whitley on March 29, 1916 in the road. Witnesses were Paul A. Boyette, Luther Munford and Z. H. Munford. Paul was Esther's first cousin, Gray B. Boyette's son.


Alvin had looked forward to having his children home again. It had been a long and lonely 14 months. Esther was anxious to create a home for Vernard, Beulah and Alvin. They needed Esther's special love and stability. She was a devoted wife and stepmother.

Alvin was a noted horse and mule trader. He always had a nice horse and buggy. Alvin's beautiful bay French Coach stallion, "Dan," pulled his buggy and also fathered many fined foals in the neighborhood. One filly Alvin kept was a bay, named "Trixie." George traded his spotted mule "Zeb" to Alvin for another mule, "Rodie." George wanted a matching pair of mules.

Molly Pittman, Vernard and Beulah's grandma, once visited and gave Vernard a silver dollar and Beulah some loose change, saying affectionately, "I love you little devils, because you're Fannie's children."

There was never a shortage of love in Alvin's home.

Alvin had a number of tenants and farms in Johnston County. Among his tenant farms were two near Micro, the Smith Place and the Hawkins Track, a two-horse farm or two-tenant farm, it was about 30 acres. He had a place near Gilliam Stancil's Store in Shoeheel. Gilliam was an adopted son of James Henry Stancil (his uncle). Alvin kept the Haywood Hales' Place.

Alvin invested in a sawmill close to the pond, behind Emmette Stancil's Store. There was a spring in a hole and it was dug out so water there could be used for the sawmill's boilers. Later the sawmill was relocated closer to the back of the property, near the "Jim Place," on the south side of the spring. Alvin moved the sawmill again, this time across the field towards the Henry Stancil Old Place. Many large pines were cut from that property.

Alvin was the first of his brothers to buy a car. It was a black 1916 Chevrolet. He sold his horse and buggy to George. This was the same buggy used by Alvin and Esther when they were married. Alvin had a variety of cars over his lifetime. Among them were a Ford Whippet and a Chambliss. The best was a 1931 Ford.

The first year that George Ira was elected Justice of the Peace, Alvin was elected Sheriff of Kenly. Alvin didn't have a pistol yet and when he needed one to perform his sheriff duties, he borrowed the 32 caliber pistol from George. This was the pistol George always took with him on those long trips to Duplin County.

Henry decided to sell the farm inherited from his pa. Alvin purchased it with funds borrowed from the Federal Land Bank. Henry bought a farm nearby and built a new house close to Harvey's Land.

Frank Reeves moved from Alvin's farm. Milford Hales and his family moved in. Milford was the 'bound son' of Jesse Hales. He was the son of Stancil family friend, Marceline Edwards. Jesse Hales was one of Alvin's Pa's half brother. Milford was a tenant farmer at Alvin's for two years.

Doc Battle, a Negro man, once lived in the Frank Reeves House and worked as a tenant farmer for Esther. Doc was well liked in this community. Years later, in 1951, Doc went to Florida to farm for Ralph, George Ira's son. Ralph's auto accident prevented him from farming for several months.

Alvin had a work ox that he trained to kneel down while getting his harness attached. Alvin would say, "Down Bright." Alvin also had a good pair of work oxen and often farmers in the community used his yoke of oxen.

Alvin usually did not personally farm. He had a number of tenant farmers. He did however farm tobacco one year with Raymond Hill. Ralph only recalls seeing him plowing on a few occasions over the years. Alvin did assist in driving tobacco trucks to the barn and hanging tobacco in the barn. Ralph never observed Alvin or Harvey cropping tobacco, but of course they were between 40 and 50 years old then. Neighbors knew that Alvin and Harvey held the distinction of being instrumental in the growing of tobacco in Duplin County. They were highly regarded tobacco growers in Johnston County throughout their lives.

Alvin was known as a fair-minded man. He never forced a tenant farmer, whose time was up to leave, until he had a place to move. He paid the debts of at least one, Raymond Hill, putting his own life in peril. Raymond was married to his niece, Mavis Stancil Harvey's daughter.

Alvin had the first vise in the neighborhood he shared. He also had the first stalk cutter, used for cotton and corn in the area. Two mules pulled it. Harvey, George and others used it. Alvin also had one of the few stump pullers.

Alvin and Esther had five children. Esther was at her mother's in Pine Level when her first child was born. Tragically this daughter died at birth.

Later they had Pluma Esther born Oct. 10, 1918, a baby born between Pluma and Penny that died at birth, Virginia Penny born Nov. 4, 1921, Glenn Warren born Nov. 30, 1924, and Donell Franklin born July 3, 1932.


Cleaning the Stancil Family Graveyard (2160 Glendale Road, Kenly, NC) was done annually. Alvin, Harvey, George and families helped. Early markers were wooden, most were stone. Six of Alvin's babies were buried there. At least two were daughters.


There was a snow and sleet storm in January of 1920. Alvin hitched his steer Old Ben to the ox cart and visited George and Eva, Henry and Frances and Harvey and Bertha.


Alvin kept sheep and cattle. The sheep were sheared in the spring. A man traveled around shearing the sheep and buying the wool. Clippers were attached to a hand crank that was turned manually. Alvin had mostly white sheep. Sometimes twins were born. Raising sheep was not profitable. Alvin eventually sold all of them.

Alvin had several cows used for milking. He sold some for beef. Alvin kept a milk cow for his personal use. Occasionally a woman in the neighborhood could not nurse her baby. A milk cow was a necessity. Whenever possible Alvin would loan the family a cow. He saved more than one baby's life.

Esther raised chickens, geese and turkeys. She sold eggs and older hens when they quit laying. Eason's Restaurant in Selma bought Esther's eggs as did Dobbin Bailey's General Store in Kenly. They were always top quality eggs. Esther stopped selling eggs in the 1950s. Grandpa Peedin gave Esther turkeys. Turkeys were not known for their intellect. It took extra attention and effort to save them from themselves. It was common for them to look up into the sky when it rain and to come close to drowning. Virginia recalled that Esther never roasted a single turkey.

One of Alvin's least favorite jobs was breaking up the ground for Esther's annual garden. Alvin used his favorite mule Rhodie. Esther grew a variety of vegetables each year, beans, corn, squash, collards, cabbage, butter bean, peas, strawberries, cucumbers, turnips, onions, and Irish potatoes. Watermelons were grown in a separate patch.

Alvin and Esther played music together. Esther played the piano, organ and guitar. She had a lovely voice, often sang while Alvin accompanied her on the violin.

Alvin also played the banjo. He could play most anything by ear, and most instruments. Alvin's most requested numbers were 'Over The Waves,' 'Whispering Hope,' 'Silver Threads Among The Gold' and 'Turkey In The Straw' when his audience insisted. Often Harvey played the banjo with him.

Creola Creech Capps
Alvin's children were musical. Beulah, Pluma and Glenn sang together. Alvin bought a piano and Beulah played the piano by ear. Alvin, who had perfect pitch, would say, "You kids are out of key." Alvin was a perfectionist.

Occasionally after Alvin had a disagreement with Esther he would sing, "When I'm Gone You'll Soon Forget Me!" This relieved the tension and all was soon forgiven. Theirs was a long lasting love affair.

Alvin said to his children, "You do what I tell you to do." One day Alvin told Virginia, "Go into that stall, run that red horse out." Virginia hesitated, "I'm afraid, Daddy." Alvin wisely replied, "If I thought that horse would hurt you, I wouldn't send you in there." Virginia ran the horse outside without incident.

Alvin and Esther were members of Holly Springs Free Will Baptist Church. Harvey, George and John Archer sat in the Amen Corner, their wives sat with the other women and babies. Alvin, by contrast, always sat with Esther and the children. Alvin was one of the few fathers who regularly attended school PTA meetings.

Alvin and his brother Joe had a grain threshing business in 1924. Sometimes George helped too. Alvin furnished the gasoline engine. Wheat was fed into the thresher. The engine acted up. Alvin oiled it, and made adjustments while it was running. While tinkering with it his left pointer finger got into the machine and it was cut off at the first joint. "I don't know if I'm going to be able to play my violin," were Alvin's words of despair. Miraculously Alvin was still able to play.

George wrapped the finger in his hankerchief and took it home. He told sons Emmette and Ralph and nephew Clyde to bury it, in the graveyard by Fannie's grave. Emmette, Ralph and Clyde picked up the hole diggers, carried the wrapped finger to the graveyard. They dug a hole in a spot beside Fannie's grave. Curiosity got the best of them. Ralph, always full of curiosity unwrapped the finger for good look before the burial.

In 1925, a special Foot Washing Service was held during the Quarterly Meeting, at Holly Springs Free Will Baptist Church. Most men from the neighborhood attended. Seventeen-year-old Ralph washed Alvin's feet and as he did, Alvin said, "No foolishness now Ralph, if ever a man needs a blessing I do."

Alvin never made whiskey but had a Still and let Jim Lucas and Jim Yelverton use it. John Archer's sons, Arthur and Millard, used the Still, too. The Still was made by the 'Ten Smith' company. It came in several different pieces. Beer was put in a container, boiled and the steam off the beer collected, this was the whiskey.

Alvin bought a 1928 Fordson Tractor and used it to disk his land. This four-cylinder tractor produced 20-horse power at 1,000 RPM. A large 50-gallon fuel drum for gasoline was kept down at the barn.

Although Harvey was better known for creating nicknames, Alvin did nickname Carletta, John's daughter, "Carspinner."

A beautiful and friendly, sable and white collie, 'Bob,' greeted visitors to Alvin and Esther's farm. Bob was an excellent cow dog and popular with the kids. One hot summer day, Alvin decided Bob's sable and white fur coat was making him too hot. Alvin solution was to shear him. Alvin had sheared sheep before, he had the 'Know How.' Bob's long hair and distinguished looks were gone. Even his mistress Esther didn't recognize Bob. The neighborhood dogs didn't either!

Alvin opened The Shop House in 1930. His tenants used it, so did folks in the neighborhood. Tenants charged items needed and settled up when the crops were sold. Daughter Virginia sometimes ran the store.

Alvin bought Glenn a bicycle. Glenn was proud of his new bike. Cousins "G.I." George Ira Stancil Jr. and "Junior" Thomas Emmette Stancil Jr. had bicycles but not as fine as his. George bought a bicycle for his foster son, Bill.
Esther served fried chicken often and sometimes traded frying chickens for fish, to keep variety in their diet.
In 1935 Alvin's health began to fail. He sought help at Duke Hospital. The doctors wanted him to remain in the hospital, but Alvin's desire was to return home.

A stroke took his life on April 1, 1935. Alvin's body was prepared for burial at Grizzard's Funeral Parlor in Kenly, above Mr. Grizzard's General Store. Niece Mamie Stancil combed Alvin's hair for his funeral. Alvin wore his hair it in the 'Roach' style at the time of his death. His coffin was purchased from Mr. Herbert M. Grizzard. Some folks still built coffins at home. Wide pine boards were kept for this purpose.

A black hearse returned his body home for the traditional Wake. The coffin was place in the new addition of the house. Family and friends remained with the open casket throughout the night. Rev. James A. Evans, pastor of Holly Springs Freewill Baptist Church, preached from the front porch. A black hearse arrived from the Grizzard Funeral Parlor.

They took the coffin to the Stancil Family Cemetery. Employees of Mr. Grizzard had dug the grave. Esther and some of the children sat in a car at the cemetery, for the final words of Rev. Evans, while family and friends stood nearby. Vernard knelt beside his Pa's grave and let his tears fall.

Alvin's epitaph is very appropriate for this unique man.

A fond husband, a tender father and a friend to all

---
Based on memories of Ralph Stancil (nephew), Virginia Stancil Fulghum (daughter), Hilda Stancil Stover (niece), Mamie Stancil Carraway Blair (niece), public information and newspaper articles.
— Renn Stancil Hinton

---