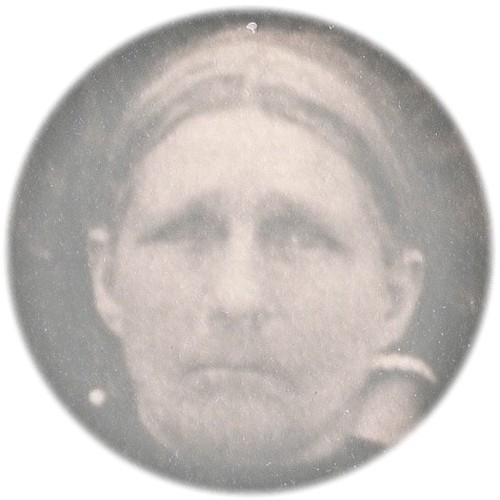 Delaney Catherine Sasser Stancil
Born April 5, 1842 Johnston County, NC
Died Jan. 11, 1915 Johnston County, NC
Married John Thomas Stancil July 15, 1860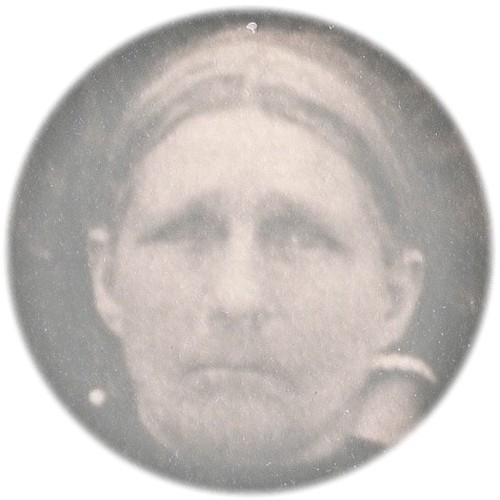 Delaney Catherine Sasser Stancil 1902
Delaney was born April 5, 1842, and died Jan. 11, 1915.
John and Delaney's children
Henry Stancil
Oct. 18, 1861-March 25, 1933 Johnston County NC
Sam Stancil
Sept. 5, 1863-May 30, 1930, Johnston County, NC
Josiah Stancil
Feb. 23, 1866- July 5, 1939 Johnston County, NC
Tempy Ann Stancil Hill
April 10, 1868-Aug. 16, 1909 Johnston County, NC
John Archer Stancil

Aug. 6, 1871-May 27, 1934 Johnston County, NC
Arnettie Stancil Hill
April 1, 1874-June 3, 1916
Alvin Stancil
May 11, 1876-April 1, 1935
Harvey Stancil
July 23, 1878-Feb. 22, 1956
George Ira Stancil
May 18, 1880-Oct. 23, 1935
Catherine Stancil
May 9, 1882-unknown
Thomas Ruffin Stancil
May 29, 1884-May 14, 1907
Delaney Catherine Sasser Stancil was born April 5, 1842.
Delaney was the daughter of Henry Sasser and Martha Patsy Bagley. Henry Sasser was the son of William Sasser, and grandson of Col. Josiah Sasser. Henry was wealthy and had a large tract of land. Her mother, Martha Patsy Bagley, was the daughter of Theophilus Bagley and Catherine "Nancy" Gibson.
Henry built a log cabin on some of his land in the 1830s. He used timbers from the large pines on his land. Clearing land for farming was important. Henry and his bride, Martha Patsy Bagley, lived here after their marriage.
This is where their children were born: Thomas Haywood on April 16, 1837, and John Henry in 1840 and Delaney Catherine Sasser on Tuesday, April 5, 1842. Henry Sasser died and his estate was settled in November of 1844 by Thomas Bagley, his brother-in-law. Thomas Bagley was Clerk of the Court in Johnston County.
One of Delaney's brothers was Thomas Haywood Sasser. Thomas' daughter Minnie married Josiah Stancil, Delaney's son. They had nine children. Thomas' daughter Mattie married Calvin Holt. Calvin and Mattie had Calvin Jr. and Doris among other children.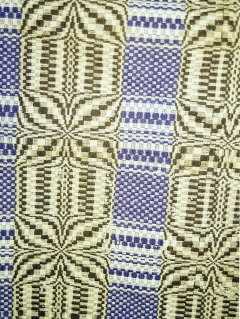 Delaney Catherine Sasser Stancil Tapestry
Photo by Renn Stancil Hinton
Delaney had jet black hair and brown eyes. She was petite, just a bit over 5 feet tall. She was a weaver. In 1858, she wove a beautiful purple, brown, cream tapestry in the Cross of Tennessee pattern on a 4-harness loom. It survives today and is displayed each year by the Tobacco Farm Life Museum in Kenly, NC. It can be seen in the 1902 Reunion Photo on the far right. It was hung over the log smoke house to dress up the photo.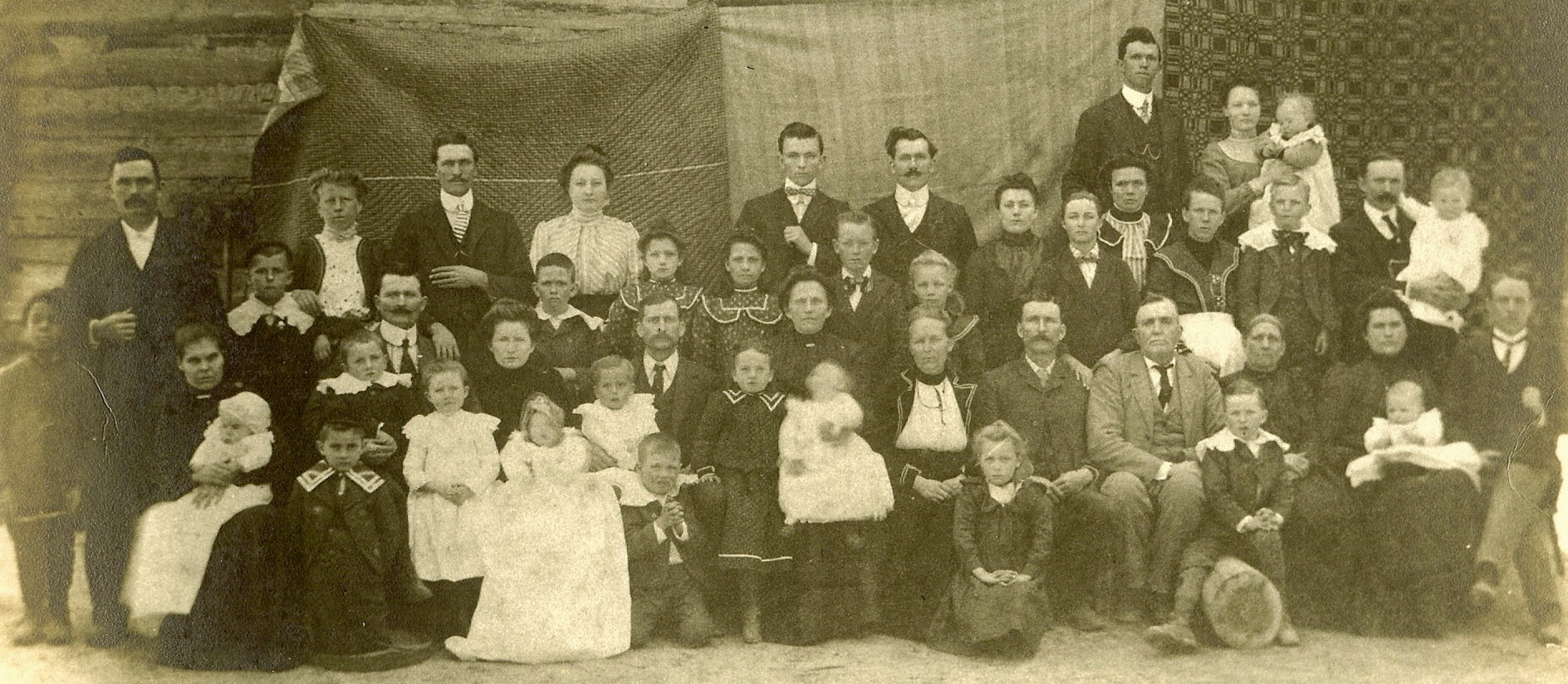 First Reunion photo
The tapestry was sold when John Thomas died in 1922. It was customary to have a sale upon the death of a person. Funds were raised to pay debts and to clear out possessions for the next family.
Delaney was known as a granny woman. She was the neighborhood midwife. Delaney delivered many of her grandchildren and children in the community.
Harvey brought his infant daughter Gertrude to Delaney after his wife Gertrude died a few days after giving birth. Arnettie was still living at home. About this time Tom quit growing tobacco. When Gertrude got large enough, she and Delaney graded tobacco for others in the neighborhood. Delaney raised Gertrude until 1915.
Delaney grew a few hills of tobacco in her garden for her own use. She made her own snuff. Delaney liked flowers and was proud of her pink rose bush. Delaney taught George and her other children to spin cotton and wool into thread on the spinning wheel.
Delaney had a stroke a few days before her death. She was 72 years old when she died on Jan. 11, 1915.
Delaney was buried wearing her spectacles and black silk bonnet. George had given to her the bonnet in appreciation for her help with tobacco.
---
Delaney or Delanie?
| | |
| --- | --- |
| On Marriage Bond | Delaney Sasser |
| 1850 U.S. Census | Delaney |
| 1860 U.S. Census | Delaney |
| 1870 U.S. Census | Delana |
| 1880 U.S. Census | Delaney |
| In the Family Bible written by son Josiah | Laney Catherine |
| June 27, 1899, agreement to sell timber | Lana C. Stancil |
| 1900 U.S. Census | Delaney |
| 1910 U.S. Census | Delana |
| Tombstone | Delanie C. |
---