Harry was handsome with light hair, about 5' 10" tall and slender. He had an engaging personality, a born salesman.
Harry began selling acetylene light plants and was sent up to West Virginia.
There he met Laura Eyler Sayer, a widow with a young son, Charles, born May of 1920. Laura was also a registered nurse. Her husband had been killed in a train accident. Laura had inherited a farm in West Virginia. The relationship became serious.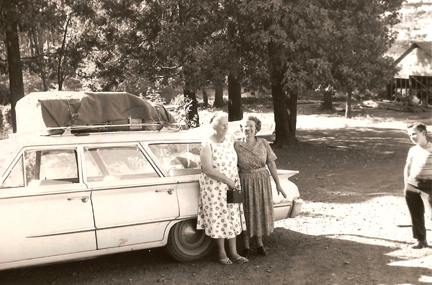 Laura Bishop with Ethel Hales Stancil in Placerville, Calif., in 1960.
Family photo
Laura was the oldest of Elijah Eyler and Elizabeth Goebert's three children. Laura was born Oct. 21, 1895. She had two younger brothers, Richard born in 1899 and Edward Elijah born May 19, 1904.
Her pa was a locomotive engineer in Pennsylvania and a Shriner. Elijah also played the trumpet in the San Francisco Masonic Symphony Orchestra. Laura grew up in Pittsburgh. Elizabeth Goebert's parents grew up in Germany. Her pa, Conrad came over in 1826 and her ma, Martha in 1830. Her pa was a basket maker early on, but by 1900 had a hardware store in Philadelphia. Elizabeth's siblings were talented. Henry and John were basket makers, George was a tinsmith, William was an iron molder and Annie worked in millinery. By 1900 John had become a wood carver and Annie was a dressmaker.
Josiah and his nephew Clyde Stancil, his brother Harvey's son went up to survey the farm. It was very mountainous. The land was not suitable for farming and it was sold. Harry and Laura married about 1921 and moved in with Josiah and Minnie.
Harry married Laura about 1922. They lived in the house with Josiah and Minnie. Harry sold fertilizer. Josiah helped Harry buy a new buggy but didn't help Leumos buy a buggy. This caused problems.
Laura's father was a Shriner and a railroad engineer in San Francisco. In 1924 Harry bought a new car a Chevy Coup. Laura's mother became ill and Laura sent her son Chuck there to look after her. Laura's dad sent Laura and Harry tickets for San Francisco. They moved to California and Laura and Harry had five children, four lived. Harry liked to fish in the Pacific Ocean. His own children were too young. He and Laura's son Chuck would go. They always caught a lot of fish. One day they did not return. It was believed they were sweep off rocks along the California coast while fishing. Their lunches were found high up on the rocks.
Josiah and Minnie helped Harry buy a buggy upon his arrival. Transportation was needed by Harry for his next a job, selling fertilizer. Harry Lester Jr. was born May 20, 1924, while they lived with Josiah and Minnie in Johnston County, North Carolina, near Rains Crossroads.
Harry was a successful salesman and able to buy a new car, a 1924 Chevy Coup.
In 1925 Jimmy and Chucky were playing near the pump house at Josiah's. There was a box of Red Devil Lye beside the sink in the pump house. Chucky spotted it and dared Jimmy to eat some. Jimmy quickly put some in his mouth. About this time Aunt Laura was walking to the pump house. She over heard them and immediately went into action. She gave Jimmy vinegar to neutralize the lye, thus saving his life.
Laura's ma became ill in West Virginia. Laura Sent Chuck to help out. Then Harry, Laura, Chuck and Lester all returned to West Virginia. Son Joseph Elijah was born there in January of 1926. A decision was made to move to San Francisco, Calif., because of economic opportunities there. Laura's pa arranged for them to ride the train free to California.
One memorable Christmas gift for all the children from Harry was a cart and goat. All the children took turns riding in the cart. Jimmy and Chucky were good playmates.
In 1928 there is a record of Harry L. Stancil voter's registration. A this time, he was living at 658 Baden Ave So., San Francisco, San Mateo County, Calif. He was a Republican as was his wife Eleanor C. Stancil. Harry listed his occupation as a Barber. Daughter Elizabeth "Betty" Jean was born Saturday, June 16, 1928.
In 1929, Harry Lester Stancil, son of Josiah, and his wife Eleanor Christine "Laura" Eyler Sayer Stancil lived at 113 Victoria Road, Burlingame, Calif. Children living in Burlingame were: Laura's son, Charles "Chuck" Sayer, Harry Lester Jr., Joseph "Joe" Elijah, Elizabeth "Betty" Jean and Eleanor Joyce born on Sept. 15, 1929, in San Mateo County.
By 1930 Laura's pa was living in a rooming house in San Francisco. He was still working as a locomotive engineer and Laura's ma was still living.
San Francisco was Harry and Laura's home in 1930. Harry had a good job with the Engineering Corporation as a salesman.
He and Laura had five children according to the 1930 Census. Their listed relationship to Harry: son Lester H. age 5 years 11 months, son Joseph E. age 4 years 3 months, daughter Elizabeth age 1 year and 11 months, daughter Eleanor J. age 6 months, and step-son Charles Sayer age 9 years 11 months.
Harry's Cousin Ralph Stancil drove his Ford Coup to California. He and Dave Anderson left North Carolina in June, arriving July of 1932. He visited cousins Harry and Herbert. While in Alameda, Calif., his car was wrecked. Out of money and with no car Ralph settled near the Eel River in the October of 1932. The perfect place for fishing, hunting and trapping in Coastal Range Mountains of Mendocino County, 175 miles from San Francisco. By the fall of 1933 Ralph became foreman of the Rodeo Valley Rancho in Dos Rios, California.
Harry L. Stancil registered to vote in 1934. At this time he was living at 113 Victoria Road, in Burlingame, Calif., San Mateo County. His occupation was listed as Bricklayer. His party affiliation was Republican.
In 1934 Harry worked at the Bay Meadows Race Track in San Mateo, Calif. Also in 1934 Josiah and Minnie made separate plane trips to California, Visiting sons Harry, Herbert and nephew Ralph. Josiah even traveled up to the Rodeo Del Valley Ranch to hunt with Ralph. Josiah shot a large buck. Josiah always looked forward to a good hunt, keeping bird and hound dogs in North Carolina. This was the first major trip Minnie had ever made and she loved it. Herb had arranged for the free tickets through his position at TWA.
Ralph visited Harry and Herbert in August of 1934 before leaving for North Carolina and the Stancil Reunion.
In August of 1935 on way back to ranch, after marrying, Ethel and Ralph spent several days with Laura and Harry. Harry had a wonderful personality but times were hard and he only had a part time job. Laura worked full time in a hospital as a nurse, and did private duty. She looked after a lady in her home who had had a stroke. Ethel was impressed with the gift Laura's pa bought her, a mangle for ironing. Fast, easy to use, Laura ran the laundry between the heated rollers. It made ironing almost fun! Laura knew how to stretch her food budget. She often made tasty soups, potato, split pea and bean.
Harry and Chuck loved fishing off of Pedro Point. This was a fisherman's paradise. Fish were plentiful off the high cliffs. In the August of 1935 Ralph Stancil accompanied them once. They parked their car and rode a small cable car Harry and friends made across the rocks, traveling from rock to rock. Lunches and jackets were left near the top. They made their way down to the lower rocks where fishing was great during low tide. Even with low tide the waves came crashing over the rocks, their force scared Ralph, spent the day watching them fish. Vowing never to return. As the tide rose Harry and Chuck climbed up the rocks to safety.
In September of 1935, Ralph Stancil recalls accompanying them on one of their frequent fishing trips. Ralph was so scared by the high waves washing over the rocks that he did little fishing. No trace of them was ever found. This happened in Nov. 1935. Laura was left with four young children Harry Jr., Joe, Eleanor Joyce and Betty. After his dad's death son Joe spent the summer on the ranch where Ralph Stancil, his dad's first cousin was foreman. Ralph and Ethel Hales Stancil had been married about nine months when this tragedy happened. Josiah who wasn't the best diplomat and said after Harry's death that he'd give Laura to Herbert if he could.
On Monday, Nov. 11, 1935, Harry and Chuck went fishing as usual off Pedro Point for a day of fishing. They did not return. There lunches and jackets were found up high on the rocks. There was no sign of Harry or Chuck. Authorities believe unexpected high waves carried them out to sea or perhaps the fishing was so good they lost tract of the time and tides.

This was an especially sad time for his family, Laura and his children Lester 11, Joseph 9, Elizabeth 7 and Eleanor Joyce 6. Laura was pregnant. Harriet Edwina was born Jan. 5, 1936, 3 months after Harry's death.
Ralph and Ethel got a call about the tragedy and also read about it in the San Francisco Chronicle and San Mateo Times.
The summer of 1936 Laura sent 10 year old Joe to stay with Ralph and Ethel Stancil. Laura kept the three young girls; Bettie, Eleanor Joyce and Harriet with her. Lester was sent to Arizona to stay with Harry's brother Herbert.
Ralph met Joe's train in Dos Rios, eight miles away from the ranch. Ralph took the old two seater car to pick him up. The trip took two hours each way because of the mountainous terrain.
Joe enjoyed living on the ranch. Joe often went with the cowboys, riding a gentle horse. He learned to saddle up and was well on his way to becoming a cowboy. Claude Rose was one of the cowboys.
They often told him tall tales. One day Joe told Ethel that they drove in a cow and she had 15 calves!
Joe would often ride alone down the mountain 2 miles, to go swimming with other kids in the Eel River at Tatu. Fishing was also a favorite past time. Joe liked to sleep late and when he did, he had to wash the dishes. He did so willingly.
Once Ralph had stacked wood close to porch. Joe looked at the stack and restacked the wood further away. Joe tried to help out. One morning Joe found dead kittens down by the creek. Mr. Bigelow, owner of the ranch had killed them believing they had too many cats. Joe showed them to Ralph.
Joe and Ethel often went rabbit hunting on foot in the afternoons. Ralph had cautioned them not to walk in the trails as this was a favorite place for rattlesnakes to lay and enjoy the afternoon warmth. Ethel started back home walking in the trail while Joe walked beside it. As Ethel stepped she heard the rattles. Realizing she'd just stepped over a rattler. Ethel quickly turned, aimed her rifle, shooting the 2 foot rattler. Joe cut off the rattlers for Ralph's collection.
Domesticated blackberries grew up the side of the barn. Joe picked them for Ethel.
Joe and Ethel caught the train in Dos Rios. They rode to San Francisco and stayed several days. Ethel and Joe rode a large passenger boat across the bay to Burlingame and Joe's home.
Laura was an exceptional manager and a good cook. She took almost nothing and transformed it into a good meal.
Lester stayed in Arizona with his Uncle Herb and Aunt Lil Stancil in Winslow, Arizona. They had three daughters; Patricia, Beverly and Barbara. Herb worked for TWA.
Ralph and Ethel Stancil stopped by for a short visit in January 1936. Ralph took several photographs. They were moving to Florida and traveling by Greyhound bus. Ralph's custom saddle, made by The Porter Saddle Company in Phoenix, Ariz., and 3 dogs were shipped by rail to Florida.
Josiah and Minnie were grieved after tragic Harry's death. They both loved Harry, Laura and the children. Josiah often said what he thought. He remarked to the family after Harry's death that he'd give Laura to Herbert if he could.
In 1938, three years after the death of Harry and Chuck in a drowning accident, Eleanor Christine "Laura" Eyler Sayer Stancil still lived at 113 Victoria Road, Burlingame, Calif. Children living in Burlingame were: Harry Lester Jr., Joseph "Joe" Elijah, Elizabeth "Betty" Jean, Eleanor Joyce and Harriet Edwina. Laura was listed in the voter registration as a Republican and a housewife.
Laura, a trained nurse decided to move her family up to mountainous northern California. They settled in the small town of Placerville. Laura made a home there in the mountains. Laura moved her bed outside for the summer. She had several cabins for frequent guests. She kept a record of her children and grandchildren's growth with marks, names and dates recorded on her bedroom door.
Five year old Harriet loved to ride with a neighbor who drove up almost daily to get water from Laura's. One day the neighbor didn't see Harriet and did not pick her up, unfortunately somehow Harriet tried to catch up with him as he left. She was run over and killed on Oct. 3, 1941.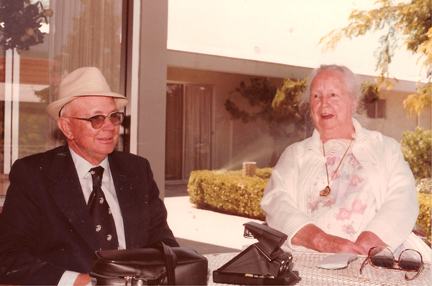 George Ralph Stancil with Laura Stancil Bishop in California in August 1981.
Family photo
Laura married W.W. "Bill" Bishop on July 13, 1946. He worked for local fruit growers, assisting with their irrigation. Laura's brother Richard never married. He enjoyed traveling, especially to Florida. He was a talented piano player. He enjoyed recreational gambling.
Laura was a warm giving person and in 1960 she was selected to receive a new car as a thank you for all her service to the community by the owner of a local saw mill. Laura successfully raised four children.
Several kinfolks visited Laura in the summer of 1967. Among them were JoAnn Brinson, Mozelle's daughter, Renn Stancil, Ralph's daughter.
Laura attended the 1984 Stancil Reunion.

---