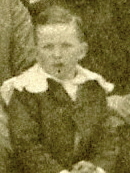 Mavis Hill Godwin
Born Nov. 12, 1918
Married Willie Narvin Godwin on April 29, 1933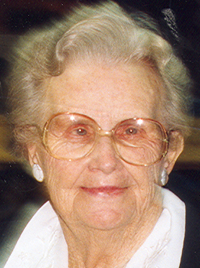 Mavis Hill Godwin in 2001
Mavis was born Nov. 12, 1918, and died June 26, 2013
Mavis' children
With Willie Narvin Godwin

(Infant) Godwin
Nov. 27, 1933-Nov. 27, 1933
Willie Eugene "Gene" Godwin
1936-
Charles Randall Godwin
1938-
Zilphia Dianne Godwin Strickland
Feb. 7, 1941-June 26, 2014
James Earl Godwin
March 16, 1946-Nov. 16, 2007
Mavis Hill Godwin at the 2009 Stancil Reunion
.
Family photo
Mavis was born Nov. 12, 1918, and she was delivered by a midwife, Aunt Topsey. She was the first daughter of Millard and Zilphia Stancil Hill. Mavis was named for her maternal grandma, Cassandra Moore.
Mavis had natural curly red hair. When she turned 40, her hair turned black with red highlights. Her eyes are blue when wearing blue, green when wearing green.
Uncle Clarence Hill nicknamed her "Mate." An early job was driving the geese into the field to weed it by eating the grass.
Mavis had an organ at home but learned to play the piano at a neighbor's house. After she retired she took piano lessons at the community college. Her favorite song was "He's Got the Whole World in His Hands." This sums up how Mavis feels about the world.
Mavis was smart — she skipped third grade. She was also a good actress, playing Mrs. Santa Claus in a school play.
Mavis met Narvin Godwin at Glendale School. They were secretly married in Dillon, S.C. Mavis and Narvin moved into a small wooden 4-room house and Narvin became a tenant farmer for her pa. Mavis and Narvin moved to Rocky Mount and when the war started Mavis worked in the mill.
In 1954, Mavis and Narvin bought a 45 acre farm near Elm City, N.C., and later added 55 more acres. The house was built in 1840 by slaves using pegs. Tobacco was the main money crop. Mavis kept her job at the mill, juggling work, motherhood and farm chores.
Her children are Gene, Randall, Diane and James Earl. Grandchildren are Beth, Jennifer, Scott, Sean, Cathy, Cindy Jo, Kelly, Chris. Great grandchildren are Evan, Mason, Carson, Caitlyn, Paige, Logan, Nicole, Seth and Allie.
Mavis is passing on family history and recipes. She taught grandchildren Jennifer, Beth, Cindy Jo and Sean to make her special oven cornbread.
Mavis' famous sayings: "Don't spit no juice out on me," and "The ends go north, east, south and west."
Mavis remembers her childhood as a time when everybody knew each other and loved each other. Today she still has that wonderful love for family.
---