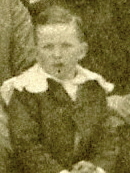 Millard Hill
Born Dec. 27, 1894
Died Sept. 16, 1956
Married Zilphia Stancil Nov. 5, 1916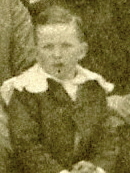 Millard Hill was born Dec. 27, 1894, and died Sept. 16, 1956.
Millard's children
With Zilphia Stancil

Vernon 'Jim' Fletcher Hill
March 10, 1917-Sept. 9 1973 at Johnston County, NC
Mavis Cassandra Hill Godwin
Hazel Hill Wright
Beatrice LaRue Hill Renfrow
May 30, 1925 Johnston County, NC
-June 29, 2010 Norfolk, Va.
Virginia Eloise Hill Sidelinger
Zilphia and Millard Hill.
Family photo
Millard Lee Hill was born Dec. 27, 1894.
He married Zilphia Stancil on Nov. 5, 1916.
They had Vernon, Mavis, Hazel, Beatrice and Virginia.
Millard was good looking with a head full of black, thick, wavy hair. Millard began smoking at an early age. He smoked Chesterfield. Their slogan was "They do satisfy." Millard was three months shy of his 15th birthday when his mother died.
Millard grew up working hard on the farm. He had two older sisters Delia and Ronia and an older brother John Fletcher. Fletcher was only 16 months older and they grew up extra close.
It seems that Millard always knew the Godfrey and Cassandra Stancil family. They were close neighbors in the Lower O'Neals portion of O'Neal Township. All the children attended the graded Boyette Slave house. Graded school met higher educational standards than non-graded schools.
Godfrey was born in 1860. He was the son of Allen S. and Betsy Selivent Stancell.
Allen was born in 1830. Allen was the son of William and Milley Stancel of Johnston County.
Cassandra was the daughter of George and Minni Moore. Godfrey and Cassandra were married on Sept. 21, 1890, at the Frank Moore's Place. The Justice of the Peace was Kerney Eason.
Cassandra died before June 1, 1900. Children listed in the 1900 Census were Annie age 9, Edward age 8, Charley age 7, Frances age 4 and Zilphia age 1.
41-year-old Godfrey did not remain a widower for long. He married Hazel "Harriet" Pittman on May 4, 1901, in Johnston County, NC. Harriet was only 23 and immediately became stepmother to five children.
Godfrey and Harriet had five children: Sendey born in 1904, Octavia born in 1907, Rosetti born in 1909, Marry born in 1912 and George born in 1915. All but Rosetti reached adulthood. Tragedy struck Godfrey family again in 1909 when 16-year-old Charley was killed. At the end of the day Charley turned the mule into the pen. The mule kicked him in the head delivering a fatal blow.
---