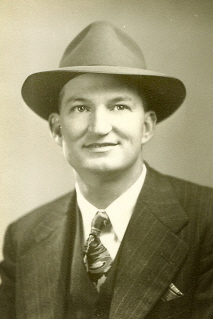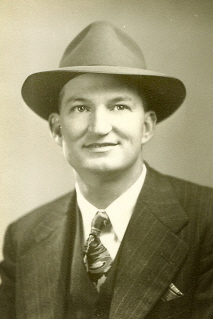 John Millard Stancil in the 1960s
John Millard Stancil was born Dec. 1, 1902, and died Sept. 4, 1988.
Millard's children

With Iva Knight

Joseph Downing Stancil
July 31, 1924-Jan. 27, 2000 in Wilson, NC

Gordon Stancil
Jan. 27, 1927-March 17, 1928

With Helen Roberta Hardee

Dwight Cullon Stancil
Nov. 21, 1937-Dec. 24, 1937
John Millard Stancil was born in Dec. 1, 1902, in Johnston County, N.C.
He was the fourth child born to John Archer and Pinettie Stancil. He appeared in the First Reunion photo in 1902 as a young child.
He married Iva Knight about 1924.
Millard and Iva were the parents of Joseph Downing Stancil, born July 31, 1924, and died April 16, 2003.
Millard was a good athlete. He played baseball for Glendale High School. Millard dropped out before graduating. Once Kermit and Millard rode their mules to Harvey's farm for a visit. A long trip in those days.
Millard loved women, especially beautiful women. Iva Knight was one of these. She had blond hair and blue eyes with a porcelain completion. Iva could have passed for a blond Ava Gardner. Millard was working in Penders' Grocery Store in Fremont when Iva walked in with her Grandma Perneicy Downing.
Iva's parents were Octavia Downing and James Knight. They married on Oct. 22, 1905, in Wayne County. Iva was born about 1907. Her mother Octavia died on July 4, 1915. James remarried twice after Octaviaís death, to Lily Carr and to Carrie Williams. Octavia was an only child. Iva had two brothers James M. Knight and Alden Knight, they were all raised by granny Downing when their pa remarried.
Millard fell hard for her. The courtship was short and intense. Iva and Millard married in South Carolina in early 1924 and moved in with her grandma Perneicy Downing. While there a son Joseph Downing Stancil was born on July 31, 1924. He was named for his grandpa, Joseph Downing. Millard and Iva were not getting along. Iva abruptly left Millard and they divorced in 1927.
Millard hastily returned to his parentís farm in Johnston County with J. D. was about 3 years old. John and Pinettie stepped in and began raising J. D. Millard began farming for his pa.
Millard was hurt and decided not to allow Iva to have any more contact with J.D. He cut her photo out of family pictures. When tried to visit her son her visits were rebuffed. She left gifts but they were thrown away. J. D. grew up feeling rejected by his mother. J.D. never saw his mother again. He was even forbidden to ever talk about his mother.
Joe had blond hair and blue eyes just like his mother. Even as a young lad his good looks attracted attention. Joe was a charming child and was overindulged by his grandmother and aunts especially Aunt Alice. This was the beginning of a troubled life for Joe. Some cousins said they thought Joe delighted in tormenting people. One thing for sure, Joe seldom heard, "No."
Carletta, eight years older than J. D., became responsible for his nightly bath and for dressing him. He turned 6 by the fall of 1930 and began school. Carletta drove the school bus to school beginning in the fall of 1932 and J. D. rode with her. He was in 3rd grade.
Millard decided to return to Penders Grocery about 1933. He was transferred to their Weldon, NC store. He moved with JD. The move was short lived.
Millard returned to his Micro Farm out in the country about 1934. At 9 years old, J.D. moved back in with Pinettie and his Uncle Kermit.
Millard began living the life of an available man. He met a blond Glendale teacher, Helen Roberta Hardee, 24. Helen was from Princeton. After a short courtship they married on Nov. 28, 1934. They began attending Micro Methodist Church. Millard went to work for the tobacco market in Wilson.
Kermit began dating Lucille Jackson. They married Dec. 19. Kermit and Lucille wanted time alone. Pinettie felt like she and J.D. were in the way. They moved onto Millardís farm, Helen and Pinettie had a good relationship.
Helen became pregnant. Pinettie was happy she was going to have another grandchild. Helen and Millard excitedly anticipated the birth of their child. Dwight Cullon Stancil was born Nov. 21, 1937.
Dwight was born with a rare birth disorder. His intestines had grown together. Surgery was performed right before Christmas. He died on was buried on Christmas Day, 1937. Henry Sawyer picked up the child's body from the hospital for burial in the Smithfield Cemetery. Millard took Helen to the graveside service.
Helen had a difficult time coping with the death of Dwight. She was overcome with grief and had a complete mental break down. The doctor recommended hospitalization. Helen stayed in a hospital for many years. Pinettie visited her when she could.
Millard made a difficult decision. He obtained a divorce while Helen was recovering. Millard, Pinettie and J.D. moved from the farm into a house near the railroad tracks in Micro. Millard rented out his farm.
Millard moved on with his life. He met and wooed Ruth Register from Thomasville, Ga. He must have told her his name was Johnny because when they applied for their marriage license at the Johnston County Court House he gave his name as Johnnie Millard Stancil. They married on Oct. 15, 1948. Millard was 46 years old and Ruth was 44. Rev. George B. Saunders married them. Witnesses were: Mrs. Eva Hinnant, M. Hinnant and Millardís son, Joseph Downing Stancil. Ruth was a teacher and the family liked her very much. Once again, Millard's happiness did not last. Millard and Ruth divorced.
Millard sold his Micro home and kept his farm. He and Pinettie moved to Wilson. This was closer to his work at the warehouse. Pinettie died of skin cancer on Nov. 2, 1956.
Millard met Pearl Jordan Wells. Pearl was the daughter of Curtis Jordan and Mary Williford. Before long they married. Millard was happy at last and the grandchildren loved Granny Pearl. Pinettie and Pearl liked each other. Pearl became very sick and required a full-time caregiver. Millard was glad to find Lillian Cradle. Unfortunately, Pearl's health continues to decline even with Lillianís care. Pearl died of a brain tumor in 1969. The grandchildren were heartbroken as they adjusted to Granny Pearlís death.
Millard's last wife was Lillian O'Neal Cradle, the caregiver, he hired to look after Pearl. Millard and Lillian married about 1969.
John Millard married five times.
One sister said this about Millard, "He never could stand to be by himself."
His frequent marriages seem to bare this out.
Millard was well liked by his nieces, nephews and cousins. He was friendly, pleasant, fun to be around and had a good personality.
Millard had a bad year on the farm. There was no security farming. Millard thought about being a timber buyer but decided to working in the Tobacco Industry. He worked for the Big Dixie Warehouse in Wilson and traveled the tobacco circuit. He earned very good money.
Millard bought a vacation home on Little River in New Bern, NC. His grandchildren, Jay, Gerry and Nettie loved visiting. Millard was an avid Canasta player and taught all his grandchildren to play as well as his great niece Marty Sellers.
Millard had a stroke in the mid-1960s and retired. It was difficult for him to cope with being partially disabled and at times he was depressed.
Millard developed lung cancer in his 80s. He had started smoking at an early age. Millard continued smoking until his death in 1988 at 86 years old.
Alice selected Millard to look after her affairs and be the executor of her estate. She died in a nursing home.
The last Stancil Reunion that Millard and Lillian attended was in 1987. This was a year before his death.
Millard died Labor Day Weekend in 1988. His service was held Singleton Funeral Home in Wilson. He was buried in Maplewood Cemetery in Wilson, North Carolina.

---