James Oscar Stancil
Born Aug. 5, 1890 NC
Died June 2, 1970
Married Allie Edwards on March 3, 1908
Oscar Stancil was born Aug. 5, 1890, in North Carolina and died June 2, 1970.
Oscar's children
With Allie Edwards

Gladis Stancil
Sept. 13, 1908-Sept. 3, 1914
George 'Guy' Stancil
Oct. 23, 1911-Feb. 25, 1986
Gurnie Patricia Stancil Crabtree
Oct. 27, 1913-Oct. 26, 2010
Ruth Stancil Janiuk
May 15, 1915-Nov. 24, 1987 at Pa.
With Mamie Hocutt

James Orville Stancil
Oct. 10, 1921-Sept. 23, 2014
Henry Rudolph Stancil
Sept. 17, 1924-Dec. 4, 1993 at Va.
Ruby Irene Stancil Creech
Dec. 17, 1926-
With Mary House Barber

Jack Rowland Stancil
Feb. 16, 1937-Jan. 27, 2014
James Oscar Stancil
James Oscar Stancil was born Aug. 5, 1890, in North Carolina. He was the second son born to Henry and Frances.
Oscar was tall, handsome and charming. He was also determined and self confident with a knack for getting his own way. Oscar had black hair. Girls were eager to go with him. He never had a shortage of companions. Oscar was musical. He played the banjo. He attended the same school as many of his cousins, the Woodard School.
Oscar and Allie grew up in the same neighborhood. Allie's Aunt Marceline Edwards, was in the photo of the First Reunion. She was a family friend.
Allie was a tall, pretty woman with fine features and dark chestnut brown hair.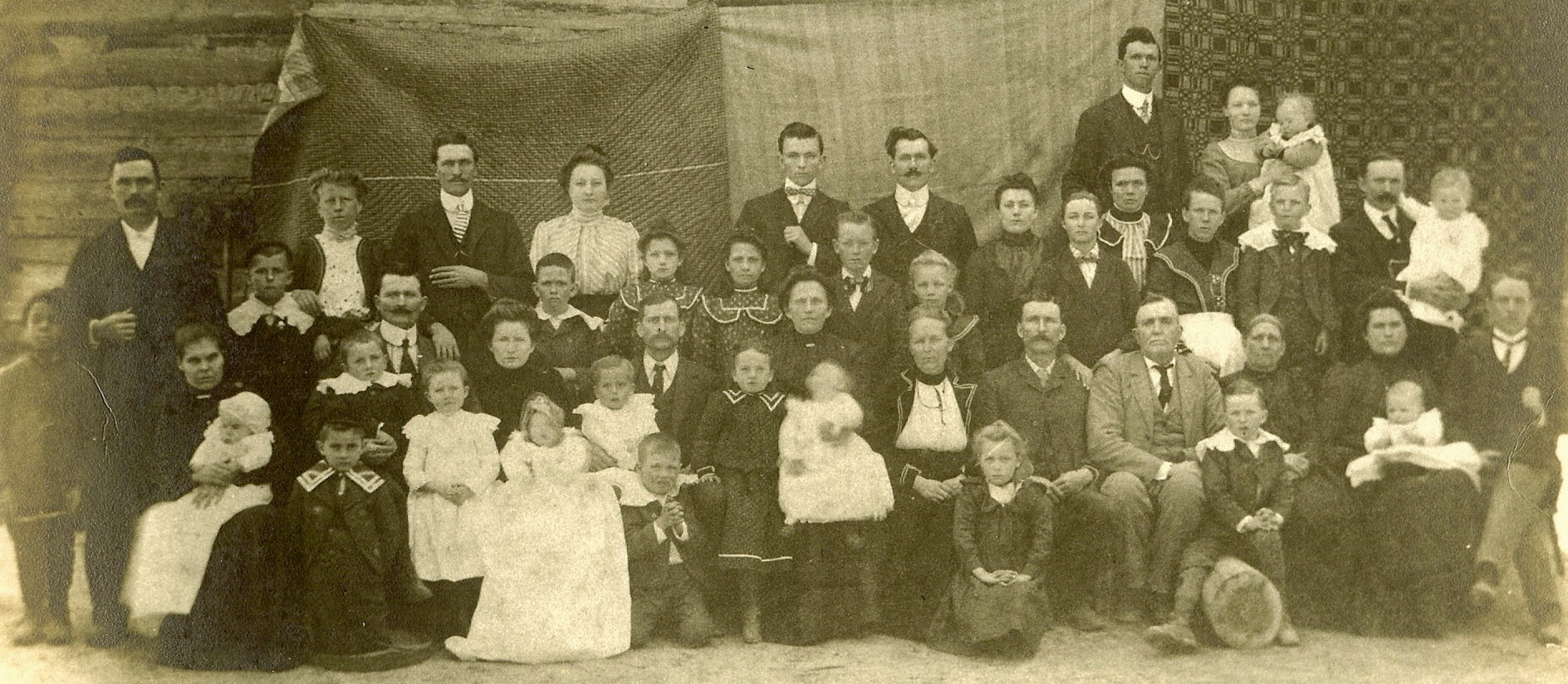 First Reunion photo
Oscar was attracted to her and wanted to marry her. Henry and Frances liked her and thought she would be a good wife for Oscar. It was also important that Allie was from a good family.
According to the Johnston County Marriage Registry, Oscar Stancil of Kenly, 18, and Allie Edwards, 18, of Kenly applied for a license on March 3, 1906. The license was returned unexecuted, according to county records.
Allie was the daughter of Monroe and Martha Jane "Jessie" Spencer Edwards. Allie's Pa, Monroe was born in August of 1865 and her Ma, Martha Jane was born August 1862. Monroe and Martha married in 1888.

In 1900 Monroe lived in a rental house and was probably a tenant farmer. Monroe and Jessie had six children, five were living in 1900. The Census taker recorded the following: Law M. born in August of 1888, Alley P. born in April of 1891, Indiana born in June of 1892, Joseph H. born in June of 1894, Charlie born in August of 1896. Monroe was the only one in his family that could read and write. Sisters, Law and Allie were attending school in 1900.

Monroe or Monrow was the son of Joseph Edwards and Linsey Renfrow. Joseph was born in 1837 and Linsey was born in 1841. Their marriage bond is dated April 27, 1863, with the date of their marriage, April 30, 1863. Justice of the Peace J. Lewis of Johnston County, performed the ceremony. Thos. D. Snead was a witness.
Joseph was a farmer in Johnston County. According to the 1880 Census, their children were: William Horring born in 1857, Mary born in 1858, Monrow born in 1866, Nancy Jane born in 1868, Serena born in 1874, Joseph born in 1875, Charlie born in 1877, Marceline born in 1878, Rutherford born in 1879.

According to the 1870 Census, Joseph could read and write, but Linsey, William Horring age 14, and Mary age 12 could not. None attended school.

Joseph was the son of Jacob and Apsilla Edwards of Johnston County, near the Neuse River. Jacob and Apsilla were both born in 1805. Joseph, born in 1836, grew up in a family of farmers. Older brothers, Howard, born in 1831 and Joshua, born in 1834, were farmers in 1850. Levi, at 10, was the youngest child. A girl, Sarah Creech, 10, was living with the family. None of the children attended school. Jacob nor Apsilla could read or write. Jacob's land had a value of $600 in 1850. In 1860, value of real estate was $550 and value of personal estate was $600.
Linsey was the daughter of Harris and Clara Renfrow, of the Neuse River area of Johnston County. They farmed close to the town of Beulah. Harris was born in 1825 and Clara was born in 1825. Harris had assets of $250 in 1850 but by 1860, he had increased them to $914. Known children were: Nancy Linna born in 1838, Lindsay born in 1840, Lucinda born in 1842, Penny born in 1844, William born in 1846, Edney or Ennis born in 1848, Edwin born in 1850, Sally born in 1852, Council born in 1856, Charles born in 1859. Harris could not read and write but his wife, Clara could. The only child in school during 1860, was Ennis.
Monroe's wife, Martha Jane "Jessie" Spencer, was the daughter of James R. Spencer and Harriet Renfrow. James and Harriet secured a marriage bond and were married, by Justice of the Peace Ray Phillips, on Jan. 8, 1861, in Johnston County. Thos. D. Snead was a witness. James was born in 1821 and died before 1880. Harriet was born in 1834 and after becoming a widow, farmed in Beulah Township of Johnston County. James and Harriet had seven children, including a set of twin girls. Their children were: James T. born in 1861, Martha Jane born in 1864, Williamson Haywood born in 1865, Mary An born in 1868, John W. born in 1869, twins Luezer and Sarah Harriet were born in 1870. Harriet could read but not write. None of the children were attending school in 1880 and none could read or write.

Harriet, was the daughter of Brassell Renfroe and Polly Williamson. Harriet was the sister of Haywood Rentfrow, the father of Dillie, who married Walter Green Stancil, James Oscar's brother. Harriet was Dillie's Aunt and Allie's grandmother.

Allie's Aunt, Mary Ann Spencer, her mother's sister, married Jessie Hales, half brother of John Thomas Stancil, Henry's Pa. Allie's Aunt Marceline Edwards lived and worked for a time with Josiah and Minnie Stancil. While with Josiah and Minnie she had two children. They were not Josiah's. Marceline had a son Mifford born in 1898 and a daughter Lena, born in 1899 Mifford became the bound child of Jessie Hales. Lena was adopted by Oscar's great Uncle James Henry Stancil.

Oscar and Allie Edwards moved into Henry's tenant house. Oscar began farming tobacco and cotton. Allie and Oscar were happy when their children arrived. They were all born at home. Gladis was born Sept. 13, 1908, George Guy was born Oct. 23, 1911, Gurnie Patricia was born Oct. 27, 1913 and Ruth was born May 7, 1916.

Shortly before Ruth was born, Oscar moved his family into the "Jim Place." This was on his grandpa's farm. John Thomas needed another tobacco barn. His grandpa had a barn raising. Ralph Stancil, Oscar's first cousin, recalled playing with Gladis while the men worked on the barn.

Gladis, was only 6, when she died on Sept. 3, 1914, of heart trouble. The cause of death was listed in the Johnston County Death Registry. Dr. Hayes of Fremont made the diagnosis. This contradicted what was told within the family. Gurnie was told that Gladys swallowed an open safety pin, this caused an incurable infection. Gladis was buried in the Stancil Family Cemetery. Her name was written in the fresh concrete, a reminder of her short days here on earth.

Guy, Gurnie and Ruth often visited Henry and Frances. Allie was a devoted mother and created a good home for her family. Oscar made wooden paddles, for his children to use, when they attended Uncle George's cane syrup making days in the fall.

Oscar registered for the World War I Draft on June 5, 1917, in Beulah Township of Johnston County. Paul D. Grady was the Registrar. At this time Oscar was married with three children to support and requested an exemption on these grounds. He was farming for himself. According to his registration, Oscar was of medium height and build. He had blue eyes and light hair.

Allie developed serious health problems. Several member of her family suffered with T. B. and Allie had this as well as her Pa. There was no good treatment available. She had made many remarkable recoveries in the past. This time was different. Allie did not get rally.

Gurnie recalled standing beside her mother's bed when she was only 5. Gurnie knew her ma was very ill. Gurnie and Ruth saw the bowlegged Dr. Hinnant come into the room to try and treat her mother.

Allie died on Feb. 8, 1920, of Pulmonary T. B. She was only 28. Dr. Hinnant of Micro signed the death certificate. Allie's funeral was at the Stancil Cemetery.
Gurnie remembers the kindness of Miss Lizzie Boyette. Miss Lizzie had a biscuit in her pocketbook. She broke it in half and gave Gurnie and Ruth, each half.

Gurnie, Patricia and Ruth moved in with grandpa Henry and grandma Frank. Oscar stayed alone, grieving and adjusting to life without Allie, wondering what the future held.

Oscar kept farming and visited his children often. He also enjoyed bird hunting with his brother Leonard. This provided a diversion from his sadness.
Mamie Hocutt

One day, Oscar went into the Micro General Store. He saw a tall, pretty woman, with dark brown hair and bright blue eyes. Her name was Mamie Hocutt.

Oscar was impressed with Mamie's beauty and intellect. He began seriously seeing Mamie. The future was looking bright. His blue eyes had a spark in them again.

Mamie had many work experiences. She even managed a country store near More Schoolhouse before teaching.

Mamie was well educated. She attended Sandy Springs Schools and then Turlington Institute in Smithfield. These educational experiences enable her to teach. Mamie wanted even more education. She continued her education and received a 'B' Teaching Certificate by taking classes during the summers at NC Agricultural & Engineering College in Raleigh. Today it is North Carolina State University. At the time Mamie attended, female students could only enroll during the summers, as this was an all-male school.

Mamie taught school in one and two room schools at Sandy Springs School, Price School in O'Neal Township and Moore School House. Mamie drove a horse and buggy to school, most of the students walked.

Oscar and Mamie were two of the witnesses, when Clarence Hill of the Tempy Ann Branch married Ella Renfrow on Aug. 29, 1920. Clarence was Oscar's first cousin.

Johnston County Marriage Registry contains the following information: Oscar Stancil, 30, and Mamie Hocutt, 28 applied for a Marriage License on Dec. 26, 1920. In the 1930 Census Mamie listed her age at first marriage as 27. Oscar and Mamie married at Mrs. Emma Hocutt's, Mamie's home. Rev. R. M. VonMiller performed the marriage. Witnesses were H. E. Renfrow, Clarence Starling and Moses Hill. Moses was the son of Tempy Ann Stancil and Fred Hill, another of Oscar's first cousin.

Mamie was the oldest daughter, of James Ruffin and Emma Narron Hocutt, James and Emma married about 1889. Emma was born in April of 1872. Her name was spelled by the census taker as 'Emere' in 1880. James owned his own farm. James died before the 1920 Census.

Mamie's maternal grandparents were John William and Nancy Sullivan Narron. John was born in 1847 and Nancy was born in 1855. They married in 1871. John and Nancy owned a farm in the O'Neal Township of Johnston County. They had ten children and seven were living in 1910.

Mamie's maternal great grandparents were John and Patience Narron. According to Johnston County Marriage Bonds, John Naron and Patience Watkins married about July 4, 1842. This was John's third marriage. John lived in St. Charles community, close to the Neuse River. The value of his personal estate exceeded $2100 and his real estate was $800.

Mamie's paternal grandparents were Atlas and Ellen Carroll Hocut. They married Oct. 9, 1862, Atlas was 24 and Ellen was 22, in Johnston County. Thos. D. Snead was the witness. Atlas had farmland worth $75. They had two children: James born in May 1863, Edward born in 1895. Ellen must have died by 1880 because Atlas was living with his sister Laney and her husband John F. Parish. Atlas worked on John's farm.

Mamie's paternal great grandparents were Benjamin and Cynthia Hocutt. Benjamin was born in 1794 and Cynthia in 1803. They had a farm in Johnston County valued at $500. Atlas was one of five children. His brother William was a cooper. By 1860 Atlas was living with his brother James, a successful farmer with a farm worth $300 and an estate worth $350.

Oscar and Mamie moved into one of Henry's houses, close to Henry and Frances's home. Oscar was glad to have his family together again. Guy, Gurnie and Ruth were happy to be living with their Pa again. They quickly grew to love Mamie. She was gentle, loving and provided the security they needed.

Mamie returned to teaching at Sandy Spring School. Gurnie was one of her first grade students. Gurnie had a close relationship with Mamie. She was the Mama Gurnie needed.

Oscar and Mamie welcomed three more children over the next few years. James Orville was born Oct. 10, 1921. Henry Rudolph was born Sept. 17, 1924, and Ruby Irene was born Dec. 17, 1926.

Mamie was an expert seamstress and made dresses for Gurnie and Ruth. She also crocheted and made many gifts for family and friends. Mamie was called upon when neighbors needed a nurse. She excelled in helping others.

Mamie grew a large garden and was an excellent "country cook." Oscar raised tobacco and cotton. He helped other farmers and they helped him barn his tobacco crop. Oscar had one mule, enough hogs to keep his smoke house filled for his growing family. Chickens provide eggs and meat.

Once, 6-year-old James Orville, was scared by a wild woods cat. The cat ran into the kitchen. Then it confronted Jim, charging him. Jim ran away in time, but never thought much of a cat after that.

Oscar and Mamie attended Center Ridge Presbyterian Church together with their children. Jim recalled hearing sisters Gurnie and Ruth sing, 'M is for Mother' during a church Mother's Day observance. This was especially meaningful and tears filled many eyes.

Oscar made and sold whiskey in five-gallon jugs. He kept the brew in the corncrib. It was placed in a basket and covered with shucks. Oscar got word that the sheriff was on his way. Oscar had Mamie carry the basket to the cow pasture and hide it. When the sheriff arrived, he searched for whiskey. When he found none, he left.

Jim, Henry and Ruby often visited their grandparents. In 1927, Jim recalled seeing his grandpa Henry's Carbide Light Plant, and being cautioned to stay away from the chemicals used to produce electricity.

Oscar had difficulty supporting his family. He and Mamie had many insoluble problems. Mamie had quit teaching after her children came along. Oscar spent his money on himself and his family didn't have basic necessities. Mamie tried to keep the farm going and look after the house and children. Impossible without cash. Mamie and Oscar separated in 1927. Oscar left with Guy, Gurnie and Ruth. He went back home for a time. Mamie stayed and made sure the money crops were in before leaving the farm.

When Harvey, the sage of the family, heard they were calling it quits he said, "Well, after all, Oscar was a Lady's man!"

Mamie packed and left with her three children: Orville, Henry and Ruby. They moved in with her brother Jessie and his wife Ida, who already had a full house but welcomed her.
Jessie and Ida had one child: Jessie Daniel born in 1927. Emma, Jessie and Mamie's widowed mother were living with them as was Jessie's two brothers Joseph age 28 and John Henry age 34. Aunt Salli Medlin was also a family member. Jessie lived on a rented farm in Johnston County and was probably a tenant farmer. In 1930, Mamie and Joe worked as farm laborers on the farm with Jessie. At the time of the Census, April 1930, Jessie had a radio and new son, Vannie born in 1929.

Mamie's brothers were very protective of her and the children. They didn't want Oscar coming around or the children visiting his family. They tried to help them get over their hurt and pain. Gurnie and Ruth continued to visit Mamie, they loved her dearly.

Mamie had a life changing injury around 1930. Jessie had the milk cow tied up with a chain. The cow broke free. Mamie attempted to catch the cow and got the chain wrapped around her leg. This terrible injury impaired her circulation. She stayed off her leg for over six weeks but it never healed. It hampered her mobility somewhat for the rest of her life, but she still milked the cow, did chores and never complained.

In later years she went to Duke, for treatment of her ulcer and later to North Carolina Memorial, Ruby would crochet as she kept her mother company while she was recovering from a skin graft. A new gold treatment offered in Wilson finally cured her.

Mamie was always available to help with new grand babies. Mamie wrote encouraging letters to people she knew throughout her life. Her uplifting letters were treasured.

According to Jim, his mother taught her children important life lessons. She taught them to respect others, even when you don't agree with their ideas, to lend a helping hand and give encouraging words.

Church was important and Mamie once again attended the Antioch Missionary Baptist Church, the church of her youth. Mamie was an outstanding Sunday School teacher. Mamie was a Christian, who many strived to emulate.
p
Oscar worked for several years in a men's clothing store in Raleigh. When Gurnie needed a new winter coat, Oscar picked her up in Durham, drove her to Raleigh and bought her a new heavy coat. An event that that Gurnie recalled vividly.

Oscar moved to Durham and bought an interest in the Blue Bird Taxi Company with Ike Harris. He worked in the office and only occasionally drove a taxi when a driver was ill.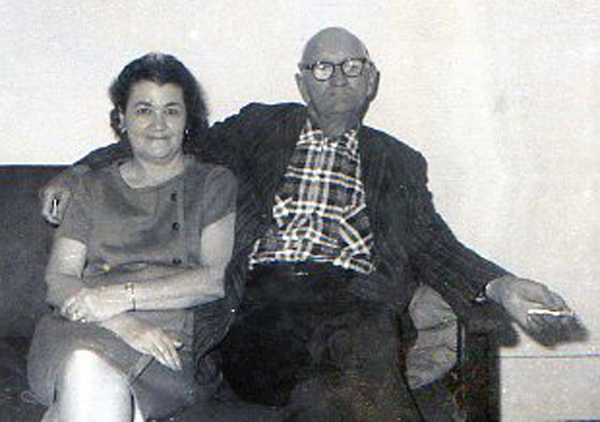 Mary and James Oscar Stancil
Oscar married Mary House Barber in 1935. Mary was attractive and petite. She had a son, Ralph born in 1927, from her 1929 marriage to Carl A. Barber. Mary was the daughter of Ellie A. House. Oscar and Mary had one son: Jack Roland born Feb. 16, 1937. Jack visited Guy in Hawaii and stayed. He was a painter at one time and later ran a nightclub.

Oscar loved his family and often attended family reunions.

Oscar suffered from arteriosclerosis for two years. He developed bronchopneumonia and was hospitalized at Watts. Oscar died on June 2, 1970. His funeral was held at Hall-Wynn Funeral Home in Durham, NC. Oscar was buried in Woodlawn Memorial Park in Durham.
---