Freeman Elbert Stancil
Born July 10, 1892
Died July 22, 1972 NC
Married Flora Hinnant on Dec. 21, 1913
Married Annie Viola Renfrow on March 3, 1920
Married Gladys Pearl Lamm in 1930
Elbert Stancil was born July 10, 1892 and died July 22, 1972
Elbert's children
With Flora Hinnant (March 11, 1895-Oct. 12, 1918)
Married Dec. 21, 1913
Freeman Durward Stancil
Oct. 11, 1914 NC-April 25, 1998 Wilson, NC
Josiah Fernandas "Fernie" Stancil
June 19, 1917-Aug. 17, 1991
With Annie Viola Renfrow (1901-1944)
Married March 20, 1920
Myrtle Viola Stancil
1920-
Thelma Lee Stancil
Nov. 19, 1921-May 12, 2013 Virginia
Eloise Virginia Stancil
Aug. 28, 1922-Aug. 8, 1924
Annie Laurie Stancil
Jan. 15, 1924-July 12, 1992 Virginia
With Gladys Pearl Lamm (Dec. 14, 1911-Sept. 2, 1964)
Married 1930

Shirley Ann Stancil
June 1933-Oct. 29, 1934
James Elbert "Jay" Stancil
May 29, 1934-Oct. 11, 2011 North Carolina
Sheila Jan Stancil
Sept. 17, 1935-Dec. 5, 2006
Charles "Chuck" Charleston Stancil
1937-
Gary Wayne Stancil
1944-
Elbert had dark brown hair, brown eyes and was about 5í8Ē. His built was average. Elbert graduated from grammar school. He had a strong personality and was very self confident.
Elbert married Flora Hinnant on December 21, 1913 when he was 19. They moved into an old house on his father, Samís farm.
Flora was the daughter of Josiah Hinnant and Zelphia Barnes. She was born March 11, 1895.
Elbert was a tenant farmer for a time. Sam had carpenters built a new house for Elbert and Flora. The house had two bedrooms. The old house Elbert had been living in, was moved and used as his barn.
In 1917, Elbert registered for the WWI draft in Johnston County just before Fernie was born. Elbert was farming.
Sadness came on Oct. 12, 1918, with the death of Elbertís wife of almost five years, Flora Hinnant. She had pneumonia. Flora was buried in the Howell Cemetery. Flora left Elbert with two young sons, Durward (Freeman Durward) born Oct. 11, 1914, and ĎFernieí (Josiah Furnandas) born June 19, 1917.
Elbert married Annie Viola Renfrow on March 20, 1920. Annie was 19 and Elbert was 26. Two years later, Annieís older brother, James Robert Renfrow, married Elbertís first cousin, Effie Irene Stancil, George Ira Stancilís daughter. Itís interesting that Robert Renfrow also dated Sarah Alice Stancil, Uncle John Archer Stancilís daughter.
Elbert was still farming when Durward started to school. Elbert raised cotton, corn, tobacco, hay, hogs and chickens. It was called a two horse farm because of its size. Elbert also took up smoking and preferred cigars.
Elbert and Annie had three daughters; Thelma Lee was born Nov. 19, 1921, Eloise Virginia was born Aug. 28, 1922, and Annie Laurie was born Jan. 15, 1924. Unfortunately Eloise died before her second birthday, on Aug. 8, 1924, and was buried in the Howell Cemetery.
In the North Carolina Death Certificates there is an Elizabeth Stancil, daughter of Elbert Stancil, who died on Aug. 8, 1924, of Pleurisy in Wilson, NC. The informant was also Elbert Stancil. I believe this is the same child as Eloise Virginia Stancil born Aug. 28, 1922. Dr. L.V. Grady first saw her on May 1, 1924 and last saw her alive on Aug. 8, 1924. She died at 7 pm. The undertaker was Thomas Yelverton. Co. She was buried on Aug. 9, 1924.
According to the Wilson, NC directory, Elbert and Annie B. Stancil were living at 800 Wilson St., Wilson, NC. Elbert was an auto mechanic for Southern Dairies.
One winter when deep snow covered the ground, Elbert build a sled. He hooked his horse to it, and drove over to visit his mother and father and on to Aunt Eva and Uncle George Stancilís.
Elbert decided to move to Wilson. Grandberry Hales rented Elbertís house and farm. At first Elbert worked in a clothing store.
Then he went to work in a garage. Elbert developed an early preference for Chevrolets that remained until his death.
Elbert drove his fatherís black Chevrolet over to visit his uncles in 1922. He proudly drove Uncle Harvey, Uncle George, brother Lonnie and cousin Emmette to church at Holly Springs Free Will Baptist Church tooting the horn along the way at folks he knew.
In 1923, Elbert graciously drove George and Eva Stancil around Wilson to look at new houses. They planned to build a new large house for their large family. They already had 11 children. Eva wanted big rooms, so she could put double beds in them.
About 1924, Elbert rented a building and put in a garage at Five Points in Wilson. According to some relatives, he put metal chairs around the heater in the winter time. Elbert had some of them electrified. He would turn the Ďhotí chairs on and off, having a good laugh at the surprised folks jumping out of the chairs. Lonnie worked for him for a time.
Elbert and Annie were having marital problems. Annie could not fulfill her needs inside the marriage and they split up soon after moving to Wilson. The children spent time with Annie and Elbert but also lived with Missouri for a time. Eventually Elbert and Annie divorced. Thelma lived with Elbert and her brothers, Durward and Fernie.
After a time, Thelma, live with her Aunt Alice, her mother's sister and husband, Uncle Dewey Morris in Wilson. She was only 4 years old. They attended the nearest church which was a Christian Church.
Annie moved several times between NC and VA. Finally, Annie Viola Renfrow Stancil remarried on Dec. 23, 1933, to Dallas Godwin. He was a kind lovable man.
Annie Laurie eventually moved in with Elbert, Durward and Fernie in Wilson.
Elbert left the auto mechanic business. He went to work for Southern Dairies in Wilson. Southern Dairies was organized in 1900 and manufactured ice cream. Refrigerated trucks were becoming common place and good mechanics were needed. This was a very good job. Elbert was always energetic and a hard worker. He had a reputation as a Ďgo getterí, sort of a hustler.
When the 1930 Census was taken on April 11, Annie Viola Stancil had moved in with her parents, James Ransom and Linda Renfrow. They lived in Springhill Township. Annieís daughters; Thelma Lee and Annie Laurie moved too.
On Census Day, April 11, 1930, Elbert and sons Durward and Fernie were boarding with Fannie and Beatrice King in Wilson. Fannie was an ice cream maker at the Ice Cream Plant and rented the house. Elbert listed his occupation as an auto mechanic.
Jimmy Stancil, grandson of Josiah and, Leumosí boy, liked school in Wilson. He often walked home with cousins Durward and Lonnie Stancil, Elbertís boys. One day after school, they got muddy in a culvert, Elbert spanked all of them.
Elbert worked for Southern Dairies as a refrigerator man. Jimmy recalled seeing a woman in Elbertís rental house once.
Ralph Stancilís girlfriend, Ora Watson, a cousin of Graydon Renfrow who married Rachel Stancil, Ralphís sister, lived in Buckhorn. She wrote to Ralph in a letter dated May 3, 1930,
"I think Annie and Elbert are going to get the Divorce from each other, thatís what I heard, I donít blame him. Iíll tell you more when I see you. Donít tell everyone but she is a case Iím telling you. Iíll tell you more later.Ē
In 1930, Elbert married Gladys Pearl Lamm in Emporia, Va. Gladys was born Dec. 14, 1911, the daughter of Isaac Herbert Lamm and Cora Barnes.
In 1920, Herbert rented a farm in Cross Roads Township, Wilson County. In 1930, Herbert rented a farm in Gardner Township, Wilson, NC.
Children in the family were Millard, Eva, Herman, Gladys, Daphne, Marie and Cleo.
Gladys was quite a beauty and Elbert was smitten. He married Gladys in 1930. Elbert was 19 years older than Gladys. Gladys became step-mother to Freeman Durward Stancil age16, Josiah Fernandas ĎFernieí Stancil age 13, Thelma Lee Stancil age 9, and Annie Laurie Stancil age 6. This was difficult for all of them. Elbert rented a farm and moved the family into the tenant house. Durward and Fernie grew up farming. Gladys was in charge.
They had five children; Shirley Gray born Feb. 21, 1933 and died Oct. 29, 1934. James Elbert "Jay" (born May 29, 1934), Shelia Jan (born Sept. 17, 1935), Charles Charleston "Chuck" and Gary Wayne.
Shirley Gray was only 1 Ĺ years old when Gladys took her to see Dr. Bell on Oct. 22, 1934. Before her death she was admitted to Moore Herring Hospital in Wilson. Shirley died of peritonitis at 9:30 p.m. on October 29, 1934. She was buried on Oct. 30, 1934 beside her half sister, Eloise Virginia, in the Howell Cemetery in Wilson County. After Elbert died, Gladys had her moved to Maplewood Cemetery in Wilson, NC.
Elbertís church was the First Presbyterian Church of Wilson, NC. He was active and was elected deacon and elder. A perfect Sunday for Elbert was attending church with his family, eating together and then visiting the cemeteries where so many family members were buried. He would take flowers for the graves. Elbert lingered over each one of them. He had a special place in his heart for all those who went before him. Elbert was very familiar with those in the cemetery and when he had his children he looked to this place for meaningful names.
Elbert was a lot like his fun loving Uncle Harvey. Who was full of mischief like Elbert!
Elbert enjoyed the Stancil Reunions and always arrived with a smile and an abundance of food.
It was 1949, when Elbert opened Stancils Refrigeration in Wilson. It was very successful because at about the same time, meat packers and dairies were opening and needed refrigeration and someone to maintain their equipment. Durward worked with his dad. When Bill Barns had an ice-cream dairy, Elbert was there with the expertise Bill needed to keep his equipment running.
In late 1960s, Elbert rented a tobacco farm in Wilson County for several years. He hired blacks to look after his crop. Cousin Glenn Stancil remembers seeing him at the tobacco market in Wilson.
Elbert had his first heart attack in the 1960s. His second heart attack was in the 1970s.
When Elbert retired, he and Gladys moved to Oak Island at Carolina Beach. This was below Wellington, NC, near Long Beach. Elbert spent the mornings fishing and the afternoons helping friends and neighbors with air-conditioning problems.
When Elbert retired, he and Gladys moved to Oak Island on Carolina Beach.
Granddaughter Cynthia has fond memories of Elbert. She wrote, ďOne of my fondest memories from childhood is that of sitting beside my Granddaddy Stancil (Elbert) in church. This is burned in my memory, I can still see him with his fedora on his lap (removal in church!). It is a sweet memory to me and one that I cherish and I believe one that impacted my life towards the foot of the cross. I was a happy granddaughter to be sitting with her bear-hugging granddaddy! Sometimes I wonder if he really knew what impact sitting with him in church was going to have and has had in my life.
"I have that very fedora in my possession to this day - given to me by Grandmother Stancil following his death. She new that was a very special hat to me as he let me wear it and he took as much joy in seeing it on my head, as I enjoyed it being there.Ē shared Cynthia.
Elbert visited Durward and family as often as he could. Heíd drive up in his big Cadillac wearing a big grin. He would get out go into the shop, jump right in fixing refrigeration problems. Grandson, Jerry, recalled one day when he was a teenager, Elbert arrived and assisted him in fixing a multitude of problems. When they finished Elbert asked him to come outside to his car. He told Jerry he was not going to be working with refrigeration anymore and wanted to give him his inheritance. He opened up the trunk. Inside were tools, cleaned to glint like new ones. Jerry still uses and treasures these tools today.
Elbert wanted to be buried beside Flora, his first wife, in the Howell Cemetery and made his wishes known.
Elbert and Gladys enjoyed living on Oak Island. When Elbert developed chest pains, he was admitted to Dosher Memorial Hospital in Southport.
Elbert had a history of heart problems, but myocardial infarction had only been a serious problem within the last week. Elbert died of a massive heart attack at 3:40 a.m. July 22, 1972. He was 80 years old. Gladys disregarded Elbertís wishes and made sure Elbert was buried in the Maplewood Cemetery, Wilson, N.C. The funeral and burial was on July 22, 1972.
Although Gladys never smoked, she developed lung cancer and died at 72, on Sept. 2, 1984, in Hanover County, N.C. Gladys was buried beside Elbert.
Elbert had a total of 11 children by three wives.

"Fernie" Stancil
Bessie Stancil
Family photo
Family photo

Note: To print photos, click on link and then print.
Durward, Shirley and "Fernie"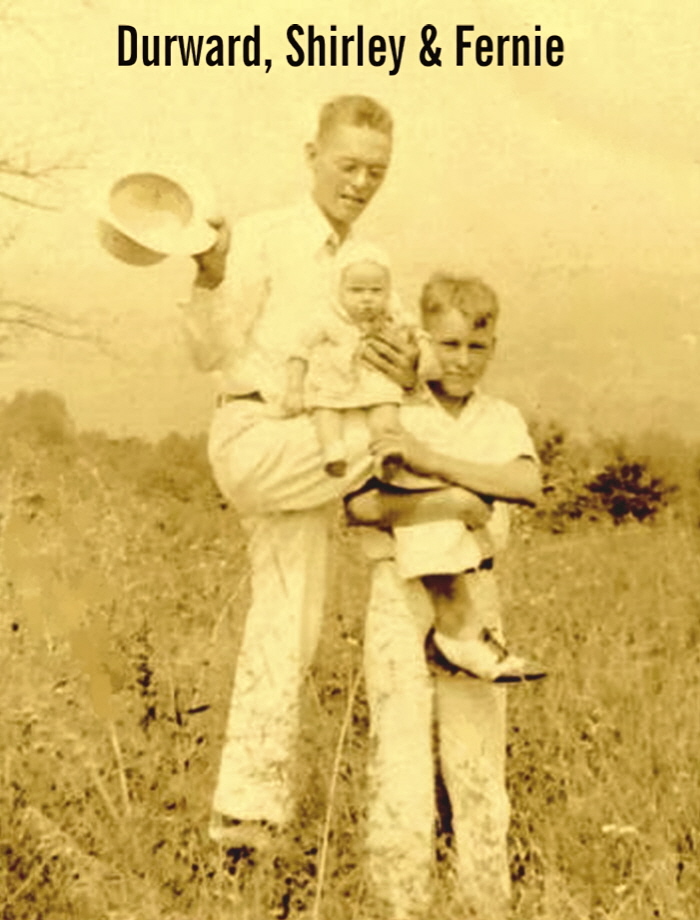 Family photo
---