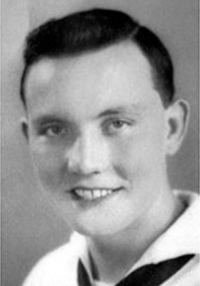 Harold Lloyd Stancil
Born May 7, 1924 in Johnston County, NC
Died Oct. 13, 1944 on USS Franklin in South Pacific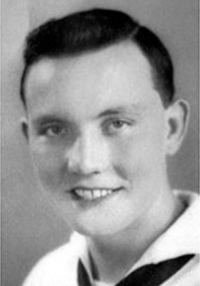 Harold Lloyd Stancil was born May 7, 1924, Johnston County, NC and died Oct. 13, 1944, on the USS Franklin, South Pacific.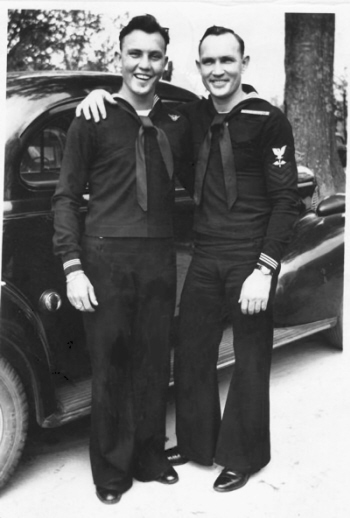 Harold Lloyd Stancil with brother GI
.
Family photo
Harold was the youngest son of Eva and George Ira Stancil.
After seeing "Wings of the Navy" in 1939 with first cousin Glenn Stancil (Alvin Branch), Harold decided he wanted to join the Navy. Eva signed for him to join on July 15, 1941, he was just 17 years old.
Older brother G.I. had joined on Dec. 10, 1940. Harold always referred to Bill Batts as the "Annapolis Kid." He entertained Bill and Jim by pretending they were dive-bombers and moving them rapidly about to their delight.
By Dec. 4, 1943, Harold was stationed at U.S. Naval Training Station in Newport, Rhode Island, assigned to the USS Franklin.
Beginning on Jan. 31, 1944 the USS Franklin cruised to the Pacific through the Panama Canal.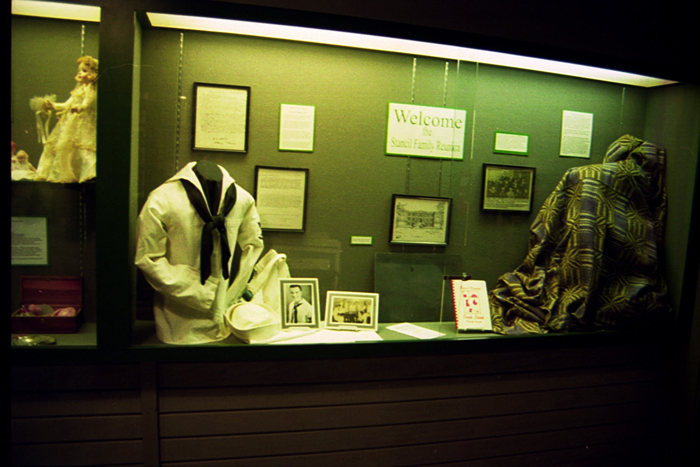 Harold Lloyd Stancil's navy uniform on display at the Tobacco Farm Life Museum in Johnston County, NC. Family photo
Oct. 23, 1944 -- WILSON SAILOR KILLED IN PACIFIC WAR AREA
Family photo
Aviation Machinist Harold L. Stancil Dies in Action
The fifth man in the area to have been reported killed in action this month, AMM Harold Lloyd Stancil, 1-c of Kenly, Route 2, son of Mrs. G. I. Stancil and the late Mr. Stancil, was reported killed in action in the Pacific area by the Navy Department today.
Young Stancil was 20 years old and had been in the service for three years. He was a first class petty officer.
He is survived by his mother and 11 brothers and sisters, including T. E. Stancil of Wilmington, Ralph of Ocala, Fla., G. I. Stancil in the Navy at Jacksonville, Fla., Mrs. J.N. Stancil of Rocky Mount, Mrs. J. R. Renfrow of Kenly, Route 2, Mrs. J. C. Hales of Kenly, Mrs. J. G. Renfrow of Lucama, Route 2, Mrs. Eddie Carraway of Farmville, Mrs. Grover Eason of Selma, Mrs. Robert E. Dennison of Hempstead, N.Y. and Mrs. W. H. (Bill) Batts of Wilson.
— Renn Stancil Hinton, daughter of George Ralph Stancil
---
---