January 2013
Sudie Bailey Sullivan, Jan. 25, 2013
Sept. 5, 1922-Jan. 25, 2013

Sudie Bailey Sullivan
Sudie died on Jan. 25, 2013
Sudie Bailey Sullivan, granddaughter of Tempy Ann Stancil Hill, and the last surviving child of Delia Hill Bailey, died at 90, on Jan. 25, 2013, at the Brian Center, Wilson, NC. Her graveside service was at the Bailey Family Cemetery, Jan. 28, 2013.
She is survived by son Billy Ray Sullivan, grandson Billy Thomas Sullivan, granddaughter Susan Raye Sullivan; sister-in-law Vickie Jean Bailey; nieces Ella Narron Everett & husband William, Eloise Bailey Edwards & husband Dennis, Jeanette Bailey Hawley, Tonya Rose Crocker & husband Tracy, Sandra Bailey Benson & husband Billy, Delia Bailey Wagner & husband Jerry; nephews Bruce Narron & wife Judy, William Willis Narron & wife Elaine, Albert Johnson Jr. & wife Debbie, Charles Lynwood Johnson & wife Jean, Bobby Ray Davis & wife Nell, Archie Wayne Bailey & wife Diane, Ronald Lynn Rose, Johnnie Fletcher Bailey Jr.; first cousins Alice Stancil Price, Shirley Ann Stancil Cockrell, Mavis Cassandra Hill Godwin, Hazel Hill Wright, Virginia Eloise Hill Sidelinger, Velma Hill Bunn, Ethel Gray Hill Hayes, Joseph Lynwood Hill Sr., Janie Cleo Hill Joyner, Jackie Earl Hill Sr., Braxton Hill, Josephine Hill Parrish, Phillip Ray Hill, Billy Wayne Hill, Geraldine Hill Brinchek plus many other cousins.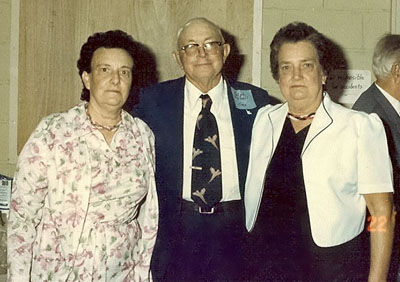 Sallie Bailey Davis, Ralph Stancil (George Branch) and Sudie Bailey Sullivan at the 1985 Reunion.
Sudie died on Jan. 25, 2013.
Sudie was preceded in death by her husband Clovis Thomas Sullivan; daughter-in-law Linda Marie Bunn Sullivan; sisters Annie Bailey Narron, Tempie Esker Bailey Narron, Sallie Pearl Bailey Davis, Beulah Bailey, Rector Bailey Boykin, Delia Lois Bailey Rose; brothers Archie Radford Bailey, Willie "Bill" Artis Bailey, Johnnie Fletcher Bailey; nieces Gladys Narron Alford, Evonne Narron, Tempie Lucille Johnson Larkin, Hilda Jean Johnson Kotajarvi, Linda Faye Johnson Davis, Edith Jean Boykin, Joan Kay Boykin, Claire Bailey; nephews Rexall Narron, Wallace Narron, James Radford Johnson, Worth Narron, Radford Davis, Redger Jackie Boykin Jr. and many cousins.
Sudie was born Sept. 5, 1922, to Delia Hill and Radford W. Bailey in Johnston County, NC. She was delivered by Aunt Sylvia Woodard, a very competent Negro midwife. Her payment was a glass of milk and sweet potatoes!
Sudie grew up with a piano in the house and learned to play chop sticks at an early age. She often played duets with Rector and Lois.
Sudie was 8 when her dad suffered a stroke that prevented him from actively farming. Radford directed his children to do the farm work that kept the family going. Oldest son, Archie, was just 6 so the girls did most of the work, wearing overalls as they plowed with mules.
Radford died 5 years later, when Sudie was just 13. By this time Annie, Esker and Sallie had married. Archie was 11, Bill 8, Lois 5 and Fletcher 2. Delia's reliance on her children increased. Times were tough. A large garden and preserving food was essential for survival as was a hired hand 'Red'.
Sudie and sisters Rector and Lois joined Union Chapel Free Will Baptist Church. School was at Stancils Chapel, Sudie rode a bus.
When Sudie met Clovis Thomas Sullivan, son of Lee and Julie. there was an immediate attraction. But then they had a serious spat and Sudie married another on the rebound. This soon ended and she was back with Clovis.
When Clovis popped the question, asking Sudie to marry him, she coyly replied, "Wait on and let me study about it."
She finally replied, "Yes."
A Magistrate in Wilson, North Carolina, married them in August 1945. Sudie received a wedding ring later.
At this time Clovis worked for Percy Flowers, best known as a moonshiner. Sudie and Clovis moved in with Delia. While with Delia, son Billy Ray was born at home on March 31, 1946. In 1951 Sudie's older sister, Annie, was struck and killed by lightning. Annie had 6 children and Delia's entire family helped, including Sudie.
Later, Clovis farmed for others and then, when Sudie's brother, Willie Bailey, was in charge of the Dorothea Dix Hill Farm, he told Clovis about a job opening. Clovis applied and was hired to supervise the Hospital patients who grew the vegetables.
Clovis and Sudie were furnished a house across the road from Willie's house. Sudie worked at a nearby dry cleaners. During this time, Clovis taught Sudie to drive.
Sudie and Clovis invited Sudie's youngest sister, Lois, to live with them while her husband Don, a soldier, was sent overseas. He served in Korea and then Vietnam. Lois was quickly hired by F.W. Woolworths Five & Ten Cents Store near Raleigh. A year later, Lois joined her husband. Sudie changed jobs and was hired by Woolworth's.
After four years at the farm, Clovis left to work for Dover Dairy. While there, Clovis got his brother-in-law, Fletcher, a job at the dairy. Fletcher stayed 2 years. When this job ended Clovis quickly moved onto another farm.
Sudie began working at the Devil Dog Manufacturing Company garment factory in Zebulon and carpooled. They primarily manufactured blue jeans. Sudie spent 15 ˝ years at Devil Dog as a machine operator.
In 1963, her beloved Clovis died. Clovis suffered from diabetes and heart disease. Sudie became a widow much too soon. She was only forty and Billy Ray just 17. Clovis was buried in the Bailey Family Cemetery.
Sudie's mother, Delia, died in 1969. She was buried in the Bailey cemetery beside Radford. Her property was divided among her children. Sudie received the home place and moved into her childhood home.
She worked for Johnson & Johnson Apparel on Route 222, Kenly for 7 ˝ years. Sudie temporarily retired but at her grandson, Billy Thomas' suggestion, she was soon taking reservations at the Days Inn Motel on Truck Stop Road in Kenly. Sudie spent 3 years there until she retired at 65 in 1987.
Sudie was devoted to family. She participated in quilting bees held on sister Lois' back porch and attended Stancil Reunions. Sudie was very close to sisters Sallie and Lois, sister-in-law Thelma, and niece Linda Johnson Davis.
Sudie loved flowers. She spent hours working in the yard caring for her beautiful roses and flowers. Roses were also her daughter-in-law Linda's, favorite flowers.
In 2004, Sudie suffered a stroke and was moved to the Brian Center, a Wilson Nursing home. She looked forward to regular visits from family and friends.
Sudie will be missed for her love, devotion and pride in her family. She delighted in showing relatives the Bailey Family Cemetery and introducing them to family members who lived nearby and sharing family history and memories.
February 2013
Albert Ray 'A.R.' Mercer, Feb. 21, 2013
July 30, 1935-Feb. 21, 2013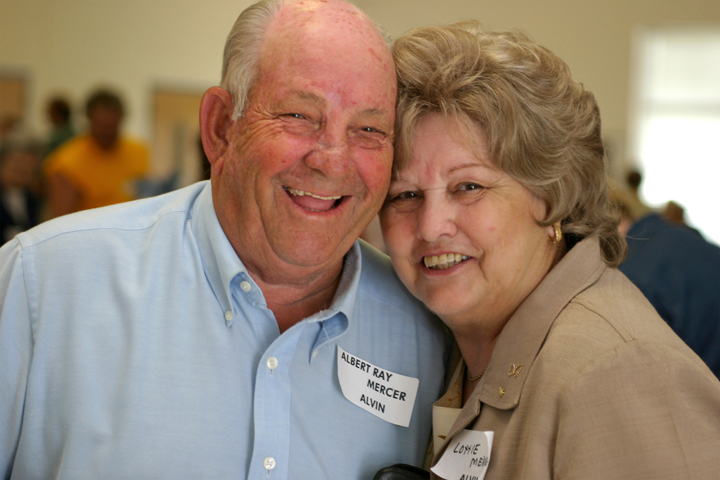 A.R. and Lottie Mercer at the 2005 Stancil Reunion.
A.R. died on Feb. 21, 2013.
Albert Ray "A.R" Mercer, son of Willie Flave and Beulah Lindolph Stancil Mercer, granddaughter of Alvin Rosco and Fannie Columbia Pittman Stancil, died Thursday, Feb. 21, 2013, at home in Beulaville, N.C. He was 77.
The funeral will be held at 6 p.m. Saturday, Feb. 23, followed by visitation at Community Funeral Home of Beulaville. Graveside services will be at 11 a.m. Sunday, Feb. 24, 2013, at Devotional Gardens, Warsaw.
He is preceded in death by his sister Columbia Ann Mercer Kornegay.
Survivors include his wife, Lottie Sutton Mercer of Beulaville; sons Craig Mercer of Autryville, Ronnie Sutton of Deep Run, and Gregory Sutton of Kinston; daughter Teresa Sutton of Beulaville; sisters Margaret Williams and Wanda Roberts, of Beulaville; brother Reuben Mercer of Beulaville; and five grandchildren: Craig Mercer Jr., Brian Sutton, Dustan Sutton, Mark Sutton and John Sutton.
April 2013
Jimmie Lee Williams, April 11, 2013
June 1, 1930-April 11, 2013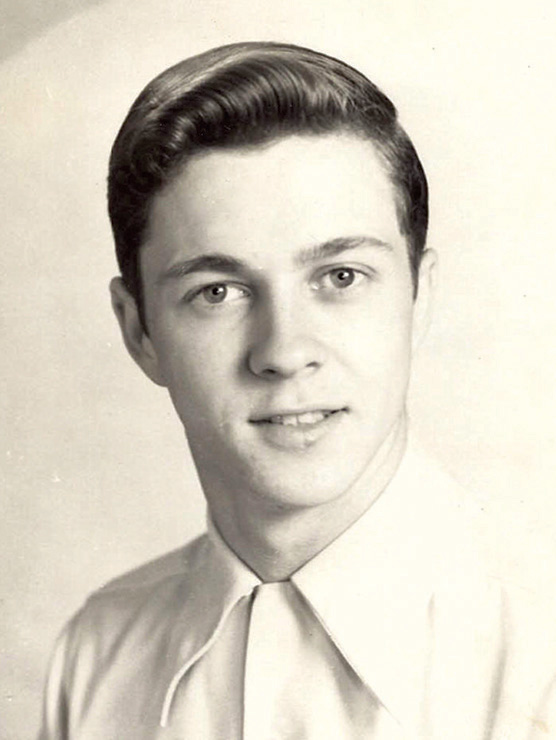 Jimmie died April 11, 2013
Jimmie Lee Williams, Henry Branch, grandson of Walter Greene Stancil, son of Essie Stancil Williams, husband of Nancy, father of Ricky, and brother of Bettie Lou Williams Graham, died at 82.
Jimmie died on April 11, 2013, at the Veterans Hospital, in Durham, N.C. A few years ago Jimmy developed heart and breathing problems.
A memorial service was held on Wednesday, April 17, 2013, at 2 pm in The Gathering Room at Clements Funeral Home in Durham. Rev. David B. Bolick, of the Gospel Baptist Tabernacle Church, Hillsborough, NC, conducted the service.
Jimmie is survived by his wife of 52 years, Nancy Lloyd Williams; son Ricky Williams; sister Bettie Lou Williams Graham; niece Joy Marie Graham Simmons & husband Andy; nephews Ronald 'Ronnie' Joe Christmas & wife Amy, Stephen Lewis Graham & wife Michele, Marty Lynn Graham & wife Aileen; great-nieces Brittany Nicole Graham Prine, husband John Paul and son Jeremiah, Brooke Erin Graham; Great- nephews Brandon Scott Graham, Hunter Andrew Simmons, Lucas James Simmons; aunt Peggy Anne Bailey Stancil Owen; first cousins Arnold 'Arnie' Thomas Stancil, George Lee Stancil & wife Marilyn, Phillip Justin Stancil & wife Grace; Robert 'Bobby' Wayne Stancil & wife Barbara, David Leo Stancil & wife Jackie, Ruth Ann Stancil Miller and husband Ben plus many cousins.
"Daddy, don't leave us. Daddy, don't leave us," pleaded 3-year-old Jimmie, looking through the screen door as his daddy left in 1933.
This event impacted his future, his sister's and mother's.
Jimmie was born on Sunday, June 1, 1930, in Durham, N.C., to James and Essie Stancil Williams. An older brother, Kenneth Aaron, was premature and only lived 2 weeks. Younger sister, Bettie Lou was born just 10 months after Jimmie.
By 1934 Essie moved her family to Burlington, NC, into the home of her pa, Walter Greene Stancil, new wife, Louise and son Walter Leo, who was close to Bettie Lou's age. Louise looked after Jimmie and Bettie Lou while Essie worked in a hosiery mill.
Essie's mother, Dillie Ann Renfrow Stancil, died Nov. 29, 1927.
By mid-September,1936, Essie developed serious kidney problems. The diagnosis was acute nephritis. There was no successful treatment, Essie died on Oct. 19, 1936. Walter took Jimmie and Bettie Lou to Essie's funeral and burial in the Renfrow Cemetery, Selma, NC. Essie's first cousin, Gurnie Stancil Crabtree, took a photo of Jimmie and Bettie Lou beside their mama's grave, located in an open field.
Initially, Jimmie and Bettie Lou accompanied Walter, Louise, and Leo as they returned to a Johnston County farm in Four Oaks. By 1937, Walter realized he was not able to properly care for Jimmie and Bettie Lou. He consulted with a social worker. A decision was made to place them in the Barium Springs Home for Children. It was founded in 1891 by the Presbyterian Synod of North Carolina. Walter and Louise drove 7 year old Jimmie and 6 year old Bettie Lou the 190 miles to the Barium Springs Home near Statesville, NC. The large campus included a church and school.
The campus was large and complete with a church and school. They had a boys' campus and a girls' campus and they lived in cottages. Sometimes Jimmie saw Bettie Lou at meal time.
Jimmie and Bettie Lou spent part of summers and holidays with Aunt Sadie (Essie's sister) and Uncle Robert in Durham. About 1948, Gurnie Stancil Crabtree, who lived in Durham, took Jimmie and Bettie to visit their mother's grave in Johnston County. Jimmie recalled his mama's tombstone, but he did not see any others.
Jimmie grew up learning religious values and scriptures that shaped his character and influenced life choices.
Barium Springs taught skills too. Jimmie worked in the Print Shop and learned how to print. This opportunity guided his future.
Jimmie was a natural athlete and excelled as a member of the school's football and basketball teams. His sports prowess continued throughout his life.
Jimmie was selected with other outstanding residents at Barium Springs, to visit other orphanages throughout the state. This opened Jimmie's eyes to life outside Barium Springs.
Jimmie was on track to graduate from high school when he dropped out and joined the Navy. During his enlistment, the Korean War raged. Jimmie received an honorable discharge after four years.
Jimmie moved to Durham, N.C., and began his printing career at Durham Printing.
There he met Nancy Lloyd. They were married in March of 1957, by a Judge in Durham. They had one son Ricky Williams.
About this time Jimmie started playing golf. The Golf course was a favorite place to relax. Jimmie loved the challenge of the game and shared this with son Ricky. Golfing vacations were enjoyed by Jimmie and Nancy. Over the years he also played with both "Eno Seniors" and "Over the Hill Gang." Nancy was his biggest fan.
Jimmie was a great sports fan of the Tar Heels of the University of North Carolina. He seldom missed a game.
Jimmie and Bettie Lou kept in close touch, sending birthday greeting and making frequent calls. They cherished each other and shared a past that only they understood. In recent years Bettie Lou enjoyed meeting Jimmie and Nancy for dinner at K & W Cafeteria in Chapel Hill, one of Jimmie's favorites.
Jimmie maintained contact with classmates, often returning for reunions at The Barium Springs Home for Children. He invited Bettie Lou to join him in 2013. Bettie Lou planned to attend. Sadly Jimmie died April 11, 2013, prior to the reunion.
Jimmie was known as a gentleman with a big heart who joked and lifted everyone's spirit. Perhaps this quote by Denis Waitley describes the Jimmie we knew and loved, "A smile is the light in your window that tells others that there is a caring, sharing person inside." This scripture, Proverbs 10:07, reminds us of Jimmie, "The memory of the righteous shall be a blessing…"
May 2013
Thelma Lee Stancil Pipkin, May 12, 2013
Nov. 21, 1920-May 12, 2013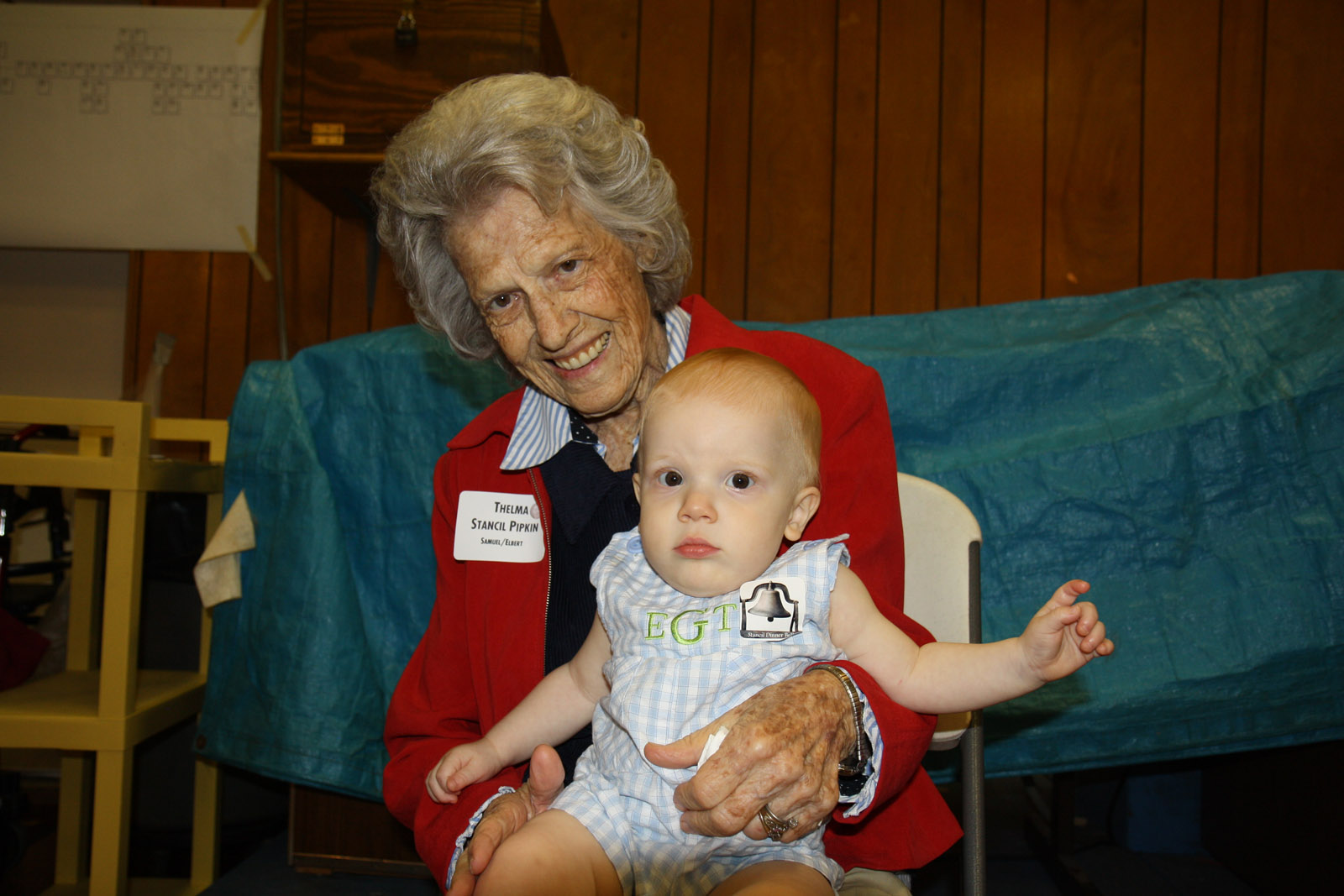 Thelma Lee Stancil Pipkin and youngest Stancil Reunion attendee Ethan Thomas Gunst.
Thelma died on May 12, 2013.
Thelma Lee Stancil Pipkin, Samuel Branch, granddaughter of Samuel Stancil, daughter of Freeman Elbert Stancil, wife of the late George Dallas Pipkin, mother of Dee Dee, Shirley and Alice, dies at 92.
Thelma died, following a brief illness, on Mother's Day, May 12, 2013, at home in Hayes, Va., surrounded by her family. Just hours before, Dee Dee played guitar while Alice sang one of her favorite songs, "How Great Thou Art."
Services will be held at Amory Funeral Home, 410 Grafton Drive, Grafton, Va. 'Meet The Family' will be at 1 p.m. on Wednesday, May 15, 2013. At 2 p.m. Thelma will be eulogized in the Chapel at 2:00 p.m. Then she will be buried beside her beloved husband, George, at a graveside service at 3 p.m. in the Peninsula Memorial Park Cemetery, 12750 Warwick Blvd., Newport News, Va.
Thelma joined us for many reunions, including the 2012. Thelma was the oldest present and held the youngest member, Ethan Thomas Gunst, 10 ˝ months, son of Ross and Elizabeth Stancil Gunst of the George Branch.
All of her children; Shirley, Alice, Dee Dee & wife Gayle joined Thelma for the last four Reunions and grandchildren Tyrone and Samantha came in 2011.
Thelma is survived by: two daughters Shirley Ann Pipkin, Alice Leigh Pipkin Parker; son George Dallas 'Dee Dee' Pipkin Jr. & wife Gayle; granddaughters Samantha Pipkin, Jessica Marie Rama Hazelett and husband John; grandsons George Tyrone Pipkin, Jerry Lee Woodlief Jr. & wife Michelle, Gregory Scott Woodlief; great-granddaughters Danielle Pipkin, Morgan Ann Woodlief, Megan Jane Woodlief, Taylor Marie Woodlief; great-grandsons Jerry Lee 'Bubba' Jr., Corey Scott Woodlief, Gregory Scott Woodlief, Jr. & wife Mary, Jordan Michael Hazelett; great-great granddaughters Santana Delfina Mercaco and Ella Paige Woodlief; brothers Charles 'Chuck' Charleston Stancil & wife Judy, Gary Wayne Stancil; sister-in-law Betty Mathews Stancil the widow of James Elbert 'Jay' Stancil; nieces Roselyn Stancil Brown, Cynthia Stancil Groff & husband David, Patricia Jones Hardison, husband Donald, Gayle Jones Ellis, Flora Jean Stancil, Dianne Stancil Bailey & husband, Ralph, Lynn Davis Woodard, husband Tommy and son Thomas, Robin Stancil Berry, husband Brian, sons Collin and Connor; nephews Jerry Durward Stancil & wife Marcia, Stephen Arthur Stancil & wife Karen, Ronald 'Ronnie' Jay Stancil & wife, Cindy, Richard Garland 'Dickie' Jones, William Daniel Jones, Michael Ray Davis & wife Terri, Robert Edward Stancil & wife Deborah, Joseph 'Jody' Ryan Stancil & wife Courtney; great-nieces Allison Stancil Mann, husband Oliver, children Monica and Ollie, Alexis Re Ann Thompson, Nancy Lee Spivey, Tracy Renee Spivey Duke, husband Chad, children Tori and Dawn, Stephanie Stancil Sommerville & husband Erik; great-nephews Jeffrey Durward Brown & wife Priscilla, children Justin and Caroline, Jerry Brian Stancil & wife Paula, children Morgan, Mackenzie and Sarah Kathryn, Jonathon Taylor Stancil, Geoffrey Bryan Wilson & wife Stormi, Spencer Thomas Wilson & wife Alma, William 'Chris' Christopher Jones, Timothy William Jones, Steven Jones, Douglas 'Doug' Jones, Donald Ray Hardison & wife Darlene, children Kalina and Keanu, James Christopher Stancil & wife Nerisa, sons Tyler and Brantley, Robert Bradford Stancil, Daniel Preston Groff & wife Rachel, children Chandler and Ashley, David Jay 'D.J.' Groff & wife Summer, children Lillie and Jay; first cousins Ray Alfred Stancil & wife Muriel, Patricia 'Pat' Stancil Whitfield, James Carl Boykin, Annie Mae Boykin, Pearlie 'Faye' Marie Boykin Lucas & husband Johnny Gene, Mavis Irene Walls Johnson and Ethel Mae Walls Collier.
Thelma was preceded in death by her husband George Dallas Pipkin, Sr.; by parents, Freeman Elbert Stancil & Annie Viola Renfrow; step-mother Gladys Pearl Lamm Stancil; sisters, Eloise Virginia Stancil, Annie Laurie Stancil Jones & husband William Henry, Shirley Ann Stancil, Shelia Jan Stancil Davis & husband Leland; brothers Freeman Durward Stancil & wife Bessie, Josiah Fernandas 'Fernie' Stancil & wife Doris, James Elbert 'Jay' Stancil; great-niece Tiffany Lynn Brown; great-nephew Michael Shane Poythress; first cousins Mildred Stancil Kelly, Doris Louise Stancil, Lonnie Pearl 'L.P.' Stancil, Doris Stancil Laughinghouse and James Ray Boykin.
"Hello Darling!" was Thelma's usual phone greeting. Her charismatic personality drew family and friends to her. She eagerly shared family history but was not stuck in the past but looked to the future.
Thelma was the first daughter and third child of Freeman Elbert Stancil and his second wife Annie Viola Renfrow, daughter of James Ransome Renfrow and Linda Holland. Elbert's first wife, Flora Hinnant, died of pneumonia in 1918.
Thelma was born Nov. 21, 1920. At first she was named Myrtle Viola Stancil, but soon it was changed to Thelma Lee.
Thelma's earliest memory of Grandpa Sam Stancil and grandma Missouri Howell Stancil was in 1923. Grandma Missouri was ugly and stern. At 3 years old on Sundays, they walked 5 miles down a dusty road to church, much too far for a little girl!
Thelma had two older brothers, Freeman Durward, born in 1914 and Josiah 'Fernie' Fernandas, born in 1917. She had two younger sisters, Eloise Virginia, born in 1922 and Annie Laurie, born in 1924. Eloise died in 1924.
Elbert and Annie began having difficulties, Thelma was sent to live with her mother's sister, Aunt Alice (Renfrow) and Uncle George Dewey Morris. They also lived in Wilson and had 2 girls, Pansy and Linda. Thelma attended the Baptist church with Aunt Alice. Throughout the next 10 years, Thelma spent quite a bit of time with them off and on.
After her parents divorced, Annie, Thelma and Annie Laurie initially moved in with Annie's parents, James Ransom and Linda Holland Renfrow. Then she moved with her daughters to Virginia for a time. When the situation did not work out for Annie in Virginia, Uncle Lonnie traveled there to move them all back to Wilson. Thelma recalled crying all the way to Wilson.
Elbert rented a farm in Wilson in the 1930s; Thelma found herself stringing tobacco at age 10 and working long hours with Annie Laurie, Durward and 'Fernie' on the farm.
At an early Stancil Reunion, Thelma remembers Uncle Harvey Stancil saying to the children, "OK you youngums, drink the lemonade." Years later Thelma figured out his real message, drink so you will eat less!
At 15, Thelma decided to run away from Elbert and Gladys' home and moved in with her mother and stepfather in Wilson. By this time Elbert and Gladys had two children, Jay and Sheila and Thelma did a lot of babysitting.
Thelma accomplished the move over several days, taking a few clothes each time she went to school and returning home well before Elbert came home. The last keepsake Thelma took was a Christmas doll her mama had given her years before. When Durward saw it, he asked her why she was taking the doll to school. Thelma replied that she was in a play and needed the doll. When she did not return home, Elbert drove to school looking for her, her friends helped her hide. After a week, Elbert gave up and let her stay with her mother.
A girlfriend introduced Thelma to George Dallas Pipkin, son of John Harvey and Armeta Pipkin. He came from a large farming family in the Black Creek Community of Wilson, County. George was working at a restaurant. Thelma was smitten and they both fell deeply in love. Thelma quit high school. George and Thelma joined another couple for a quick trip to Lawrenceville, Va., where they both were married on March 29, 1937. Thelma only told her mother, who really liked George. Her dad heard it through the grapevine and reserved judgment until he met George. After all, Elbert felt protective towards his oldest daughter.
George rented them an apartment in Wilson. They attended George's church, a Free Will Baptist, as long as they lived in Wilson.
Thelma and George moved to Virginia; the shipyards offered a better job for George. When he was laid off, they returned to Wilson. Uncle Lonnie Stancil and first cousin L.P. Stancil helped them move back by furnishing a truck and labor. George and Thelma moved between Virginia and Wilson throughout the years.
Virginia is where they raised their 3 children; George 'Dee Dee' Dallas Pipkin, Jr. who was nicknamed "Doodlebug" by his Uncle Fernie, Shirley Ann Pipkin and Alice Leigh Pipkin. Virginia is also where the family joined the Methodist Church.
While in Virginia, Thelma's first cousin, Bobby Renfrow was hired by the shipyards; he and wife Gayle moved there. Bobby was the son of Thelma's Uncle Robert and Aunt Effie Stancil Renfrow. They all visited Bobby's sister Grace and husband George Dettenmayer, children Gary, Lynn and Heather, in Spotsylvania, Virginia; they were snowed in for several days.
In 1982, Thelma and George bought a grocery store they named Pipkins in Wilson. A full-service grocery, it was open from 7 to 7 and Thelma made deliveries too. Thelma ran the store while George continued to work until his retirement from the shipyards in Va. After years with no days off, the grocery store was sold in 1985.
After retirement, George and Thelma pursed a new hobby, riding motorcycles. The freedom of the road was perfect for them. They made many new friends on their scenic travels. They also became active members of the Moose Lodge and proved to be a pair of the best dancers. Thelma and George rented a Silver Lake cabin with friends Henry Parker, Blackie and Red Smilie, so they could turn up the music and danced till dawn!
Thelma grew up extra close to older brother Durward, who was her protector when she was a child. This bond lasted a life time. When Durward and Bessie traveled in their motor home, they often invited Thelma and George. Favorite destinations included Myrtle Beach, Nashville, where they enjoyed shows, and the picturesque mountains of North Carolina.
Thelma lived in a close knit neighborhood in Hayes, Va. For many years she took an early morning walk with her neighbors. They all looked out for one another.
Thelma was famous for her Cornbread and has this recipe in the Stancil Family Cookbook Vol. II, published in 2008.
Thelma's Cornbread
2 ˝ c. Atkinson Mill Cornmeal (made in Johnston County, NC)
1 t. flour
1 T. milk
Pinch Salt
Water
Heat oil in skillet. Mix cornmeal, flour, milk, salt and enough water so batter will spread thin when dropped by spoonful into hot oil. Fry until crisp.
NOTE: A recipe I have had for years and everyone loves my cornbread.
Thelma always had an independent streak with a 'can do' attitude. Several years ago she fell while hanging curtains. When she told her children, they asked, "Why didn't you call?" Typical of Thelma, she replied, "I know how to hang curtains!"
Just a few years ago Thelma accompanied Alice to her high school reunion. Thelma was the 'Belle of the Reunion', dancing until 4 a.m. and Alice's classmates made her promise to attend the next one!
Thelma loved gospel music. She and daughter-in-law Gayle, shared the same favorite song, "One Day at a Time". Especially meaningful were these lyrics,
'One Day at a Time'

One day at a time sweet Jesus

That's all I'm askin' of you

Just give me the strength

To do every day what I have to do

Yesterday's gone sweet Jesus

And tomorrow may never be mine

Lord, help me today, show me the way

One day at a time.
When Gayle's mama died six months after she met Thelma. Thelma gave her a warm hug and said, "The Lord told me you needed two mamas to see you through this life." From that day forward Thelma was there to love and guide her.
All who knew Thelma have special memories. Here are just a few:
Nephew Jerry Stancil, son of Durward and Bessie, recalled the wonderful summers he and Roselyn spent with Thelma and George in their large 2 story house near a creek and the James River. After several weeks, Dee Dee, Shirley and Alice visited them in Wilson.
Thelma expected you to have a large appetite in the mornings. She was known for her huge breakfasts that included fried eggs, country cured ham, red eyed gravy, sausage, bacon, grits, toast and a large pot of perked Maxwell House coffee.
When Dee Dee told his mom, "I love you the BEST," she would always reply, "But I love you the Most!"
Granddaughter Samantha recalls memories of her grandmother: "My grandmother could always make me laugh. I will never forget the New Year's Eve I spent playing cards with her, I had the best time! On my birthday, her card was always the first one I received and her lemon cake cannot be duplicated. She taught all her children how to make the world's best fried chicken. She had many talents and many friends. Her mind was so very sharp as she could remember so many things. 'On the Road Again,' is a song that reminds me of my grandmother as a free spirited and strong-willed woman who loved to stay on the go."
Granddaughter Jessica shared this, "I am so lucky to have many wonderful memories of grandma (Thelma)! She has always been there for me from the day I was born. She called me her "little tootie" and never stopped! She and granddaddy lived with my family when I was young and always took care of me. She was also one of my best friends and would play all kinds of games with me. Granddaddy always said she acted like one of the kids! She was always full of energy and always made time for me. She was such a special woman and such an inspiration to me. I hope that I can follow in her foot steps and live life to the fullest as she did."
Grandson Tyrone Pipkin, shared this: At the 2011 Reunion, the Pipkin Group arranged to meet in a hotel lobby. Tyrone was afraid Thelma might not know him, as it had been several years since he had seen her. Shirley asked her, "Do you know who this is?"
Thelma quipped, "Why hell, my mind might be gone but I can still see!"
Thelma left a lasting imprint on the Stancil Family. Her love, wisdom and wit will be missed.
June 2013
Andrew Edward Crabtree, June 15, 2013
Oct. 8, 1993-June 15, 2013
Andrew Edward Crabtree, Henry Branch, son of Debbie and Guy, brother of Ashley, grandson of the late Gurnie Patricia Stancil Crabtree, died at age 19.

After Andrew learned his latest test results, he made the decision to be taken to the hospice facility on Thursday. It was the same facility where Gurnie was. He passed away there on June 15, 2013, surrounded by Guy, Debbie and Ashley.

Visitation will be from 6:30-8:30 p.m. on Tuesday, June 18, 2013, at Clements Funeral Home, 1105 Broad St., Durham, NC. Celebration of Andrew's life will be at 1:30 p.m. Wednesday, June 19, 2013, at the Immaculate Catholic Church, Chapel Hill St. in Durham, NC.

Andrew is survived by his parents Guy Wayne and Deborah "Debbie" DiFiore Crabtree; twin sister Ashley Elizabeth Crabtree; aunt Jane Crabtree O'Brien; uncle Charles Myron Crabtree, wife Cindi; Kyle Alexander Quinby, widower of Catherine "Windi" Melinda, cousins Kayla Lane Pounds and Christopher Charles Quinby, Uncle Bernard M. DiFiore and wife Anne, Frederick "Fred" H. Difiore Jr. and wife Dee; first cousins Stephanie Patrice O'Brien and partner, Jennifer Gatti; Erick DiFiore, Amy Gleason, Lauren DiFiore and Paul DiFiore; great-aunt Ruby Stancil Creech and husband Grover and great-aunt Dorothy Perry Stancil, widow of Henry Rudolph Stancil; great uncle James "Jim" Orville Stancil, great uncle Jack Roland Stancil and wife Lynda; Cousins Kathleen Muliwai Yvonne Stancil Akau, husband Joseph; Theodore "Ted" Rudolph Kalikookala Stancil; Douglas "Doug" Randolph Mahealani Stancil, wife Sheila Lou; Katherine 'Petey' Stancil Reynolds; Marcia Ann Creech Park and husband Gary; Lucia Michele Creech Washam and husband Bill; Jackie Marie Stancil and husband John; James Hilton "Butch" Stancil and wife Karen; Gary Rudolph Stancil and wife Chandra; Stephen Jerome Stancil and wife Rebecca; Phillip Haywood Creech and wife Rebekah; Byron Grover Creech and wife Tammy; James Eric Stancil; Matthew Brady Weaver, plus many other cousins.

Andrew was preceded in death by brother Patrick Todd Crabtee, first cousins John Shane Crabtree and Catherine "Windi" Melinda Crabtree Quinby, grandmother Gurnie Patricia Stancil Crabtree and grandfather Charles "Jack" Myron Crabtree Sr., grandmother Kathryn Lena Petitt DiFiore and grandfather Frederick H Difore ; great-aunts Frances Kanohola DeMello Stancil Peoples, Ruth Stancil Janiuk and her daughter Pamela Janiuk Weaver; great-uncles George Guy Stancil and Henry Rudolph Stancil.

Andrew and twin sister, Ashley, were born on Oct. 8, 1993, in Durham, NC.

They grew up in Durham and attended the Immaculate Conception Catholic Church and Immaculate Catholic School. Andrew learned to read early and was reading on 4th grade level when he entered school. After the end of 2nd grade, his teacher recommended he skip 3rd grade.

Andrew demonstrated his singing, acting, writing and swimming abilities when he was quite young. In October 2003, he wrote a poem and read it to his grandmother, Gurnie, at her 90th birthday party. His short stories and illustrations often won praise and awards. He was invited to read some of them in public performances.

When Ashley and Andrew were young, all the family would take yearly vacations to the beach. Often "Granny Pat," as the younger grandchildren called her, would sit on the beach and enjoy watching her family play together.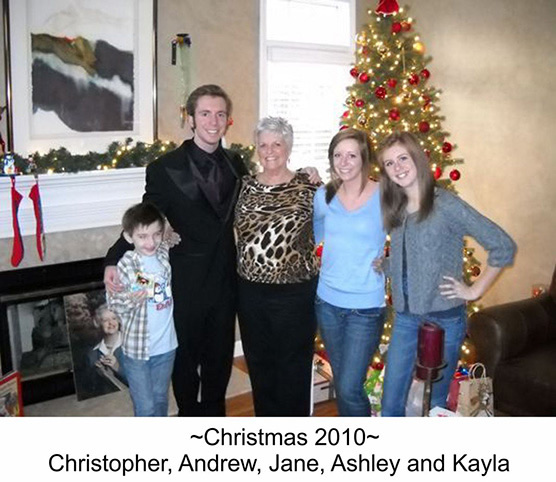 Andrew Crabtree died on June 15, 2013.
Andrew loved to read and he could be found sometimes under the tent on the beach with his grandmother reading. She also delighted in listening to him sing.
Andrew was invited to join the North Carolina Boys Choir and traveled to England. He also performed at the Duke Cathedral in Durham. Andrew entered Riverside High School in 2009. He joined the swim team and excelled in theatre classes. In 2010, Andrew was selected to attend the Governor's School West (Salem College, Winston Salem) in drama. He attended Duke University Young Writers Camp for several years.

Andrew was diagnosed with a rare form of soft tissue tumor cancer, synovial sarcoma, in January 2011. He began treatment at Duke Medical Center and continued high school classes.
Andrew was selected prom king at Riverside High and served as co-Master of Ceremonies for the Riverside Chorus Cabaret at the Broad Street Cafe in Durham. He closed the show singing, "I'm on Fire." Andrew graduated from Riverside High School in Durham, N.C., on June 9, 2011. He was selected as a counselor for the six-week Duke University Young Writers Camp.

In the fall of 2011, he was accepted into the University of North Carolina-Chapel Hill, the alma mater of his mother, father and first cousin, Stephanie O'Brien.

In December 2011, Andrew traveled with his parents, Debbie and Guy, to Coswig, Germany, for a innovative laser treatment to remove lung tumors. While in Germany, Andrew reunited with Alessandria, his first au pair. She and husband David live in Northern Italy.

The day before Andrews began his second laser treatment, he and his parents attended an opera, "Dead Man Walking," at the Semperoper House in Dresden, Germany. The opera was in English, with the German translation on the screen.

The second treatment was completed in March 2012. His lungs were tumor-free at this time. Andrew focused on re-entering college and getting on with his life. This included spending time with his cat, Cinders, a handsome Maine Coon and Ashley's dog, Dazee, an adorable dapple Dashund.

In the fall of 2012, Andrew portrayed the Man/Child in the LAB! Theatre's adaptation of the Greek tragedy, "Eurydice." He received rave reviews from Rebecca Pollack, The Daily Tar Heel, who wrote, "Andrew Crabtree comedically steals the show. Portraying the Interesting Man/Child, Crabtree takes the stage looking deranged and continues to aptly show his character's immaturity while wearing the most outlandish costumes of the cast."

In May 2013, Andrew was hired by the independent theatre, Deep Dish Theater, Chapel Hill, for the part of Bartley, in "Cripple of Inishmaan," described as a delightful dark comedy.

Andrew spent Memorial Day relaxing by the pool on the Carolina coast with family.

When Andrew acted, his focus and passion created a living theatre experience for the audience. Andrew will be remembered as a gifted actor who used his ability to evoke laughter and tears as he held the audience's emotions in his hand.

Andrew was a remarkable young man. A river of tears was left by family, friends and even strangers whom he had touched.

Andrew was wise beyond his years. His aunt, Jane Crabtree O'Brien, told Andrew she was downsizing, selling her large Wilmington home and moving into a one bedroom apartment in Cary, he responded, "It's so refreshing when you give up all the material stuff in your life!"

Andrew's last posting on June 9, 2013, on Facebook reflects his character and legacy, "I love you all, and I want to talk to you, because you mean so much to me, and I'll try to respond to as many of your questions as I can. Nothing but love. Andrew"
September 2013
Judith "Judy" Ann Wilson Stancil, Sept. 13, 2013
Oct. 12, 1943-Sept. 13, 2013
Judith "Judy" Ann Wilson Stancil, Samuel Branch, wife of Chuck, mother of Robin, Debbie and Robert, died Sept. 13, 2013, at 69.
Judy developed brain cancer in 2011. Following treatment, she was in remission for a time. Sadly the cancer returned and she died peacefully surrounded by family and friends in her home in Blairsville, Ga.
Her life was celebrated on Tuesday, Sept. 17, 2013, in the First United Methodist Church, Blairsville. Friends and Family gathered before her service Rev. Mark Burgess officiated.
Judy is survived by Charles 'Chuck' Charleston Stancil, her husband of 55 years, mother Carmlee Harris Wilson; son Robert Edward Stancil, daughters Robin Elaine Stancil Berry, husband Brian and Debbie Prior; brother Jimmy Wilson; grandchildren Peggy Lee Stancil, Connor Justin Berry and Collin Daniel Berry; sister-in-law Betty Matthews Stancil, widow of Jay; brother-in-law Gary Wayne Stancil; nieces Roselyn Stancil Brown, Flora Jean Stancil, Diana Stancil Bailey, Shirley Ann Pipkin, Alice Pipkin Parker, Patricia Jones Hardison, husband Donald, Gayle Jones Ellis, Cynthia Stancil Groff, husband David, Lynn Stancil Woodard, husband Thomas, Leia Stancil Perry; nephews Jerry Durward Stancil, Steven Arthur Stancil, wife Karen, George Dallas Pipkin Jr., Richard 'Dickie' Jones, William Daniel Jones, Ron Stancil, wife Cindy, Michael Ray Davis, wife Terri, Jody Ryan Stancil, wife Courtney, plus many cousins.
Judy was preceded in death by her father Harry Wilson; mother-in-law Gladys Pearl Lamm Stancil; father-in-law Freeman Elbert Stancil; sister-in-laws Thelma Lee Stancil Pipkin, husband George, Eloise Virginia Stancil, Annie Laurie Stancil Jones, husband William Henry, Shirley Ann Stancil, Sheila Stancil Davis, husband Leland; brother-in-law Freeman Durward Stancil, wife Bessie, Josiah Fernandas "Fernie" Stancil, wife Doris, 'Jay' James Elbert Stancil.
Judy was born to Carmlee Harris and Harry Wilson, on Oct. 12, 1943, in Ann Arbor, Mich. Carmlee was born in Illinois. She had an older brother, Jimmy Lee.
The family had moved to Lake Worth, Palm Beach County, Fla., by 1945. Harry, born in 1919 in Ohio, had 3 years of college. He owned a transit company.
Judy grew up in West Palm Beach. She was 15 when she met 21 year old Charles 'Chuck' Charleston Stancil. Chuck, the son of Gladys and Freeman Elbert Stancil, grew up in Wilson, NC. He joined the U.S. Air Force in 1955 and in 1959 was stationed at Palm Beach Air Force Base.
For Judy and Chuck it was almost love at first sight and they dated as often as possible. On Oct. 30, 1959, they decided to elope. They were secretly married in Danville, Ga., about a 500 miles north, close to Warner-Robin AFB.
This was just weeks before Chuck left with the Air Force for the Azores. The Azores are islands owned by Portugal. Judy lived at home, continued school and finally told her parents she and Chuck were married when she was expecting. Robert Edward was born in the summer.
Chuck was in the Air Force from 1955 to 1959. Judy and Chuck stayed in Florida.
Daughter Robin Elaine was born in 1963 in Florida.
Judy liked plants and while in Lake Worth, Florida, she established the Tropical Topics Nursery. They had a weekend house on a canal at Lake Placid, FL.
The man next door touched Judy and each time before they left for home, she left him extra food for the week. This was typical of Judy as she was a generous, giving person who made friends easily.
She gave this up and they moved to Lake Placid, Fla. Judy met a neighbor who didn't seem to have any family. Judy opened her home and heart to him, making sure he had plenty of food ready to eat. It gave her joy to be a good neighbor.
Judy and Chuck decided to move to Blairsville, Ga. Her welcoming smile attracted many new friends, both on the golf course and in the First United Methodist Church. Judy was diagnosed with breast cancer in 2002. Her treatment was successful.
She was close to daughter Robin and family. They were active members of the First United Methodist Church in Blairsville, GA.
Judy loved animals and had two very special dogs, Samantha and Sabrina, her constant companions.
Judy and Chuck attended the 2007 Stancil Reunion.
Judy was diagnosed with brain cancer in October 2011, Judy was diagnosed with brain cancer and underwent successful treatment. Cancer was also in her chest and back.
For her birthday on Oct. 12, 2012, among Robin's gifts was an iPad II. Robin visited her parents often.
After treatment it appeared to be in remission and Judy was able to resume the activities she love. She enjoyed crocheting and sharing her creations.
In August 2013, the cancer returned and she was hospitalized.
In August of 2013, Judy's cancer advanced and she was hospitalized in Gainesville, GA. This was a 1 ˝ hr. trip. Robin was there.
She continued crocheting and making hats dubbed "Heavenly Hats" for practically everyone she encountered during treatment.
Each recipient was surprised and thrilled with this special gift. Thinking of others was typical of Judy who was always reaching out, lettings folks know they were in her thoughts.
One of Judy's wishes was for her and Chuck to renewed their wedding vows. This special ceremony was celebrated with them by close family and friends.
Shortly before her death, son Bob drove up from Florida.
Judy will be remembered for her love of family and friends and for offering a helping hand and cheery smile.
Judy instinctively knew the right words to say along with a warm hug. She lifted spirits as she went about living the "Golden Rule."
November 2013
Ed Wallace, Nov. 23, 2013
June 17, 1920-Nov. 23, 2013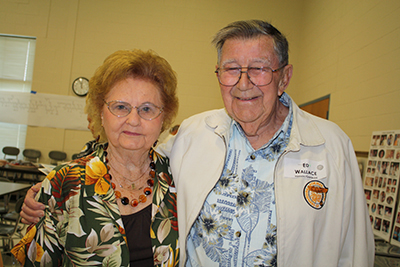 Irene and Ed Wallace in 2009.
Ed died on Nov. 23, 2013.
Henry "Ed" Edward Wallace, Harvey Branch, husband of Irene, father of Bill and Bobby, grandfather of Katy, died Nov. 23, 2013, at 93.
Ed was blessed with 90-plus years of good health. When he needed extra help, he moved into Newport News Nursing & Rehab earlier in 2013. This was close to his home. Irene's visits were often and long. Billy and Bobby lived about an hour away and came often.
Ed died peacefully surrounded by family, Irene, his wife of 68 years, Billy, wife Joan, Bobby, wife Nancy and granddaughter Katy.
Rev. Rusty Beck, close friend and minister of Parkview Baptist Church, conducted the funeral service on Wednesday, Nov. 27, 2013, at Weymouth Funeral Home Chapel, Newport News, Va. Friends were received an hour prior to the service. The family asked that in lieu of flowers donations be made to Parkview Baptist Church Building Fund, 604 Hilton Blvd., Newport News, VA 23605.
Ed's military service was recognized and he was with Full Military Funeral Honors Ceremony; Ed retired from the U.S. Air Force Reserves as a Major. Ed served 24 years of active and reserve duty. He enlisted on May 13, 1941, at Fort Bragg, NC. He was a B-17 Bomber co-pilot over Germany. Ed was shot down and spent 14 months in a POW camp. Following the surrender of Germany, on May 6, 1945, Ed was released and reunited with Irene.
Ed is survived by wife Mabel Irene Pittman Wallace, sons William 'Billy' Edward Wallace, wife Joan, Bobby Grey Wallace, wife Nancy, granddaughter Jennifer Kaitlin 'Katy' Wallace; aunt Doris Stancil; sisters-in-law Johnnie Jean Pittman, Debbie Moore Pittman, Charlotte Anne Pittman Viverette, husband James; brother-in-law Billy Royce Pittman, wife Jackie; nieces Lisa Buchanan Hovator, husband Curtis, children Victoria, Samuel, Annabelle and Benjamin, Holly Ruth Langston Nation, husband Lance, son Drew Cooke, and daughter Lorin Cooke, Barbara Gail Pittman Walton, husband Marty, Angela Carol Pittman, sons Shelton and Devin Brown, Kandy Jean Pittman Buchanan, sons John Zachery Axsom and Matthew Buchanan, Vicky Lynn Howard Bradley, husband Ernie, son Issac Lester Bass, wife Beth, Marsha Kay Howard Farrell, husband Greg, daughter Abby; nephews Lawrence 'Larry' Michael Buchanan, daughters Megan and Britt, Stephen 'Steve' Wayne Buchanan, James 'Jim' Rudolph Langston Jr., wife Rhonda, children Micah and Trey, Timothy Wayne Pittman, wife Elisa, children Jordan Lee and Alexandria Elise; great niece Cassidy Cheyanne Christian, Emily Kay Hinnant, Sarah Elizabeth Hinnant, Grace Ann Hinnant; great nephew Ashley Lucas Christian, Art Pittman Jr., wife Sandra, children Parker Paige and George McArthur Pittman III, Christopher R. Pittman, wife Jody, daughter Ramsey Jewel; cousins Brenda Hare Hooks, husband James, daughter Lisa, husband Terry, daughter Abbie, Christopher Carl Thome, wife Rikki, William 'Billy Gerald Stancil, Robert Gerald Stancil, James Carl Stancil, William Justin Stancil, Lucas Elliott Stancil, Justin Atreyu Stancil, Cynthia Grey Smith Carpenter, husband George, Katie Yvonne Stancil Dale, husband Don, Emily Katherine Stancil Giguere, husband Joe, Adam Garland Dale, George Wallace Stancil, wife Pam, and Bryan Douglas Stancil.
Ed was preceded in death by parents William Harvey and Ida Belle Wallace; in-laws Fletcher and Gertrude Stancil Pittman; aunts Delanie Mavis Stancil, husband Vernon, Vessie-Irene Stancil Joyner, husband Cephas, Patsy Jane Stancil Hare, husband Freddie, Eula Grey Stancil Smith, husband Arthur; sisters-in-law Gertie Mae Pittman Buchanan, husband Buck; Ruth Elder Pittman Langston, husband James; Jennifer Kaye Pittman Collins; uncles Clyde L. Stancil, wife Ola; William Carl Stancil, wife Ann; George Garland Stancil; brothers-in-law Arnold Webster Pittman, Thomas Rex Pittman, wife Carolyn, Harvey Alton Pittman, George 'Mac' McArthur Pittman; niece Sandra Annette Pittman; nephew Stephen Franklin Hinnant; cousin Ollie Fulton Hill, Claudia Mavis Hill Guzzo, Janet Ann Stancil Thome, Carrie Cameron Thome, plus many cousins. Ed's dad, William Harvey Wallace, grew up on a farm in Johnston County, NC. After graduating from high school, he attended college for one year.
Then a job with the railroad took Harvey away from Johnston County, NC, to Philadelphia, Pa. Harvey met Ida Belle a telephone operator in Richmond, Va. They married when Harvey was a brakeman for the Pennsylvania Railroad. By 1920, he was a successful candy salesman. Ed, their only child, was born on June 17, 1920, in Philadelphia. His grandmother was born in Germany.
In 1935, Harvey moved his family back to his roots in NC. He purchased a farm near Princeton, a small town in Johnston County. Harvey worked as a traveling salesman. He never did like farming.
Ed graduated from Princeton High School and in 1940 worked as a farm laborer. The family lived near Minnie Sasser Stancil, widow of Josiah Stancil, the brother of Harvey Stancil.
In 1941, Ed met Mabel Irene Pittman, daughter of Fletcher and Gertrude Stancil Pittman at Cash Corner. Both Ed and Irene were on dates. This was a popular teen hangout in Kenly. This drive-in appealed to the teen crowd with loud speakers blaring popular music that filled the parking lot. Car hops took orders for hot dogs, hamburgers, ice cream and pop.
Entertainment was free and seeing friends and finding out who was dating whom was a favorite pastime. Irene didn't think much about this brief encounter until the following Saturday night, when Ed showed up at her house. Ed found Irene to be friendly, smart and pretty, a girl he definitely wanted to see again. They began dating. Irene had graduated from Glendale High School after 11 grades in 1940 and when another grade was added, she graduated again in 1941.
Ed and Irene happily spent two months dating. He endeared himself to Irene's family and especially to younger sister Anne, just 3. She happily recalled the packs of Juicy Fruit gum he always brought for her to share, a real treat in those days.
WWII was raging in Europe and many young men were enlisting. Following basic training, Ed was initially sent to Australia and New Guinea for a several months. Then he was selected for pilot training for the B-17 bomber. Ed was sent to Army Air Corp training center in Texas.
Irene took a few classes at Glendale High School while Ed was gone. She moved to Norfolk, Va., in 1942. This is where her older sister Gertie Mae lived. Irene had many friends and stayed busy going to USO dances, movies and writing to Ed. She worked for Peoples Drug Store.
One day while still in Texas, Ed called Irene and proposed. He also mailed an engagement ring. A close friend of Irene's, Maybel Moore, placed it on her finger and took a photo to send to Ed. Irene and Ed arranged to meet in Louisiana and get married, but this trip was canceled when Ed's squadron was ordered to immediately fly to England.
A wedding date was put on hold. Ed went on bombing missions in Germany while Irene started her career.
While at Peoples Drug Store, a customer told Irene about a job at an Insurance company. She was hired as a payroll clerk in the Norfolk office. While in school, Irene never liked math but grew to love it. She transferred to a new position and returned to Newport News, Va.
Irene and Ed continued to write regularly. He was shot down in March of 1944, during bombing raids over Germany and he was captured. Ed was sent to Stalag Luft III POW Camp. This officer's only camp, was reserved for all captured Air Force Servicemen. It was 100 miles southeast of Berlin in Poland. During this time, few letters were exchanged and each one had to be carefully written to ensure delivery. Meager food rations were supplemented by the Red Cross. Ed and other POWs shared a deep love for country and loyalty to each other. On the day the POWs were released, the guards as usual marched them outside and they were all prepared for the usual taunts. Once outside, Ed saw an American flag in the distance and knew they were being released.
Irene and Ed married on July 7, 1945; in a Christian Church in Newport News, Va. Irene wore a two-piece white dotted Swiss suit. Gertie Mae and her husband, Buck Buchanan witnessed the ceremony. Ed and Irene honeymooned in Washington, DC, riding the train to Richmond and transferring to another one for DC. They returned on a ferry to Newport News.
Irene wanted to live close to her roots. Ed took a job selling insurance for Interstate Life & Accident Insurance Company in Rocky Mount, NC. This profession was not for him. Soon they returned to Newport News, Va. Ed began working for Remington Rand Business Machines in 1946. This was a perfect fit. After a few years he managed the Service Department. During his career Ed pursued several hobbies, woodworking and painting. Ed was a self taught woodworker. Among his projects were tables, school desks and Condiment Lazy Susans. After taking a watercolor class, Ed expanded to oils and acrylics. He painted beautiful landscapes, flowers and still lifes.
Irene and Ed joined Parkview Baptist Church in 1947. They were active members. Ed taught Sunday School class for years and Irene served as church secretary and was treasurer of her Sunday school class.
When Ed's mother, Ida, was 70, she became a widow. She was welcomed into Ed and Irene's home. At this time, sons Billy and Bobby were young and Irene stayed home with them. Ida wanted to work and was hired by High's Ice Cream, a popular Ice Cream Parlor.
Ed was active in his community. Ed became a Boy Scout leader for Billy and Bobby's troop. Ed was a proud dad as he cheered his sons when they played Little League.
Ed was a member of the Ex-Prisoner of War James L. Hale Memorial Chapter, Hampton, VA, and a Past Commander of the James L. Hale Memorial POW Chapter. Ed and Irene attended several national POW Conventions. One was in St. Louis and they even enjoyed a St. Louis Cardinals game.
Over the years Ed became extra close to Anne's husband, James. Edward often remarked that they were just like brothers. They met every two months on a Saturday at Hardees in Murfreesboro, NC. This was half way between their homes.
One year, they attended the North Carolina State Fair. They both wore overalls, reds bandanas and fit right into the "Village of Yesteryear." It reminded them of their boyhood. Favorite events were log rolling and tree climbing. Ed and Irene attended many Stancil Reunions.
Joan, Billy, Irene Wallace, Billy Pittman, Abby Farrell, Anne & James Viverette, Jackie Pittman, Marsha & Greg Farrell Every summer, the family spent a week in Stancils Cottages at White Lake, NC, a popular resort. Emmette Stancil, first cousin of Irene's mother, Gertrude, owned them.
Ed and Irene enjoyed dancing. For years on Friday and Saturday nights you could find them square dancing or ballroom dancing. They belonged to a square dance club and went to conventions. Irene wore custom dresses.
They took several cruises to the Bahamas, Nova Scotia, Mexico and the Caribbean. In Nova Scotia they witnessed Tides in the Bay of Fundy where each day 100 billion tons of seawater flows in and out during one tide cycle.
On the cruises, they attended the formal dances. It gave them an opportunity to dress in formal attire, evening gown and tux. As you would expect, soon many dancers stopped dancing to watch Ed and Irene.
They played cards and bowled with friends, took camping trips with tents and later bought a pop-up camper, had a place for 30 years on Lake Gaston, NC, perfect for skiing and sailing a boat. Their most memorable camping trip was with two other couples to Canada. They each had a small car and a tent. Ed and Irene drove a Renault.
Their favorite vacation was a trip to LA to attend the Lawrence Welk Resort Theatre where they stayed in a time-share for two weeks.
Irene and Ed both had green thumbs. They grew an annual vegetable garden and flower garden. One year they had 50 beautiful rose bushes.
Ed and Irene loved playing cards, bowling and camping out with friends. Finally they decided to purchase a place on Lake Gaston for family outings. This became a favorite spot of Billy and Bobby's. Ed and Irene kept a pop-up camper, a sailboat and ski boat there for more than 30 years.
After retirement, Ed's creativity began to shine even brighter as he focused on improving his woodworking skills and built beautiful furniture. He also devoted more time to painting.
Ed decided to pursue another career 15 years ago. He began assisting with funeral and memorial services at Weymouth Funeral Home. Ed's compassion and love of people made him a favorite. He always seemed to know the right words to say when comforting the bereaved. Ed worked there until about three years ago.
Nancy, Ed's daughter-in-law, shared this about Ed. "He was the best, most loving & most generous (especially with hugs) father-in-law ever! I will miss him so much as we all will! I have a video of him singing 'Old Black Magic' to me while in the nursing home and I will certainly cherish it along with all the other memories!"
Billy's wife Joan, often said, "Ed was the Dad I wish I'd had!" She hung numerous photos of Ed and Irene from with they were young through 2012. When Ed visited, he remarked, "You sure have a lot of photos of me in here!" Then remembers Billy, "Dad and Joan walked through with Dad counting each picture of himself, all the time with that gleam in his eye and a smile on his face. We'll never forget that."
Billy shares this memory about his dad. "When I was 16, I started smoking. I didn't enjoy it, but I did it to be "cool" and because my best friend was a smoker. One day after I'd been smoking for a couple of months, I was getting out of my car to go inside the school to take my SAT tests. I was walking down the sidewalk puffing away when Daddy drove by in his car. He didn't stop so I figured he hadn't seen me. I took my SATs, went home, and was in the den watching TV when he called me into the kitchen. He was eating a bowl of soup and without stopping he said, "How long have you been smoking?" I told him about 3 months. He said, "I better not ever see you smoke another one," and went back to his soup. To this day I have never smoked another cigarette. I sure did love my Dad, and I miss him every day. He lived his life in a way that today, still makes me want to be half the man he is."
In 2008, Ed was named Langley Speedway's Father of the year. Langley is in Hampton, VA. His son Bill races trucks there and Ed was his biggest fan.
Ed will be remembered for the twinkle in his eyes, beautiful smile, service and love for others. He left the world a better place and his spirit and example will live on.
---
If you have any death notices or photos to share, email us at rennhinton@stancilreunion.com.
---