January 2014

Jack Rowland Stancil, Jan. 27, 2014

Feb. 16, 1937 - Jan. 27, 2014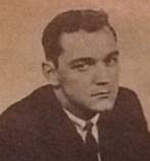 Jack Rowland Stancil

Jack died on Jan. 27, 2014

Jack Rowland Stancil, Henry Branch, son of James Oscar Stancil, husband of Lynda, died at 76 in Kaneohe, HI. Jack, son of Mary House Barber and James Oscar Stancil, grandson of Frances Barnes and Henry Stancil, great-grandson of Delaney Sasser and John Thomas Stancil, died in hospice with his beloved wife, Lynda, by his side on Jan. 27, 2014. Jack's friends gathered and the chaplain conducted a remembrance of Jack's life.

Jack had a history of serious heart problems and strokes. He spent months in rehab and looked forward to Lynda's daily visits.

Jack leaves behind Lynda, his wife; daughter, Jackie Marie Stancil Gregoles & husband John; sons, James 'Jim' Eric Stancil and Joseph Guy Stancil; grandchildren, David James Stancil, Ian Grey Stancil and wife Meredith, Savannah Bay Stancil, Brianne Stancil, Zechariah 'Zac' Jesse Gregoles, Katherine 'Katie' Helen Gregoles, Anabelle 'Annie' Gianna Gregoles; sister Ruby Stancil Creech and husband Grover; brother, James Orville Stancil; sister-in-law, Dorothy Perry Crouch Stancil the widow of Henry 'Doc' Rudolph Stancil; nieces, Kathleen Muliwai Yvonne Stancil Akau & husband Joseph, Jane Crabtree O'Brien, Katherine 'Petey' Ann Stancil Reynolds, Marcia Ann Creech Parks & husband Gary, Lucia Michele Creech Washam & husband Russell; nephews, Theodore "Ted" Rudolph Kalikookala Stancil, Douglas 'Doug' Randolph Mahealani Stancil & wife Sheila Lou, Charles Myron Crabtree & wife Cindi, Guy Wayne Crabtree, James Hilton 'Butch' Stancil & wife Karen, Gary Rudolph Stancil & wife Chandra, Stephen Jerome Stancil & wife Rebecca, Phillip Haywood Creech & wife Rebekak, Byron Grover Creech & wife Tammy, plus many great nieces, great nephews and cousins. Jack was preceded in death by his parents, Mary & James Oscar Stancil; sisters, Gladis Stancil, Gurnie Stancil Crabtree, Ruth Stancil Janiuk; brothers, George Guy Stancil, Henry "Doc" Rudolph Stancil; niece, Pamela Ruth Januik Weaver; great niece, Catherine 'Windi' Melinda Crabtree Quinby; great nephews, John Shayne Crabtree, Patrick Todd Crabtree and Andrew Edward Crabtree.

Jack was born Feb. 16, 1937, in Durham, NC. He was a handsome lad with brown eyes, dark brown hair and a captivating smile. He grew up with half brother, Ralph 'Ross', seven years older. Jack, a precocious, child, craved adventure from an early age. At just 4 years old, he walked away from home, found a church and sat on the steps looking out at the world with wonder in his eyes. Eventually he was taken back home.

Oscar and his daughter, Gurnie, shared Essie, the same black maid, who's duties included looking after Jack, Charlie, Jane and Guy. Jack was the oldest. One day when Jack was about 10, he walked up and down Roxboro Street, where he lived, and ask for money from all the neighbors. He told them it was so he could give the money to Essie, so she could buy snuff. According to his niece, Jane, Jack often tried to bribe Essie, so she would not tell on him to Grandpa Oscar or Ma Mary for misbehaving!

Jane remembers one day that Jack skipped school and to hide it from Oscar and Mary, he tried to sell his school pictures to neighbors. His goal was to get enough money to again bribe Essie with snuff to stop her from revealing his antics!

Influenced by his maternal grandma Ellie Bass Johnson, Jack attended a Baptist Church and joined the choir. She lived with Oscar and Mary in the 1940s.

Mechanically inclined, always ready for excitement and fearless, Jack was just 14 when he took his dad's Oldsmobile for a "joy ride." Fortunately no damage was done. This was just one of many adventures. Jack was certainly a challenge for his parents.

Jack attended Carr Junior High School for 7th and 8th grades and skipped as often as he could. He was very bright, and today would probably qualify as gifted and found school boring and confining. He quit after 8th grade and ran away from home again. This time Jack hitch-hiked to North Dakota and then traveled on to Boise, Idaho. He supported himself by working on potato farms. Eventually he returned to Durham. He easily earned his GED.

Jack had many jobs during his life. In 1956, Jack was a tree surgeon. In 1957 Jack was a bookkeeper for Gibson Tree Service. Jack's first car was a 1939 Ford and gasoline was 25 cents per gallon.

Jack joined the US Army in 1957.

In 1958, he married Geraldine 'Gerry' Talley. At this time, Jack drove a truck for Taylor Biscuit Company. In 1959, he was a warehouseman for Dealers Supply. Then Jack was a printer for Capital Cities Television in 1960.

Later when Jack worked for a finance company, he created a form letter that was selected for company wide use. This creativity won him a trip to California and enough money to purchase his dream car, a flashy 1946 Black Chevy Convertible with Zebra Stripes on the seats.

About 1962, Jack visited his half-brother, George Guy Stancil in Hawaii. Guy had lived there since the 1930s. Folks said they definitely looked like brothers. Jack was enamored of Hawaii. The first time he landed in Hawaii, he looked around and said to himself, "I think this is as close to Heaven as I'm going get."

Reluctantly Jack returned to the States. Ready for a change, he left NC and traveled to Wisconsin to visit half-brother, Ralph Barber. He stayed. Ralph, knowing he was a fast learner and smart, got him a job as a printer for Newport Business Forms.

While in Janesville, Jack met Donna Ann Roloff through Ralph. Donna, the daughter Eric Carl Roloff and Helen Pfeiffer, grew up on a farm. Donna was the 8th of 10 children. Her grandparents, Carl Frederick and Hannah Roloff immigrated from Germany in 1874.

Jack and Donna were married in traditional ceremony at St. John's Lutheran Church, on July 7, 1962, in Whitewater, WI.

They had three children; James Eric, Joseph Guy and Jackie Marie.

Jack was 28 when he ran for 1st Ward Councilman in 1965. Although he did not win, it was eye-opening experience.

In June 1967, Jack and Donna moved the family to Janesville, WI. He was a Lithographer at Janesville Printing Co. They appreciated his unique skills.

Jack, a newcomer to acting, joined the Janesville Little Theater. He was cast as Eddie, a longshoreman, in the Arthur Miller play, "A View from the Bridge." The five performances were in January 1968. According to newspaper reviews, Jack gave a stellar performance in a difficult role and his style was naturalistic.

Jack and Donna had marital problems. One day in 1969, Jack left for cigarettes and never returned. He and Donna divorced. He returned to his paradise, Hawaii.

There Jack had an assortment of jobs. Wherever Jack lived, he knew he could use his excellent printing skills to get a job until a better opportunity came along.

Jack and wife Lei, attended the 1972 Stancil Reunion, along with his mother Mary, sister Gurnie Stancil Crabtree, and her daughter Jane. Jack and Lei lived in Durham, NC, before returning to Hawaii.

Gurnie, her daughter Jane and granddaughter Stephanie O'Brien, visited Jack and Lei in 1980.

Jack and Lei were a talented and popular singing duo in Waikiki, Hawaii. They entertained in many nightclubs, hotels and restaurants. They sang with Don Ho, a famous Hawaiian singer, who was a personal friend.

Gurnie, Jane and Stephanie went to many venues where Jack and Lei sang. They also saw the famous Hawaiian singer; Don Ho's Suck it Up Show, at the Waikiki's Cinerama Reef Towers Hotel Lounge. Eventually Lei and Jack divorced.

Jack met Lynda Tanaka at a night club in 1980. There were was an immediate attraction but they waited until 1992 to get married. Jack continued entertaining by singing in piano bars.

Years later Gurnie and Jane visited and met Lynda. Jack drove them down Main Street in Waikiki, driving his white Lincoln Continental with a sunroof, while Jane and Lynda attracted plenty of attention, as they stood up in the back with their upper bodies out the sunroof. What fun!

Jack visited N.C. in the 1990s.

Jack's resume included painting, like his Uncle, Walter Stancil and later he ran a nightclub. His last job was as a chauffeur/driver for Orlando Magic basketball star Shaquille O'Neal. He drove him for a week. Jack remembers that he was very, very tall and did not tip very well!

Jack's last visit to NC was in 1999.

Jack loved the game of golf and so did his sister Gurnie even though she never hit a single golf ball. Jackie played until a stroke Gurnie and Jack rooted for Tiger Woods and on weekends, when there was a tournament, Jack called Gurnie from Hawaii, to be sure she had the event on TV. Later they would critique how Tiger played. Jack and Gurnie kept in close touch by phone and he ended each call with, "I love you." They last spoke in late October of 2010.

Jack visited with daughter Jackie Marie in April 2013, Kaneohe, HI.

Jackie and son Zac visited cousins Josiah Akau, Jackie, Kathleen Stancil Akau, Zac ans Tita Akau Kim.

Jack was a complex member of our family who remains an enigma. He was thrilled to his meet Jackie Marie and told her that, "I've always been running and it was stupid and I was sorry, so sorry. I love you, your brothers, I have always loved you."

We remember the good times as we acknowledge his human frailties and all the why questions. Jack had a devoted wife, Lynda, who Jackie Marie describes as, "truly sweet, kind, a warm hearted woman, I am blessed to know my step-mother."

Jack spent the last 30-plus years of his life in Hawaii which as he believed, "is as close to Heaven as I'm going get!"

May 2014

Georgeanne Stancil Schore, May 28, 2014

July 29, 1942 - May 28, 2014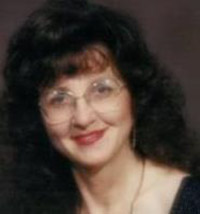 Georgeanne Stancil Schore
Georgeanne died May 28, 2014
Georgeanne Stancil Schore, George Ira Branch, wife of Glenn, mother of Ted and Alex, daughter of the late Ethel and Ralph Stancil, died at 71.
Georgeanne Stancil Schore, George Ira Branch, wife of Glenn, mother of Ted and Alex, mother-in-law of Jean, grandmother of Sarah, Eva and Grace, daughter of the late Ethel and Ralph, died at home on Wednesday, May 28, 2014. She bravely battled Glioblastoma multiforme for 9 months.
Georgeanne is the sister of Renn, Hale and Harold, sister-in-law of Bobby and Becky.
Georgeanne was a fixture at Stancil Reunions. At the past Reunion, she took over 140 photos of family members. Her first reunion was in 1951. She recalled helping cousins Bill and Jim Batts, Bobby Renfrow and others sweep the yard clean of twigs and all grass in preparation for the Reunion at the homestead of Eva and George Ira Stancil.
The visitation is from 4 p.m. to 8 p.m. Friday, June 6, 2014, at Hiers-Baxley Funeral Services, 910 E Silver Springs Blvd., Ocala, FL. Her memorial service will be at 11 a.m. June 7, 2014, The First Christian Church, 1908 E. Fort King St., Ocala, Fla. The internment will be private.
Georgeanne is survived by her husband of 53 years, Glenn Darryl Schore; sons Theodore 'Ted' Stancil Schore, wife Jean and Alexander Glenn Schore, partner Don Sandola Jr.; granddaughters Sarah Octavia Schore, Eva Eileen Schore and Grace Anne Schore; sister Daisy Renn Stancil Hinton, husband Bobby; brothers Hale Ralph Stancil, wife Becky, William Harold Stancil; nieces Darcee Anne Hinton, husband Jimmy; Stephanie Arlene Stancil DellaVecchia, husband Matt, children Ashlyn Joanna, Audrey Elena, and Andrew Martin; Karen Irisa Stancil Champ, children Mason Hale Champ, Ella Irisa Champ and Lily Josephine Champ; Suzanne Marguerite Stancil, sons Miles Christopher Stevens, Grant Christopher Stevens, Everett Tyler Stevens, Nathan Harris Stevens; Coree Anne Hinton; Kathryn Jeanette Stancil Riechert, husband David; nephews Kip Austin Hinton, wife Amalia, Ty Alexander Hinton, Brent Ashley Hinton, John Ralph Stancil, wife Jennifer, and son Corban Ralph; first cousins James Robert "Bobby" Renfrow Jr., Lucy Reba Stancil House, Donald "Jimmy" Eugene Renfrow, James Graydon "J. G."Renfrow, wife Denise; William 'Bill' Henry Batts Jr., wife Jackie; James "Jim" Ralph Batts, wife Kathy; Wyla Jean Eason LaVie, husband Al; Frank Edwin Eason; Grover Cleveland Eason Jr., wife Bonnie; Jo Ann Eason Alexander, husband Doug; Jesmon "Jes" Arnold Hales, wife Betsy; Mary Ann Hales Weisiger, husband Lewis; George Ira Stancil III, wife Carol; Shirley Ann Stancil Ginn, husband J.D.; and many cousins.
Georgeanne was preceded in death by her parents Ethel and George Ralph Stancil; Aunts Viola Hales, Nina Hales, Ruby Hales Brown Blair, Effie Stancil Renfrow, Delanie Ethel Stancil, Celia Rachel Stancil Renfrow, Mamie Alma Stancil Caraway Blair, Eva Vazelle Stancil Batts Jessup, Lola Myrtle Stancil Eason, Hilda Mae Stancil Hales Stover, Dorothy Jane Stancil Dennison; Uncles Percy Clinton Hales, Thomas Emmette Stancil, George Ira "G.I." Stancil Jr. and Harold Lloyd Stancil. First cousins Ruby Nell Hales Rippy, Charles Tyding Brown Jr., Grace Renfrow Dettenmayer, Eva Gray Renfrow, Viron Ralph Renfrow, Thomas Emmette Stancil Jr., Rose Marie Stancil Sweesy, Eva Lucas Stancil, Martha Frances Stancil, Norma Ethel Stancil Moore, George Arnold Stancil, Charles Edward Renfrow, Gilda Renfrow Six, Harold Thomas Renfrow, Lelon Woodrow "Woody"' Eason, Margaret Carol Eason Cole, Don Gordon Stancil, Ellen Jane Stancil Price, George Robert Dennison, Eric Warren Dennison and other cousins.
Georgeanne was born in Ocala, Florida, on July 29, 1942. Her father, Ralph, farmed and worked for the Dampney Company, painting Ship Boilers. On this day, Ralph was working in Mobile, Alabama, painting boilers on the USS Semms Raphael, when he received this telegram, from Ethel's sister, Ruby; "Baby arrived 3:45 PM. Features like its dad, fixtures like its mother, both doing fine." Georgeanne was named for her paternal grandparents, George Ira Stancil and Eva Ann Mercer. She looked like her mother's older sister, Ruby Lee Hales.
She was just 1, when she visited relatives in Johnston County, NC. Most were busy barning tobacco. When her great maternal great aunt, Eva Creech Blackman, placed her in an old fashion cradle she was scared to death when it rocked and screamed. They remedy this by stopping it from rocking.
Georgeanne got to know relatives who visited Ocala before she began school. Among them were Uncle Thomas Emmette Stancil Sr., wife Dessie, son Junior, daughters Rose and Martha; Uncle G.I. Stancil, wife Jeanette; Grandmother Stancil; Aunt Vazell Stancil Batts, husband Bill, sons Bill and Jim; Aunt Hilda Stancil Hales, Aunt Rachel Stancil Renfrow. Carl Stancil, son of Harvey and first cousin of Ralph) wife Ann and daughter Janet.
An early job was gathering eggs in the large hay barn. One summer day, as she gathered eggs on top of hay bales she saw a chicken snake among the eggs. She screamed and hastened to leave, but her exit was blocked by younger brother, Hale, who keep repeating, "I wanta see! I wanta see!" as he remained in the narrow opening. Finally she just shoved him aside! Georgeanne, at 5, was in charge of decorating the family Christmas tree. She put on the finishing touches and stood back to admire it. Within minutes, Renn and Hale removed ornaments!
Georgeanne learned to crochet when she was 5. Aunt Effie Stancil Renfrow taught her to make granny squares. She used this skill to make afghans and hundreds of kitchen towels. She gave many away. Mother started knitting again after many years and Georgeanne made a beautiful white sweater. She would knit an inch each night until it was finished.
Ralph named a cow after her, "Georgeanne's Cow." The cow had a bull calf in 1947.
1948 was memorable. Freda and Glenn Johnson, neighbors and also members of First Christian Church on Broadway, moved into the Block House on U.S. 27, Ralph and Ethel built.
Ralph hired Mr. Hott to complete the electrical wiring. Ethel invited the family for supper. Their three children were wild and undisciplined. Georgeanne played with them. They finally left and much to Ethel's horror, they had taught Georgeanne to pinch!
In the summer of 1948, Georgeanne was the only sibling allowed to attend the wedding of Aunt Ruby and Uncle Charles Blair at First Christian Church. Ethel was the Matron of Honor. There was real fear that Renn, 3 ½, and Hale, 2 ½, would speak out during the solemn ceremony. To prevent this, they waited outside the church in the Model A with Ralph.
The Johnsons moved out of the Block House before school began. Sept. 7, 1948, was Georgeanne's first day of school at Greenville Elementary. Ralph took her. He planned to pick her up but she said, "I'm a big girl. I want to ride the bus." After school Georgeanne saw neighbor, Mr. Glattli in the driver's seat of a bus and got on. This was the wrong bus but Mr. Glattli delivered her safely home, though well after the time she should have arrived. When Ethel walked up to meet the bus, she saw a very confident and happy Georgeanne sitting alone in a seat. She was the last one off.
Georgeanne's farm chore grew as she did. She fed the chickens, drove the tractor, hauled watermelons, loaded corn, shucked and shelled corn, milked cows, hoe the garden, work in all phases of tobacco, occasionally ride the horses plus many other chores.
Georgeanne taught herself to type on an old Underwood typewriter. This was a gift to her mother from her father in 1928. Georgeanne was an excellent typist and very fast. She won the Ocala High School typing award her senior year.
On Jan. 3, 1951, when her family was returning to Ocala, after visiting relatives in North Carolina, a drunk driver ran head-on into their new Studebaker.
This was a life-changing event for the family. Georgeanne had a serious concussion and others also suffered serious injuries. After several weeks in a South Carolina hospital, Aunt Ruby took Georgeanne and Renn home, Georgeanne lived with Aunt Ruby and completed the 3rd grade. Renn lived with neighbors and dairy farmers, the Goodyears, Ethel was in Munroe Memorial Hospital, Ocala, with two broken legs and a crushed ankle.
Ralph decided it would be best if he kept Hale, 5 and sent Georgeanne and Renn to live with his sister, Mamie in Farmville, N.C. and sent Harold, 17 months, to live with his sister Rachel in Lucama, NC. In early summer, Aunt Hilda Stancil Hales, husband Cedric, children Arnold, Mary Ann, and first cousin Wyla Jean Eason drove down to moved Georgeanne, Renn and Harold to North Carolina. Before they left for NC, Aunt Hilda took them on their first trip to Daytona Beach. She won the confidence of Georgeanne and Renn with her kindness and charm and they willing left with her.
While in NC, the girls met many family members, and attended their first Stancil Reunion. In Farmville, Georgeanne joined the Girl Scouts and went Treat or Treating for the first time. Just before Christmas, Mamie and Eddie took Georgeanne and Renn home. Then they left for Cuba, leaving behind their black cocker spaniel, Jackie. Jackie slept under Georgeanne and Renn's bed. When Ralph tried to wake them up, Jackie went into action, growling and protecting his girls! Georgeanne quickly calmed him down.
Georgeanne and Renn took turns spending Monday nights with Aunt Ruby, while her husband, Uncle Charles was on his orange route. The highlight was laughing with her at the I Love Lucy Show. Georgeanne had a cute sense of humor like Aunt Ruby.
Georgeanne formed lasting friendships with many Stancil cousins she met and visited at reunions. For several years she visited Janet in Rocky Mount for a few days. Janet was the daughter of Norma Stancil Moore.
One summer job Georgeanne had, was staying with the watermelons for sale by the side of the US Highway 27. When a sale was made to truckers, she was the official counter and refused to be distracted by their comments and antics.
By the time, Georgeanne was a young teenager, she was the family barber. She cut her brothers' and daddy's hair. She continued cutting Ralph's hair for many years.
In late 1954, Georgeanne and Renn rode the Greyhound bus to visit Uncle G.I., Aunt Jeanette, Ira and Don in Pensacola. While there, Georgeanne just 12, made Aunt Jeanette a maternity outfit. She was expecting Shirley who was born July 7.
Georgeanne took dancing lessons when she was in 7th grade.
During her school years, Georgeanne joined FHA and 4-H. A highlight of her years in 4-H was giving a team demonstration for a Tampa Television Station. FHA members made candy apples to sell at football games. Georgeanne knew the recipe by heart and made them at home. They were perfect with the right candy crunch.
She was an excellent cook and made the best divinity you've ever tasted. She was always trying new recipes and sharing them. Tailoring was another skill she learned. She's been sewing since she was 10. She made doll clothes for Renn, cutting her own patterns and even putting in puff sleeves. Renn put them on her kittens!
Georgeanne's first job was wrapping Christmas gifts at Bittings Drug Store in downtown Ocala. She was in 9th grade.
She graduated from Ocala High School 1960. A few years later she received her AA degree from Central Florida State College.
Georgeanne met Glenn Darryl Schore, who grew up in Chicago, on a blind date. He joined the Air Force, was a photographer stationed in Korea and at the end of his tour was stationed in Orlando.
Georgeanne and Glenn were married on Nov. 25, 1960, and the last couple married in the First Christian Church on Broadway by the Rev. Doyle Mullin. Her parents were married in the same church 25 years earlier, in 1935.
They moved to Chicago in August of 1961. They stopped in North Carolina to attend the Stancil Reunion. This was Georgeanne's first time experiencing sleet, snow, frozen walkways, city buses and riding the elevated "L" train.
Son Ted was born, Feb. 2, 1962, while living in Chicago. Of the many new relatives Georgeanne met, none doted on Ted more than Aunt Elaine Lass.
Georgeanne, Glenn and Ted returned to Florida in 1964. They were thrilled when Glenn's Aunt Loretta and Uncle Ernie Troutman retired to Florida in 1985. Elaine kept in close touch, continued doting on Ted and Alex, who was born on Dec. 22, 1964. She eventually moved to Florida for several years.
In 1971, Georgeanne and Glenn, Renn and Bobby met at the 19th Annual 12 Hours at Sebring, sports car race. Georgeanne and Glenn had Winnebago while Renn and Bobby pitched a tent.
In 1973, Glenn purchased a Champion airplane. Georgeanne only took one ride. Memories of the airplane ride she took with cousin T.E. "Junior" Stancil at White Lake resurfaced. Junior was an excellent pilot but also a fearless dare devil. He visited Florida often and Georgeanne recalled him yelling out the window as he flew low over the house to come pick him up at the airport.
In 1974, Georgeanne, Glenn and family took a trip to Canada and invited her parents. They also attended the Stancil Reunion in NC. Over the years, Georgeanne was a very attentive daughter who visited her parents often and in later years helped with their care.
Georgeanne loved flowers and had a beautiful yard that attracted butterflies and hummingbirds. Each year she planted flowers for her mother and kept them weeded. Georgeanne's work history is interesting. She worked at nearby Howard Johnsons. This was ideal as Glenn was home at night to stay with Ted and Alex. In 1968 the company has a contest to see which employee could sell the most peach desserts. Georgeanne won and was named, Miss Howard Johnson's Hospitality, for the southeastern United States.
For 15 years she was an executive secretary and bookkeeper for Duggan, Joiner & Company. She was a Certified Professional Secretary and was selected as Southeast District Secretary of the Year in 1981 by Professional Secretaries International. 1982 Thanksgiving Emmett Stancil, Mrs. Sowerby, Ralph, Ethel, Ted, Georgeanne, Dora & Percy Hales 1987 Stancil Reunion Ethel, Jean, Ralph, Georgeanne, Glenn, Ted
Georgeanne was an administrative secretary and accounts receivable coordinator for Emergency One. In Oct. 1987 she was recognized for collecting over $10 million in delinquent accounts in one month.
For 7 years Georgeanne and Glenn were members of a group of bicyclist who took road trips of 40 or 50 miles on Saturdays. They ate breakfast at various restaurants in Marion County. They also joined a national tandem bike group. They met up with riders in North Carolina, Kentucky and White Springs, FL, for rallies, workshops and banquets. While in KY, they visited Renn, Bobby and family.
In 1989, she started her own business, Nails by Georgeanne. This was a successful business and over the years many clients became personal friends. She retired in March 2014 because of her health. Over 60 attended her retirement reception at First Christian Church.
Over the years Georgeanne and Glenn took 5 trips to Europe, beginning in 1999. Glenn's heritage was German and they selected Germany, Austria and Switzerland for their first trip. Then also went on a Christmas Markets Tour of historical European markets making stops in Munich, Satzburg and Vienna. In 2005 they took their oldest granddaughter, Sarah to Germany, Austria, the Alps and Hitler's Eagle Nest. In 2007 they took Eva to Holland and Belgium.
In 2012, Grace went to Germany, Switzerland, Italy and Liechtenstein.
Las Vegas was another favorite destination. One year they saw favorite entertainer, Celine Dion. In the last few years, they enjoyed 24K Gold Shows that featured music of the 1950s. 1960s, and 1970s. Georgeanne became friends with many of the performers.
Georgeanne was recognized in 2010 by the US Army with a US Freedom Team Salute certificate for sending over 200 care boxes to US soldiers in Iraq and Afghanistan. Many recipients wrote her letters of appreciation.
In 2010, Georgeanne and Glenn celebrated their 50th Wedding Anniversary with a catered luncheon at First Christian Church in Ocala. Entertainment was the Jimmy & Eckhard Oktoberfest Show that highlighted Glenn's German heritage. Glenn sang a German song he learned as a small boy with them. Georgeanne's custom designed wedding dress was on display.
Georgeanne was active at First Christian Church, Ocala, Fla., for more than 60 years. She serviced the church in many capacities. Some of them were youth leader, deacon, church historian and photographer.
Whenever the church had fundraisers or needed an extra hand, such as at the Church Bazaar, Georgeanne was there using her creative and baking skills to raise funds. Her organization skills were amazing. She was a wonderful asset to the church.
Georgeanne always sought ways to give back to her community. She was a member and officer of Project Pup (Pets Uplifting People), a group that provided pet visits to local nursing homes. When Georgeanne knew of anyone in the hospital or nursing home, she immediately send a card and made a visit, making sure they were receiving good care. You could count on her to be a devoted patient advocate who could get things done.
Georgeanne will be admired for her ability to see problems and find solutions. She will be remembered for her love and devotion to family and friends. She worked tirelessly on her high school class reunions, luncheons, keeping in touch with classmates and tracking down the elusive ones.
At each event, she took numerous photos to memorialize the event.
Georgeanne took countless photos at the annual Stancil Reunion in NC for many years. Her eye for detail helped us successfully organize and arrange the reunion space. She could detect problems with a quick glance that many overlooked. She was one of a group of family members who helped edit the Stancil Record each year. Her editing skills will be missed.
As Georgeanne battled brain cancer, her family, Glenn, Jean, Ted and Alex were beside every step of the way. Many relatives and classmates came from near and far to visit her, others called and sent cards. She cherished each one. The love she had shown to so many came back tenfold.
I am reminded of this quote, "Love wasn't put in your heart to stay. Love isn't love until you give it away." Michael W. Smith
June 2014
Zilphia Dianne Godwin Strickland, June 26, 2014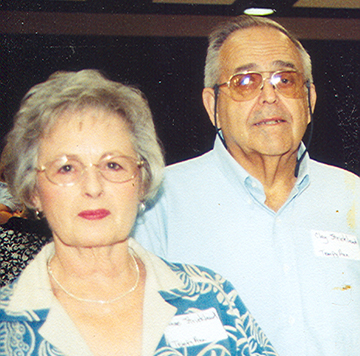 Dianne Godwin Strickland with husband Clay.
Dianne died on June 26, 2014
Zilphia Dianne Godwin Strickland, Tempy Ann Branch, daughter of Narvin and Mavis Hill Godwin, wife of Clay, mother of Cathy and Cindy Jo, grandmother of Caitlyn Elizabeth, Paige Mackenzie, Logan Dianne, Nicole Grace, Seth Joseph, died on June 26, 2014.
A graveside service will be at 10 a.m. Saturday, June 28, 2014, at Evergreen Memorial Gardens, 2800 Nash St. N., Wilson, N.C.
August 2014
Dorothy June Hill, Aug. 31, 2014
Sept. 23, 1923 - Aug. 31, 2014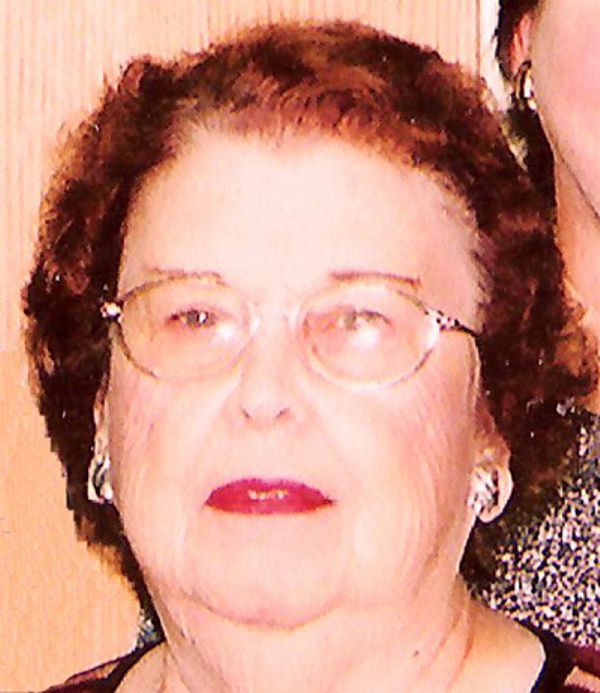 Dorothy June Hill
Dorothy died on Aug. 31, 2014.
Dorothy June Hill, Tempy Ann Branch, died Aug. 31, 2014, at the Wilson Medical Center in Wilson, N.C.
She was the widow of Vernon "Jim" Fletcher Hill, mother of Nancy June Hill Brincheck, Brenda Kaye Pollard and Linda Faye Archer, Carolyn Frances Hill, grandmother of James "Jay" Marvin Brincheck Jr. She was 90.
September 2014
James 'Jimmy' Orville Stancil, Sept. 23, 2014
Oct. 10, 1921- Sept. 23, 2014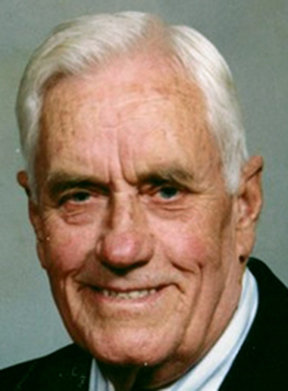 James Orville Stancil

'Jimmy' died on Sept. 23, 2014

James "Jimmy" Orville Stancil, Henry Branch, died on Sept. 23, 2014, in Virginia Beach, Va., at 92. His visitation was at Rosewood Kellam Funeral Home, Virginia Beach, Va., on Friday, Sept. 26, 2014, and the service was on Saturday, Sept. 27, 2014.

He was born Oct. 10, 1921, to James Oscar Stancil and Mamie Ann Hocutt in Johnston County, N.C. He was the grandson of Frances Barnes and Walter Henry Stancil.

His siblings were Gladis, George Guy, Gurnie Patricia, Ruth, Henry 'Doc' Rudolph Stancil, Ruby Irene and Jack Rowland. He is survived by son James Hilton "Butch" Stancil, daughter Katherine "Petey" Ann Stancil; grandson James "Robbie" Robert Stancil, granddaughter Kelly Catherine Stancil, great-granddaughter Lilly Elizabeth Stancil, great-grandson James Edward Stancil; sister Ruby Irene Stancil Creech, husband Grover, sister-in-laws; Dorothy Crouch Stancil, the widow of Henry "Doc" Rudolph Stancil, Lynda Tanaka Stancil, the widow of Jack Rowland Stancil, Nieces; Kathleen Muliwai Yvonne Stancil Akau, Jane Crabtree O'Brien, Marcia Ann Creech Parks, Lucia Michele Creech Washam, Jackie Marie Stancil Gregoles Nephews; Theodore Rudolph Kalikookala Stancil, Douglas Randolph Mahealani Stancil Sr., Charles Myron Crabtree, Jr., Guy Wayne Crabtree, Gary Rudolph Stancil, Stephen Jerome Stancil, Philip Haywood Creech, Byron Grover Creech, James "Jim" Eric Stancil, Joseph Guy Stancil; cousins Esther Godwin Narron, Billy Horace Godwin, Treva Marie Stancil Devers, Mary Frances Pope Johnson, Raymond Eugene 'Gene' Pope, Marshall Barnes Pope, plus many greatnieces, great-nephews and cousins.

He was preceded in death by his wife of 57 years, Mary Elizabeth 'Betty' Burton Stancil, siblings Gladis Stancil, Ruth Stancil Janiuk, Gurnie Patricia Stancil Crabtree, George Guy Stancil, Henry "Doc" Rudolph Stancil and Jack Rowland Stancil. Jim grew up working on the farm in Johnston County, N.C.

He recalled the depression years. He wore hand-me-downs, clothes with patches and second hand shoes. Food was grown and preserved on the farm. Nothing was wasted and Jim recalled chewing the skin off the ham. Tall and athletic, he was an outstanding high school baseball player. There was talk he might be good enough for a professional team. He graduated after 11 years and pondered returning for the 12th grade which was optional at that time, but decided to join the Marines. Jim joined on June 3, 1940.

Jim was sent to Parris Island for the roughest basic training of all the branches. This was where they separated the men from the boys. Jim said that on some days he felt like a boy! Gurnie and Ruth drove his mama, Mamie to Paris Island, S.C. to see his graduation. He was sent for more advance training to the Naval Torpedo Station, Newport, Rhode Island.

There he met the love of his life, Mary Elizabeth "'Betty" Burton, a telephone operator for the government. Their relationship started when Jim was a Marine sentry and needed to establish contact with a Sentry at a docked German Submarine. He was in contact with Betty, trying to get some assistance. Betty grew up in Newport, R.I. She was the daughter of Hilton Elmo Burton and Katherine Charlotte Hughes.

They were married in a church ceremony on Feb. 8, 1944, in Providence, RI. The first night of their honeymoon was in Providence, RI. There were no locks on the hotel door so Jim pushed chairs against it. The next day they went to a nice Boston Hotel with door locks, in Scollay Square.

A nice old Marine colonel took a liking to Jim and kept him around for four years. Jim was in charge of the platoon athletics that included baseball, basketball, and boxing. This was perfect. Jim played left-field for the Marines and in the Sunset Baseball League while in Newport.

On July 20, 1944, his pinch hit for the Sunset Stars insured a victory over the Diesel Electrics of New London and on Sep. 8, 1944, he was honored for hitting 3 homers for the Marines. Just when things were close to perfect, Jim was sent to Camp Pendleton in California and onto the South Pacific. While overseas, his oldest child, James Hilton 'Butch' Stancil was born in R.I.; sister Ruby and his mother, Mamie, went up see Betty and the baby. Jim, a member of the 1st Marine Division, was sent to Guadalcanal for training for the battle of Okinawa. This battle was the largest amphibious assault in the Pacific of the war.

Jim was wounded in action. Jim stayed on Okinawa until October 1945. He returned by ship to the States and was discharged at Camp Lejeune, N.C., in December. After his honorable discharge from the Marines, he wanted to give professional baseball a go. He moved to Richmond and was offered a professional baseball contract, but with family responsibilities, the money was not enough to provide for his family so he decided not to pursue his dream. Instead he worked at a service station and played semi-pro baseball when his job allowed it. After several years he began working for a truck body equipment company and developed his mechanics skills.

Daughter Katherine Ann "Petey" was born while in Richmond, Va. In 1950, Jim found his niche with a telephone company. He supervised the Chesapeake and Potomac Telephone Company's fleet of cars and trucks.

The company offered Jim a job as a roving mechanic for their fleet. Jim moved his family to Culpepper, Va., and was able to continue playing semi-pro baseball. Next he was promoted to foremen of motor vehicles division and moved to the Tidewater, Va. area. The last move was in 1956 to Virginia Beach. Jim retired in 1982 after 32 years with the Chesapeake and Potomac Telephone Company. Jim loved baseball from his high school days and was an enthusiastic multisport fan. Petey fondly recalls watching sports on TV with her dad on Saturdays while her friends watched cartoons.

When she was older they attended many major league baseball games and when unable to attend Jim watched on TV. Because of their close proximity to his home, Jim closely followed the Washington Nationals baseball team and Washington Redskins. He attended many local AAA games to watch the Norfolk Tides, who were the farm team for the NY Mets and are currently the farm team for the Baltimore Orioles. Jim especially enjoyed hockey and knew several hockey players on the Chicago Blackhawks, Tampa Bay Lightning now the Anaheim Ducks, before they were famous and a household name to hockey fans. It was a great day for Jim when the East Coast Hockey League, expanded to Norfolk in 1989. Jim and Petey purchased seasons tickets immediately and were loyal fans through the 2013 season. The Hampton Road Admirals won the coveted Jack Riley Cup in 1991, 1992, and 1998.

The Norfolk Admirals graduated to the higher American Hockey League (AHL) where they recently won the Calder Cup, following a professional sport record of 28 consecutive wins. Jim was active in the community. He was a mentor for several young men. He coached several baseball teams. One was the Aragona Food Fair baseball team, in Virginia Beach. Jim had a boat. Fishing and water-skiing on the Chesapeake Bay was a family activity.

They caught spot, croaker, drum, and blues. Jim sold the boat after the kids left home but then with good fishing buddy, Ted, purchased another boat for summer fishing. He kept the freezer full of fish. He continued fishing until he was 87. Jim and Betty found a family church with each move. In Virginia Beach they joined Christ Presbyterian Church. Betty was active in the Women of the Church. Over the years Jim served as a Deacon and Elder and headed up committees.

He was a great organizer and motivator. When Jim spoke, people listened and responded. Jim taught the AARP sponsored, Motor Vehicle Safety Class, for 22 years. This popular course reduced premiums for older drivers. Jim & Betty reached their goal of visiting all 50 states.

When Petey started her "All State Tour," Betty, then later Jim, joined her as they revisited some states. These tours focused on one state where they enjoyed getting to know the state, people and back roads.

Jim attended many reunions and stayed in close touch with family members. Older sister, Gurnie, always called him by his full name, James Orville, and many of his cousins at reunions used his full name too.

James Orville was featured in the 2012 Stancil Record, which is online at stancilreunion.com. Jim appreciated his years on the farm, it taught him how to survive and make do with what he had. In his early years, he developed his Christian principles and beliefs and never wavered from them.

He grew up attending Center Ridge Presbyterian Church and Antioch Missionary Baptist Church.

According to Jim, his mother taught him important life lessons. She taught him to respect others, even when he didn't agree with their ideas, to lend a helping hand and give encouraging words. He will be fondly remembered for his devotion to family, his sense of humor, welcoming smile, fantastic memory and pocket full of candy.

He was an entertaining storyteller and a great friend who took time to listen and offer wise advice when asked. You always felt better after talking to Jim because he lived Proverbs 17:22, "A joyful heart is good medicine."

Cousin, Renn Stancil Hinton, George Branch

Memories shared by niece Jane Cabtree O'Brien

I just wanted to add one memory that was so close to me. Every October while Aunt Betty was still with us, they had an annual Oyster roast and fish fry at their house. I included not only the family, but those from their neighborhood, church and fellow employees of Uncle Jim and Aunt Betty's. Sometimes it was held close to mom's (Gurnie Stancil Crabtree) birthday and they would have a birthday cake for her. I remember Petey would have it decorated with mom's favorite saying "Well Ho"! It would read "Well Ho Gurnie, Happy Birthday."

November 2014

Bobby Brown Hinton, Nov. 20, 2014

Sept. 12, 1938-Nov. 20, 2014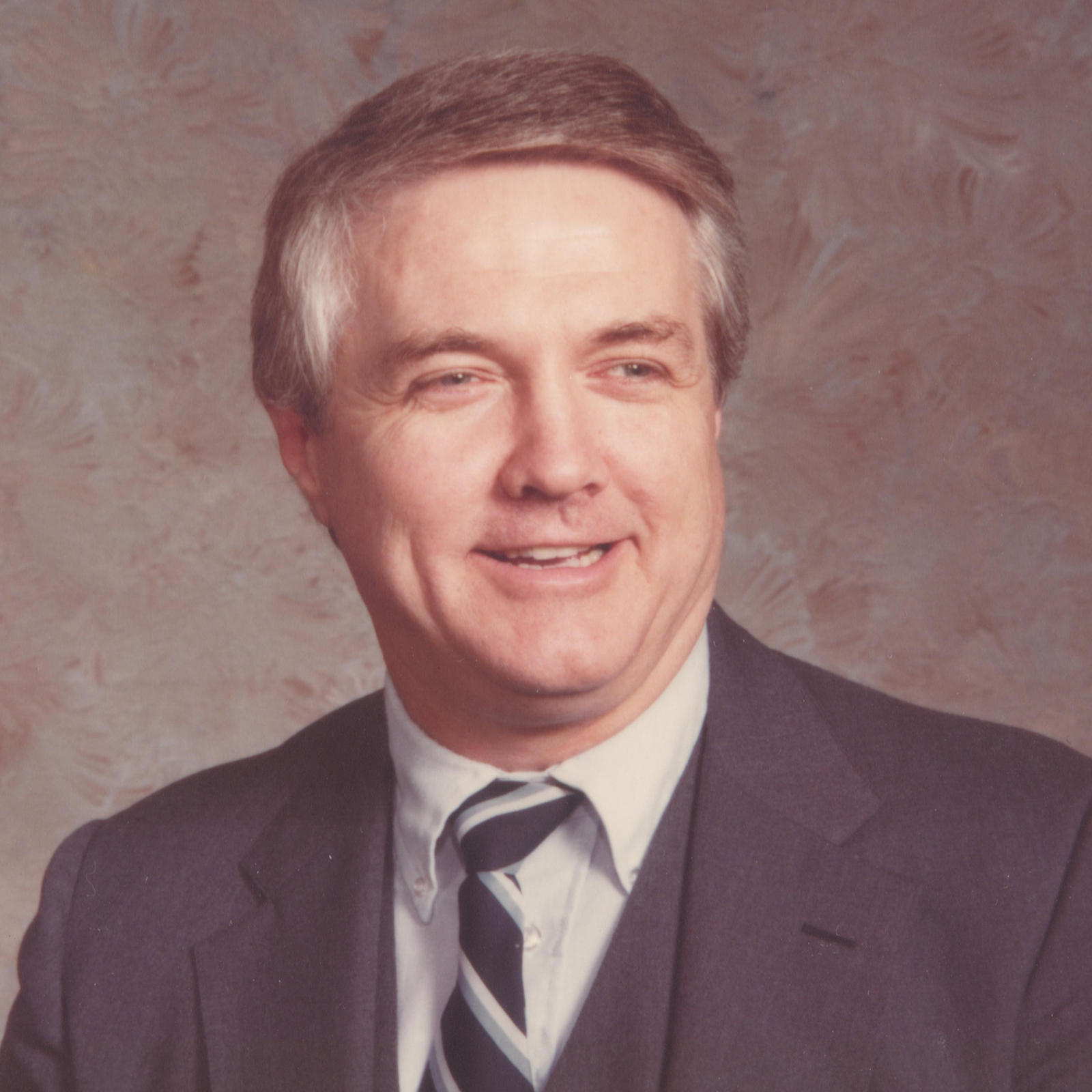 Bobby Brown Hinton
Bobby died Nov. 20
Bobby Brown Hinton, George Branch, 76, of Palatka, Fla., and formerly of Ruston, La., the husband of Renn Stancil Hinton, died Nov. 20, 2014, in Orange Park, Fla.
Bobby was diagnosed with acute myeloid leukemia on Oct. 31, 2014. He died from complications following treatment at Orange Park Medical Center.
Bobby was born Sept. 12, 1938, in Camden, Ark., to Mary Agnes Hammond and Frank Berry Hinton, who coached the Louisiana Tech baseball team for 24 years.
His father, also a former athlete at Louisiana Tech, was dean of men and coach while Bobby was young. During that time, Bobby, brother Dickie and sister Bette grew up in Hale Hall on the Tech campus. Bobby attended the dedication of the reconstructed Hale Hall in 2004.
Bobby graduated from Ruston High School in 1956. Bobby lettered in four sports at Ruston High and was voted "most athletic." He played offense and defense for coach L.J. "Hoss" Garrett at Ruston High School.
He played football and was a track athlete starting in 1957 at Louisiana Tech. He had a scholarship, playing under football coach Joe Aillet, and was a member of Gulf Coast Conference championship teams from 1957 to 1959. He was named to the all-conference team as a tackle in 1959. He played with his cousin Joe Hinton at both Ruston High and Louisiana Tech. He graduated from Tech in 1961.
Bobby had engineering jobs in Louisiana and Texas after graduation. He moved to Palatka, Fla., in 1965 to work for Hudson Pulp and Paper until 1977. He met his future wife Renn Stancil, a teacher at Mosley Elementary, in Palatka, Fla., in 1969. They married on Aug. 22, 1971, at the annual Stancil Family Reunion in Johnston County, N.C. Bobby was a volunteer fireman in East Palatka, Fla., for four years.
After relocating to Burlington, Ky., he worked for Equitable Bag and Crescent Paper Tube. He worked as a plant manager and engineer for Stone Container for 12 years in Louisville, Ky.; Wellsburg, W.Va.; Hialeah, Fla.; Tolleson, Ariz.; Hodge, La.; and Cantonment, Fla. He retired in 2001. He and his wife returned to Palatka, Fla., in 2002.
Bobby was interested in home design, woodworking, grilling, watching "The Woodwright's Shop," listening to NPR programs such as "Car Talk," playing guitar, painting, drawing, photography, reading and blacksmithing.
He grew up listening to the St. Louis Cardinals broadcasts on KMOX as a child. His favorite baseball player was Stan Musial. He loved visiting with cousins, friends and other relatives, talking about religion, philosophy, science and other topics.
He grew up in Trinity United Methodist Church in Ruston and became a member of Disciples of Christ churches in Florida, Kentucky and West Virginia. He was preceded in death by his parents, both residents of Ruston; his son Jay Benjamin Hinton; and sister-in-law Georgeanne Stancil Schore.
He is survived by wife of 43 years, Renn Stancil Hinton; children, Darcee Hinton Sams (Jimmy) of Pensacola, Fla.; Kip Austin Hinton (Amalia Ortiz) of the Rio Grande Valley, Texas; Ty Alexander Hinton of Palatka, Fla.; Brent Ashley Hinton of Pensacola, Fla.; and Coree Anne Hinton of St. Thomas, USVI; brother Richard "Dickie" Hinton (Alice Marie) of Frisco, Texas; sister Bette Hinton Martensen of Arlington, Texas; brothers-in-law Glenn Schore of Ocala, Fla.; Hale Ralph Stancil (Becky) of Ocala, Fla.; and William Harold Stancil (Kim Brown) of Ocala, Fla.; and nieces and nephews in Louisiana, Texas and other states in the South.
A memorial honoring his life was held Nov. 24, 2014, at First Christian Church in Ocala, Fla. Donations in his honor may be sent to First Christian Church at 1908 SE Fort King St., Ocala, FL 34471-2529.
2014
Jordan Michael Hazelett, Sam Branch, died in 2014 at 20 in California.
Jordan is the son of John and Jessica Rama Hazelett, grandson of Alice Pipkin Parker, and great-grandson of the late Thelma Stancil Pipkin. Jordan was born Aug. 11, 1994.
---
If you have any death notices or photos to share, email us at rennhinton@stancilreunion.com.
---