January 2012
'Johnnie' Julius Repecko Sr., Jan. 16, 2012
Oct. 14, 1944-Jan. 16, 2012
"Johnnie" Julius Repecko Sr. of the Josiah Branch, the husband of Cheryl "Cheri" A. Willard Repecko, died at 67 years old, on Jan. 16, 2012, after bravely batting cancer. John died at home in Lynn, Mass., surrounded by his devoted family. He and Cheri had been married 46 years.
Cheri attended the 2011 Stancil Reunion along with son Jay and wife Flo, sisters Sandy and Ruth, brother Skip and wife Donna, niece Kim, grand-nephews Timothy and Tyler.
Johnnie leaves behind his beloved wife Cheri, son John "Jay" Julius Repecko III and wife Florence of Caribou, Maine; daughters Kellie Ann Repecko Lewis, husband Michael of Nahant, Mass.; Kendra Ann Repecko-Batts of Lynn, Mass.; Kristie Repecko-McGlynn, wife Erin of Worcester, Mass.; Grandchildren John Julius Repecko III, wife Kristen; Lauren Repecko Griffeth, husband Phillip Shawn; Michael 'Mikey' J. Lewis, Sarah Elizabeth Lewis; Skyla Batts; Ami Trinity McGlynn; great-grandchildren Shawn Christopher Griffeth, Kylie Renee Griffeth; brother of Virginia Morano and Joseph Bursey; sister-in-laws Sandra Bowes Kelly and Ruth Ann Bowes Callinan; brother-in-law 'Skip' Clayton Lewis Bowes, wife Donna; nieces Kim Pellerine McHugh, husband Steven, sons Timothy and Tyler; Mariah Chao Kelly; Michelle Murray Erickson, husband Keith, children Sean, Jordan, Joshua, Hailly and Michael; Carla Bowes Williams, husband Darren, son Conner; nephews Jason Bowes Livington, wife Christy, children Christian and Alexandria; Jeffrey Lewis Bowes, children Nicholas and Casey, plus many other nieces, nephews and cousins.
Johnnie was preceded in death by brother Carlos "Buddy" Bursey, niece Mary Ann Murray; brother-in-law Thomas V. Callinan Jr.
John "Johnnie" Julius Repecko was born on Oct. 14, 1944, to Joseph Julius Repecko and Mary D. Holloway Repecko Promise. Joseph was the son of John and Helen. John immigrated from Lithuania in 1901 and Helen in 1902. They married in 1903 and Joseph worked in a Middlesex, Massachusetts' cotton mill.
Johnnie was the third oldest in this large Massachusetts family. He learned responsibility at an early age.
Johnnie joined the US Army Airborne in 1963. By 1964 the Vietnam War was escalating. He was stationed with the VII Corps LRRP (Long Range Reconnaissance Patrol) in Nellingen, near Stuttgart, Germany. The LRRP were special small teams of four to six-men sent on highly dangerous missions in enemy territory.
Johnnie was in service when he met Cheri. They were married by a Justice of the Peace on Nov. 20, 1965, in Massachusetts. Cheri's sister, Sandy, was her maid of honor and Johnnie's brother, Buddy Bursey, was his Best Man.
Johnnie received an honorable discharge in 1966 and was hired at the General Electric Riverworks Plant in Lynn, Mass. Johnnie retired in 2006.
Johnnie was friendly, outgoing and very personable. These assets were a big plus when he started bartending part-time over 40 years ago. Johnnie was also an avid sports fan. He enjoyed a game of cards and was quite a pool shark! Another favorite pastime was working a variety of challenging crossword puzzles.
February 2012
James "Jim" Albert Hill, Feb. 28, 2012
???-Feb. 28, 2012
James "Jim" Albert Hill, of the Tempy Ann Branch, husband of Evelyn Pate, and father of Michael and Ginger died at 80.
His funeral was held Thursday, March 1, 2012, at Wilson Memorial Service, followed by a visitation. He was buried on Friday, March 2, 2012, at Maplewood Cemetery, Wilson, NC.
Jim is survived by wife Evelyn Pate Hill; daughter, Ginger Bess Hill Lassiter, husband Jay, son Michael Reid Hill, wife Bobbi; granddaughter Elizabeth Paige Hill; Grandsons Larry 'Trey' Wayne Lassiter Jr., Vance Hillman Lassiter, Christopher Reid Hill and wife Michelle; sister-in-law Peggy Jean Petway Hill; niece Valarie Lynn Hill Eldridge, husband Scott; Diane Scharringhausen Hill the widow of nephew Edward "Eddie" Warren Hill Jr.; nephew Jackson "Jay" Petway Hill, wife Anna; great niece Kaitlyn Paige Eldridge; great nephew Steven Edward Hill, wife Tori and daughter Cheyenne Elizabeth Hill; first cousins Sudie Bailey Sullivan, Alice Stancil Price, Shirley Stancil Cockrell, Mavis Hill Godwin, Hazel Hill Wright, Virginia Eloise Hill Sidelinger, Betty Lois Hales Pender, Janice Marie Hales Batten, Velma Hill Bunn, Ethel Gray Hill Hayes, Joseph Lynwood Hill, Janie Cleo Hill Joyner, Jackie Earl Hill Sr., Braxton Hill, Josephine Hill Parrish, Phillip Ray Hill, Billy Wayne Hill, Geraldine 'Sis' Hill Brinchek; plus many cousins.
He was preceded in death by his younger brother, Edward "Ed" Warren Hill and nephew, Edward "Eddie" Warren Hill Jr.
Jim was the oldest son of Floyd Jackson "Jack" Hill and Susan Virginia Warren, grandson of Tempy Ann Stancil and Frederick Hill. He grew up in Wilson, N.C., and graduated from Charles L. Coon High School.
Jim joined the United States Air Force in 1951. A trained aircraft mechanic, he was selected for jet engine mechanic training. This opportunity was pivotal in Jim's Air Force career. In 1953 Jim was one of the 22 enlisted men selected to help maintain the Thunderbirds aircraft. The Thunderbirds was the Air Force's air demonstration team. He was the named the first crew chief and sent to Luke Air Force Base in Arizona, first home of the Thunderbirds.
Two memorable events happened while in Arizona. Jim started smoking and purchased a 1949 Ford. He had the car customized. Unfortunately it was stolen by an Air Force policeman while Jim was away on a trip with the Thunderbirds.
Jim was a Staff Sergeant when he received an honorable discharge in January 1955. He returned home to Wilson while he contemplated his future. Continuing his Air Force career was tempting. One day, his mother asked him to pick up her pay check from Sidney Bloomingthal a textile mill. Jim noticed a very attractive girl in the office and managed to get an introduction to Evelyn Pate, before he left. Evelyn was from Richmond, Va.
Evelyn and Jim attraction was immediate. On the following Sunday afternoon, Jim took her out in his snazzy black 1953 Buick hardtop. They drove around Wilson and it seemed that Jim knew most everyone who lived there. Before long, they realized they were both in love and made plans for a future together. The Air Force was just a memory.
They made wedding plans for a Sept. 5, 1955, wedding.
Evelyn found the dress of her dreams at the Mother and Daughter Store in Wilson. It was a white ballerina length lace gown with long sleeves. She selected a short veil and white satin slippers. Her bouquet was an orchid surround by mixed flowers.
Her attendances were her two sisters, Bertha and Ann Ray and Jim's sister-in-law, Peggy Jean Petway Hill. Each attendance wore a different color and chose between blue, yellow and green.
Jim and Evelyn were married in the Fellowship Hall of the 5 Points Missionary Baptist Church in Wilson because the new sanctuary was still under construction.
They planned a honeymoon trip to western North Carolina. Unfortunately the weather did not cooperate. Rains and high winds forced them to stop between Greensboro and Winston Salem. They returned home.
Jim was hired as an insurance investigator and did this for 14 years. In his spare time, he was a player/manager for a local softball team. He was an excellent pitcher. Jim was very proud when they won a tournament and became the NC State Softball Champion.
When Evelyn became pregnant they moved in with Jim's parents. Jim was there for the birth of son, Michael Reid Hill, on August 11, 1959. Daughter, Ginger Bess Hill, was born on April 25, 1966.
Jim served as a Boy Scout leader for 10 years while Reid was a scout. Jim discovered the fun of playing golf while stationed in Arizona. He shared this with son Reid, who became golf pro. Jim continued playing golf until physical problems caused him to give it up in 2008.
About 1969, Jim went to work for White Tire Service in Wilson. After he retired, he agreed to be a consultant. A position he held for many years.
Jim was 54 years old when he gave up smoking. Years later it would plaque him as he developed lung cancer.
In 1988 and 1989, Jim had both hips replaced. Then successful triple bypass heart surgery. He recovered and returned to all normal activities including playing golf, doing yard work and doing everything he loved. When he developed back pain, a doctor injected cement that solved the problem.
When cousin, Nancy Hill Calendar, daughter of Arnettie Stancil Hill, moved to Wilson and her health failed, she contacted Jim for help. Nancy arranged for Jim to handle all her financial affairs. As Alzheimer's took away her mind, Jim was there to make sure her needs were met until her death in 2006.
Jim stood by Evelyn side when she suffered a stroke in 2002. In September 2005, Evelyn and Jim celebrated their 50th Wedding anniversary with a family dinner at a grand old house in Elm City, NC.
In 2005, Jim was diagnosed with lung cancer. He underwent chemo and was given a clean bill of health. Jim returned to golf and was able to play three more years. He successfully recovered from pneumonia and then in 2010 the lung cancer returned and he again received chemotherapy treatment.
Jim fought valiantly and his first concern was always Evelyn. His children Reid and Ginger visited often.
March 2012
Linda Joyce Kelly Moore, March 3, 2012
Nov. 1, 1942-March 3, 2012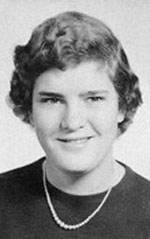 Linda Joyce Kelly Moore
Linda died March 3, 2012
Linda Joyce Kelly Moore of the Samuel Branch, the widow of Henry McDonald Moore, daughter of Jerome Clinton Kelly and Mildred Ruth Stancil, granddaughter of Lonnie Alfred Stancil and Susan "Suzi" Pearl Renfrow, died at 69 years old, on March 3, 2012, at her home in Raleigh.
Her graveside service was at 1 p.m. March 8, 2012, in the Montlawn Memorial Park, Raleigh, NC. Linda, a former U.S. Marine, was buried with Military Honors.
Linda is survived by her daughter Kristy Moore Martel, granddaughter Hannah Marie Martel, grandson Ty Wayne Peppers; sisters Dorothy 'Ann' Angela Kelly Etheridge, husband Richard; Rose Marie Kelly Southern, husband Sherwood; brothers Jerome Carlton Kelly, Glenn Clinton Kelly and wife Rachel, Alfred 'Butch' Bryant Kelly and wife Beth; niece Sharon Lynn Kelly Bissette, husband Danny, son Corey; Kelly Rose Pendergrass; nephews Kenneth Eugene Kelly, children Kevin and Katelyn; Michael Glenn Kelly, wife; Paul Bryant Kelly, son Brett Michael, grandson Noah; Robert "Robbie" Alfred Kelly, daughters Samantha and Donna Nicole; Sherwood Douglas Pendergrass Jr.; Aunts Dorothy Watson Stancil, widow of Lonnie Pearl Stancil Sr., Patty Stancil Whitfield, Janice Hurley Stancil widow if Walter Thomas Stancil; Uncle Ray Alfred Stancil, wife Muriel; Cousins James Carl Boykin, Annie Mae Boykin, Pearlie 'Faye' Marie Boykin Lucas, Mavis Irene Walls Johnson, Ethel May Walls Collier and many other cousins.
Linda was preceded in death by her husband of 33 years, Henry McDonald Moore, her sister-in-law Janie Lee Kelly, her parents Jerome Clinton Kelly and Mildred Ruth Stancil Gooch.
Linda was born in Wilson, NC. She was the fourth child in a family of six children. Linda was the 2nd daughter of 3 girls. Linda was just 2 years old when her dad entered the Army.
Linda graduated from Needham B. Broughton High School in 1961, Raleigh NC. Linda had an interest in business classes. Linda enlisted in the US Marines on July 7, 1961. After basic training she was sent to the Marine Corps Base Camp Lejeune, N.C. as a clerk typist. While still in the Marines she took a shorthand class at East Carolina University in Greenville. Linda received an honorable discharge on July 6, 1964.
Linda worked for the North Carolina Forestry Service in Raleigh for 28 years. By combining her 28 years with four years of military service, she was able to retired in 1993.
Linda met Henry McDonald Moore in 1976. He was a cook in the US Army. They were married by a Raleigh Justice of the Peace on May 20, 1977. Daughter Kristy Lee was born in 1979.
Linda and Henry were members of the Mid-Way Baptist Church and later moved their membership to Calvary Baptist Church.
Linda, Henry and Kristy took a memorable family vacation to Disneyworld. Linda and Henry selected the Bahamas for a special couple's trip.
Henry did the majority of the everyday cooking but on Thanksgiving Linda was the chef, creating family favorites for the delicious feast. Family gatherings included an annual birthday cookout after granddaughter, Hannah Marie, was born in July 1999. Linda loved being grandma to Hannah and her younger brother, Ty. Linda and her good friend Cecilia made annual trips to the Carolina beaches. Her favorite was Carolina Beach.
Linda was an avid reader, reading both romantic novels and murder mysteries. Favorite TV shows included Matlock and Murder She Wrote.
After Linda retired, she had time to explore thrift shops and seek out bargains. She also liked to go to dinner with family and friends at K & S Cafeteria and Red Lobster.
Linda had a soft spot in her heart for tiny teacup size poodles. She had teacup poodles before she married Henry and had many over the years. Her last one was, Powder, a cute white teacup poodle, who was a constant companion. Today, 8-year-old Powder lives with Kristy.
Linda was daughter Kristy's rock and they had a special relationship. They talked frequently. After Henry's death, Linda made sure the holidays were extra special, full of memories and love.
Linda's co-worker's son at the Forest Service, Scott Sanderford, shared a quote from an Unknown Author that reflects his feelings about Linda, "When someone you love becomes a memory, that memory becomes a treasure."
Columbia Ann Mercer Kornegay, March 15, 2012
Feb. 8, 1934-March 15, 2012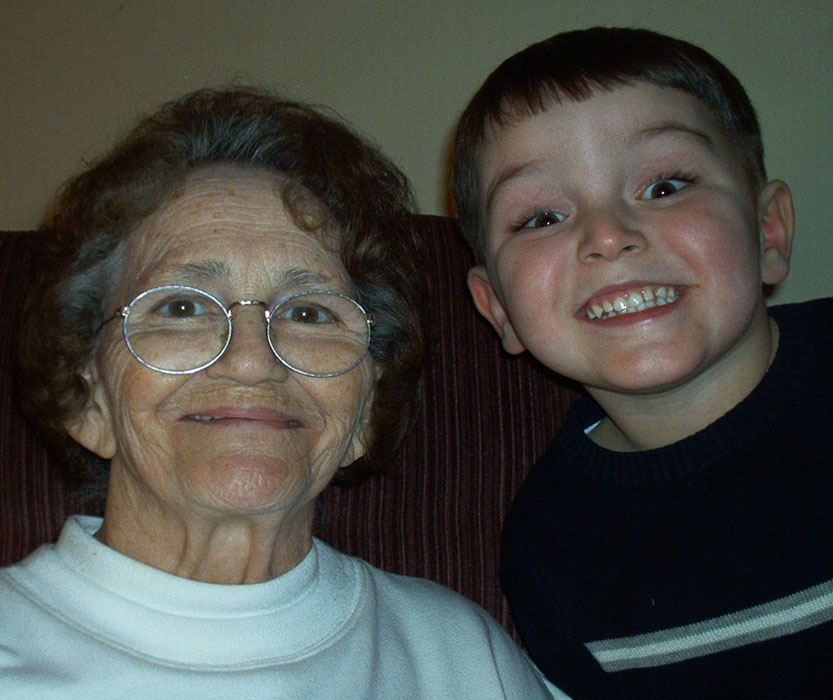 Columbia Ann Mercer Kornegay and grandson TJ.
Ann died on March 15, 2012
Columbia Ann Stancil Kornegay, daughter of Willie Flave and Beulah Lindolph Stancil Mercer, granddaughter of Alvin Rosco and Fannie Columbia Pittman Stancil, passed away March 15, 2012, at the SECU Hospice House in Smithfield, NC, at the age of 78, after a long struggle with dementia.
Ann's graveside service was held at Evergreen Cemetery, Goldsboro, with Dr. Dewayne Eakes officiating. Dr. Eakes is the husband of Ann's first cousin, Carolyn Sullivan Eakes.
Ann is survived by 3 sons; Eldon Lee "E. L." Kornegay Jr., Rickie Eugene Kornegay, Mark Stephen Kornegay, and wife, LaVonda; granddaughter, Sherrie Ann Kornegay; grandson, Robert Lee Kornegay, and great-grandson, Timothy Dewayne "TJ" Howell. She is survived by sisters, Margaret Mercer Williams and her husband, Hilbert, Wanda Mercer Roberts and her husband, Gary, and by her brothers, Reuben Mercer and his wife, Shirley, A.R. Mercer and his wife, Lottie, Donell Franklin Stancil and wife Lou; nieces Tammie Elizabeth Williams Blackburn, Kristy Lynn Thigpen, Deana Jill Thigpen Fowler; nephews; Earl Trent Mercer, wife Barbara, William Frederick Mercer Sr., wife Crystal, Craig Ray Mercer Sr., wife Joan, Johnny Jerome Williams, wife Rose; first cousins Barbara Ann Stancil West, husband George, Judith Magdalene Stancil Phillips, husband Hank, Carolyn Esther Sullivan Eakes, Joan Stancil, widow of Cecil, Wayne Alphus Stancil, wife Wanda, Vann Franklin Stancil, wife Amy.
Ann was preceded in death by her loving husband of 27 years, Eldon Lee Kornegay Sr., her firstborn son, Ronnie Lee Kornegay, born in Texas, died at birth on July 16, 1953, and her parents, Willie Flave and Beulah Lindolph Stancil Mercer; Aunts Pluma Esther Stancil Sullivan, Virginia Penny Stancil Fulgum, Magdalene Suggs Stancil; Uncles Clement Benjamin Sullivan, James Alton Fulgum, Vernard Alvin Stancil, Glenn Warren Stancil; nephew Cecil Warren Stancil.
The last Stancil Reunion Ann was able to attend, was in 2006. Son, Mark and his wife, LaVonda, came with her.
Ann grew up on a farm in Limestone Township, Duplin County, NC. The family attended the Cabin Free Will Baptist Church, Beulaville, NC. Beulah recognized her children had beautiful singing voices, probably inherited from their grandfather, Alvin. Under her direction, Reuben, Ann, A.R. and Margaret formed a quartet and sang in church. Ann adored her parents.
The family grew tobacco, corn, soybeans, raised hogs and chicken for food and had a large garden. Younger brother A.R., fondly recalled playing 'Hide and Seek' with Ann, Reuben and Margaret under the house and making 'Frog Houses' by packing damp dirt over their bare feet. By carefully removing their foot, a 'dirt cave' was created. Reuben and A.R. remember Ann serving them freshly made 'mud pies'.
When Ann got older she preferred being in the house and cooking rather than being outside. This worked out perfectly, as younger sister, Margaret, loved being outside with her brothers.
Ann attended East Duplin High School. Friends got together with students from other high schools and Ann met Eldon Lee Kornegay from Gradys Crossroads, a community in Glisson Township, north of Beulaville. Lee was the son of John Kornegay and Ardola Outlaw Kornegay. He grew up on a farm and had the work ethic typical of successful farmers.
The family liked Lee. A.R. recalled that Lee had a Jeep too. Ann and Lee were a steady twosome and before long they were deeply in love. Lee worked in Mount Olive at a clothing store. He was in charge of collections.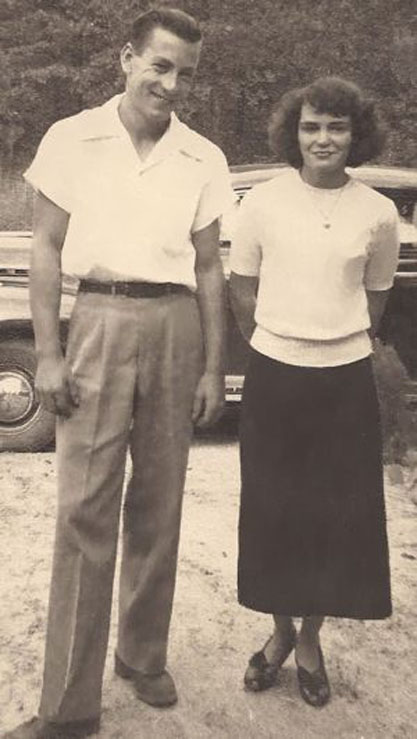 When Ann and Lee decided to get married, they received the blessings of their parents. Lee's brother, Justin, and his wife, Marie, drove them to South Carolina to be married. This was a favorite location as no blood test or waiting period was required.
Her brother, A.R., used a farm trailer pulled behind a car to assist moving Ann and Lee into an upstairs apartment in Mount Olive, a community west of Gradys Crossroads. Ann's parents gave them a bedroom suite and Lee's family gave them other furnishings. Lee worked for a lumber company.
The economy was not good in NC and after several years, Lee decided to enlist in the U.S. Air Force. After basic training, he was stationed in Texas. Ann joined him and was hired as a waitress in a nearby restaurant. Ann became pregnant and soon afterwards Lee was sent to Germany while Ann remained in Texas. Ann was without family in Texas when she gave birth to Ronnie Lee Kornegay, on July 16, 1953. Tragically he was stillborn. Immediately her father, Flave and brother-in-law, Nelson, drove to Texas. They brought Ann and her son back to Beulaville. Ronnie Lee Kornegay was buried in the Cabin Free Will Baptist Church Cemetery.
Following Lee's honorable discharge from the Air Force, he was hired as a Jet Mechanic Instructor at Seymour Johnson Air Force Base, Goldsboro, NC. Ann and Lee moved to Goldsboro. Sons Eldon Lee, Rickie Eugene and Mark Stephen were born in Wayne County.
Ann, active in her community, volunteered as a Cub Scouts Den mother while her sons, Lee, Rickie, and Mark were Cub Scouts.
Ann was employed by Darden Sandwich Company in the mid 1970s. She spent most of her life in Goldsboro, NC. She spent her last years in Four Oaks and Smithfield, NC. Ann was a nursery attendant for over 10 years at Stoney Creek Free Will Baptist Church, Goldsboro, NC. Later she attended Casey's Chapel Free Will Baptist Church in Goldsboro, NC.
Sadly, Lee developed leukemia and died on May 7, 1977. Ann bravely faced life without Lee. At first she focused on her sons, especially Mark, who was still in high school and then started rebuilding her life.
After Lee's death, she moved to Northern, VA. Ann had a number of friends in Alexandria, VA. She moved there with granddaughter, Sherrie, in 1979. Sons Eldon and Mark eventually joined her. She returned to NC in 1993.
Ann used her artistic talent to make beautiful ceramics Christmas trees, giving many away. She loved the challenge of creating beauty with creativity instead of money. Ann made Christmas trees from Readers Digest. Ann had a love of dolls from an early age and began a collection.
Ann's favorite TV show was "Touched by An Angel" that aired in 1994. This TV drama was about people at a difficult time in their lives. Angels on earth brought messages of hope from God and guide them towards a resolution. Ann began her collection of angels during the first season. Her family often gave her angels and she treasured each one.
Ann enjoyed yard sales and crafts. Her favorite holiday was Christmas, Jesus' birthday. Her loved singing hymns, especially "How Great Thou Art." Family traditions included trips to the mountains and the beach, cookouts, Christmases in Beulaville, always 2 kinds of stuffing for Christmas (with and without oysters). Her salads were legendary – set up like a salad bar with everything you could think of.
Ann and Lee enjoyed family trips to the Smokey Mountains, Topsail Island and Myrtle Beach, SC. Her last trip was in the summer of 2010.
Ann raised her granddaughter, Sherrie. Sherrie later became Ann's caregiver when she was diagnosed with dementia. Their relationship was truly special. She also had a special relationship with great-grandson, TJ, whose birth she attended. They were best buddies when TJ was a toddler. TJ was a great help taking care of Ann in her later life.
Ann was a great cook and her family recognized her for making the world's best cole slaw, hush puppies, chicken pastry, oyster stuffing, and hamburger steak. Ann welcomed guests and there was always room for one more at her table.
Ann overcame obstacles that would have stifled most. Ann's deep faith helped her keep her positive attitude and quick smile.
Ann was blessed with devoted sons. Family gatherings for meals at Ann's were fun and built closer family ties and bonds of love. Ann provided a haven of love and security for the family. She was the underdog's best friend.
These words of artist and poet Sarah Malin, describe the wonderful mother Ann was to Lee, Rickie and Mark.
"Your arms were always open when I needed a hug. Your heart understood when I needed a friend. Your gentle eyes were stern when I needed a lesson. Your strength and love has guided me and gave me wings to fly."
April 2012
Betty Lou Bass Price April 1, 2012
March 13, 1936-April 1, 2012
Betty Lou Bass Price, Tempy Ann Branch, widow of Donnie Ray Price, and daughter-in-law of Ora Stancil and Fletcher Price, died April 1, 2012, at Duke University Hospital in Durham. Betty had declining health for about a year. Her funeral was at Betty was buried beside her beloved Ray in the New Jerusalem Cemetery.
Betty, born March 13, 1936, was the daughter of Lissie Godwin and Alonza Bass, the granddaughter of Lynn Bass & Berry Godwin and Martha Simpson & John Bass. She grew up on a farm in Wilson County, NC. Their family church was the Apostolic Holiness Church, Wilson, NC.
Betty met Ray in 1952 when they went on a blind date to the movies. She was 16. Ray's grandma, Dora Bunn Price, lived near Betty in Wilson. Betty graduated from Fike High School in 1954 and began working for McClellan's 5¢ & 10¢ in Wilson, NC.
At 18, Ray, began working for the State of North Carolina Department of Transportation.
Betty and Ray continued dating and when they decided to get married, they asked Ray's sister, Lucille and her husband Joe Price, to drive them to Dillon, S.C. This began a lifelong friendship between Betty and Lucille. South Carolina was a favorite place to be married because no blood test or waiting period was required. Betty did not like needles.
Betty wore a pretty navy blue suit, white blouse, white hat, matching navy shoes and purse when she married Ray on Monday, Oct. 1, 1956.
Their first home was an apartment in Kenly. They began attending New Jerusalem Free Will Baptist Church. Ronia, Ray's grandma, was a Charter member. Ray continued working for the State of North Carolina Department of Transportation. Betty continues working at McClellan's 5¢ & 10¢. She rode to work with Kenly neighbors, the Popes.
Betty changed jobs and began managing the lunch counter at Rose's 5¢ & 10¢ 25¢ Store in Smithfield, NC. Betty and Ray bought a house across from Lucille and Joe on Britt Street. Betty and Ray were very fond of their sons, Joey and David. Betty and Ray bought a grill in Smithfield. Betty managed it. Eventually they sold the grill.
Ray loved Major League Baseball. His favorite team was the New York Yankees. Ray and Betty made several trips to see them at Yankee Stadium. They also looked forward to Florida trips with Lucille and Joe. Daytona Beach was a favorite destination.
Ray retired in 1979 and had time to pursue a special hobby; collecting antiques. He also took up golf. Betty enjoyed meeting people and visiting new golf courses. Myrtle Beach became a favorite. Ray and Betty Lou combined his love of antiques and her love of people by opening a Flea Market in Smithfield. Betty and Ray enjoyed pot-luck family gatherings at Ora's on Thanksgiving and Christmas. When Ora was unable to host it, Lucille began. Everyone looked forward to special family time and Betty's delicious chicken salad.
Betty's last job was at J.R.'s Tobacco & Discount Outlet in Selma, NC. She worked in the stock room for about three years.
Ray died in 2009. Betty adjusted to life without her beloved Ray. She and Lucille, also a widow, became even closer, more like sisters than in-laws. They often ate out together. Betty's favorite restaurant was Holt Lake Bar-B-Que and Seafood in Smithfield.
Betty will be fondly remembered for her welcoming smile, lending a helping hand and random acts of kindness. Perhaps this anonymous quote describes Betty best, "Blessed are those that can give without remembering and receive without forgetting." (Tempy Ann/Ronia/Ora)
---
Favorite quotes
James M. Barrie: Those who bring sunshine into the lives of others, cannot keep it from themselves.

Unknown: Kindness is the ability to love someone more than they deserve

William Wordsworth: The little unremembered acts of kindness and love are the best parts of a person's life.

"Blessed are those that can give without remembering and receive without forgetting." Author Unknown

Carl W. Buechner: They may forget what you said, but they will never forget how you made them feel.
Ethel Ina Conwell Stancil, April 1, 2012
Ethel Ina Conwell Stancil, wife of Jerry Elde Stancil Sr., died April 1, 2012, in Snowflake, Ariz.
Ethel was a member of the Josiah Branch, daughter-in-law of the late William "Bill" Hubert Stancil and Dorothy Viola Wickham and sister-in-law of Sue Donna Stancil Hooks. She died at 75 after developing memory problems.
Ethel and Jerry Elde Stancil were married for 34 years. Ethel was born Feb. 13, 1937, in Roanoke, Va., to Ethel Ina Stewart Conwell Glos Stancil. She was half Cherokee Indian. Ethel's father died and her mother married a career Navy man, Woodie Aaron Stewart. He was sent to San Diego and moved the family to southern California.
Jerry met Ethel when she worked in the mailroom and drove a motor scooter at Rohr Industries. Jerry spent 30 years working as an engineer for Rohr Industries, aerospace manufacturing company. It's interesting that the founder of Rohr Industries, Fred Rohr, created the fuel tanks for Charles Lindbergh's Spirit of St. Louis. Projects included Titan Missiles, NASA Space Shuttle and many secret projects.
Their first date was dinner at a seafood restaurant on San Diego Bay. Ethel had been married before and her youngest Anna was just 14 years old she and Jerry married on Feb. 4, 1978. Older children were Ronald William, Danny and Billy.
Ethel was an active member of the Methodist Church. She taught Sunday school for many years.
Jerry and Ethel retired in 1996. He had many relatives on his mother's side of the family in Arizona and moved to Cocoino County, near the White Mountains in Arizona. In 2003 Ethel and Jerry built a house on the golf course in Snowflake, Ariz. Ethel loved the beauty and solitude and took frequent hikes. Jerry loved playing golf and riding his ATV. The huge Navajo reservation included lands in Arizona and New Mexico, and was near their home.
Ethel and Jerry both liked dogs and had several special ones. Ethel's favorites were a Yorkie and a black Poodle. Her Yorkie was her constant companion for 22 years. Jerry enjoyed his energetic Sheltie.
Ethel was known as a friendly and positive person. She never met a stranger. Her welcoming smile and genuine interest in you and your difficulties melted the coldest heart. During her years in Snowflake, she formed many close friendships and was always available to lend a helping hand. Ethel will be remembered for living her faith and seeing goodness in everyone she met. She left a hole in many hearts.
Randy Nelson 'Newt' Pope, April 3, 2012
April 10, 1956-April 3, 2012
Randy Nelson "Newt" Pope, Henry Branch, husband of Terry, father of Kelly Pope Aycock and Amanda Pope Murray, grandfather of Camden and Carter Aycock and Tucker Murray, son of Raymond Eugene "Gene" Pope and the late Gracie Boykin Pope, brother of Kim died on April 3, 2012, after battling cancer.
Randy, a naturally gifted athlete, was an active member of his community. He loved coaching kids and instilled in them confidence, passion for the game along with skills.
Known for his dedication and work ethic, he began his 32 year career working for Talecris Biotherapeutics. When it was sold to Grifols, a multinational pharmaceutical and chemical company, he continued.
Randy will be remembered for his love and pride in his family, and his unique sense of humor. (Henry/Agnes/Gene)
June 2012
Donald Parrish, June 7, 2012
Donald Parrish, husband of Josephine Hill Parrish, died June 7, 2012, in Johnston County, N.C. He was the father of Melody, Cheryl and Becky. (Tonie)
October 2012
Michael Thomas Pope, Oct. 20, 2012
Feb. 16, 1981-Oct. 20, 2012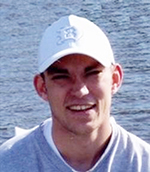 Michael Thomas Pope
Michael died Oct. 20, 2012
Michael Thomas Pope, Henry Branch, father of Andrew, son of Joyce Williams & Kimmy 'Kim' Eugene Pope, grandson of Raymond Eugene 'Gene' Pope & the late Gracie Boykin Pope and great-grandson of Nancy Ann Frances "Frank" Barnes and Henry Stancil, died, Oct. 20, 2012, in Wake County, N.C.
Michael played ball in school. He was a stockroom supervisor with the NC Department of Revenue. He was a hard worker, well liked, affable and a joy to work with.
He was ready to lend a helping hand.
Michael liked to hunt rabbit and fox. He kept several dogs. He also liked to ride four wheelers.
Dr. Dannie Hayes, officiated at his funeral on Wednesday, Feb. 24, at Parrish Funeral Home. The burial was on Thursday, in the Raper Cemetery, Middlesex.
November 2012
Johnny Fletcher Bailey Sr., Nov. 28, 2012
Feb. 19, 1933-Nov. 28, 2012
Johnny Fletcher Bailey Sr., Tempy Ann Branch, son of Radford and Delia Hill Bailey, husband of Vickie Jean Sullivan Bailey, father of Sandra Jean, Johnnie Fletcher Jr. and Delia Ann, died Nov. 28, 2012, at 79 in Wake Medical Center, Raleigh, N.C.
Fletcher's funeral was on Saturday, Dec. 1, 2012, at Mount Zion Free Will Baptist Church. Rev. Lewis Godwin officiated.
He was buried in the Mount Zion Free Will Baptist Church cemetery. He is survived by sister, Sudie Bailey Sullivan.
December 2012
Linda Marie Bunn Sullivan, Dec. 25, 2012
April 17, 1949-Dec. 25, 2012
Linda Marie Bunn Sullivan, age 63, of 98 Old Bailey Road, Middlesex, N.C., died on Tuesday, Dec. 25, 2012, at Duke Hospital in Durham.
Born in Richmond, Virginia on April 17, 1949, to the late Gerald and Ethel Marie Boykin Bunn.
Mrs. Sullivan was a member of Union Chapel F.W.B. Church.
Graveside Services were on Friday, Dec. 28, 2012, in the Bailey Family Cemetery with the Rev. Jonathan Pearce officiating.
Survivors include her husband, Billy Ray Sullivan son of Sudie Sullivan; son, Billy Thomas Sullivan, daughter, Susan Raye Sullivan both of the home; brother, Kenneth Ray Bunn of Clayton; sister, Brenda Bunn Jordan of Raleigh; nephew, Justin Jordan of Raleigh and neice, Amanda Jordan of Durham.
The family received friends on Thursday, Dec. 27, 2012, at Minshew-Coley Funeral Home in Kenly.
---
If you have any death notices or photos to share, email us at rennhinton@stancilreunion.com.
---